🛍 The Hut Group - How to Thrive in Ecommerce?
Overlooked #41
Hi, it's Alexandre from Idinvest. Overlooked is a weekly newsletter about underrated trends in the European tech industry. Today, I'm looking at The Hut Group (THG) which is a Manchester-based company that has recently IPOed on the London Stock Exchange. It's a remarkable ecommerce success story that is standing out in a world in which everyone only talks about Amazon.
Digital commerce is becoming a recurring topic in this newsletter. I'm always looking for new companies thriving in a category that seems completely dominated by Amazon from an outsider perspective. Earlier this year, I looked at Shopify as a key enabler for merchants wanting to preserve their direct relationship with their customers. I also looked at Decathlon's challenges to move into digital commerce. With The Hut Group, I found another overlooked jewel.
In September, the company became a listed company on the London Stock Exchange reaching a £6.0bn enterprise valuation after its first day of trading. It's a vertically integrated ecommerce player with a core technological and operational platform called Ingenuity that is powering brands and retailers owned by the group in the nutrition and beauty category. This platform is also sold to third party brands like Procter & Gamble, J&J, Estée Lauder, Microsoft or Coca-Cola.
In this article, I will cover the following sections:
A quick history of The Hut Group,

A vertically integrated ecommerce player,

Best-in class ecommerce practices that everyone should learn from,

A serial acquirer with 20+ acquisitions performed since inception,

A good illustration on how to build defensibility as a D2C brand.
A Quick History of The Hut Group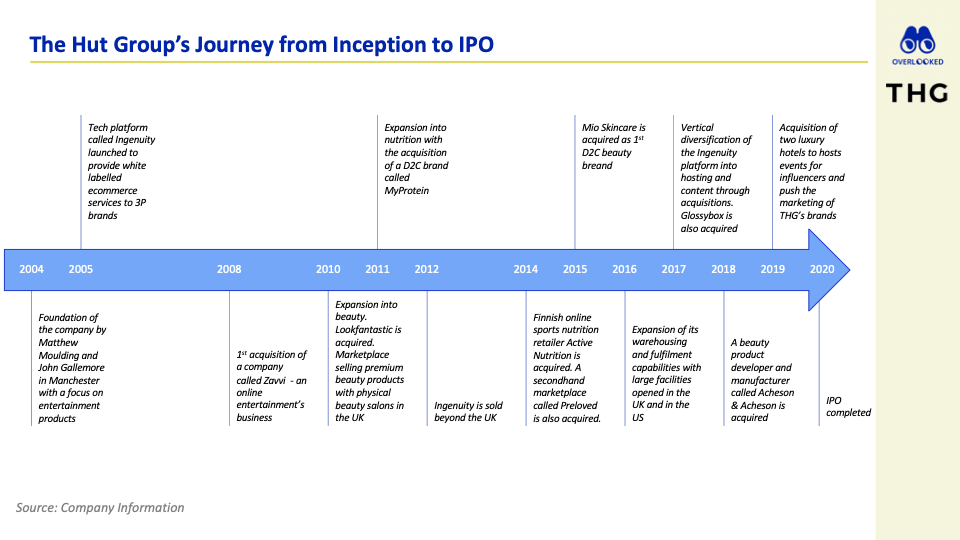 The Hut Group (THG) was founded in 2004 by John Gallemore and Matthew Moulding in Manchester in the UK. It started by selling online physical entertainment products (CDs, DVDs, video games). Matthew Moulding invested £500k in the business and was able to breakeven after three years of operations.
In 2005, the company started to white label its e-commerce engine to third party brands like Tesco and Argos. THG convinced executives at Tesco and Marks & Spencers to become angels in the company - which was key to sell its e-commerce engine to enterprises wanting to launch a D2C business.
In April 2010, the company raised a first venture round led by Balderton Capital. The venture fund invested £24.3m in total in the company between this first round and August 2012.
It was a tough time for THG because the company pivoted away from selling online entertainment products - a market that was starting to get disrupted by streaming and the rise of the iPhone. "We were doing phenomenally with the entertainment business but when music became available digitally thanks to the iPhone and the likes, it started putting pressure on the margins." Matthew Moulding said.
THG decided to go after two promising categories: beauty and nutrition. In 2010, it acquired Lookfantastic which is a marketplace selling premium beauty products online and offline with physical beauty salons in the UK. In 2011, it acquired MyProtein a D2C UK brand specialised in sports nutrition.
At this point, THG had already the three core pillars of its strategy: an e-commerce engine, a strong presence into two booming product categories with nutrition and beauty, a serial acquirer spirit to expand its business by external growth.
Since then, THG has grown using the following mechanisms:
Geographical expansion beyond the UK. Today, THG is shipping products into more than 190 countries and is generating 66% of its sales outside the UK (34% UK, 26% Europe, 24% Asia-Pacific and 16% in North America).

External growth to expand its footprint in the beauty and the nutrition categories. Every brand or marketplace acquired is integrated into Ingenuity and in the brand portfolio to generate revenue and cost synergies.

Vertical diversification of its Ingenuity platform to become an end-to-end ecommerce platform able to manage anything from R&D, to manufacturing, logistics, marketing and customer support.
In 2014, KKR acquired a 20% stake in the business with a £100m investment to push forward the geographical expansion of the company. Merian (2017), Blackrock (2019) and Sofinova (2019) also invested in the business in the following years. In Sep. 2020, the company started to trade on the London Stock Exchange at a £4.5bn valuation that quickly raised to £6.0bn at the end of its first trading day.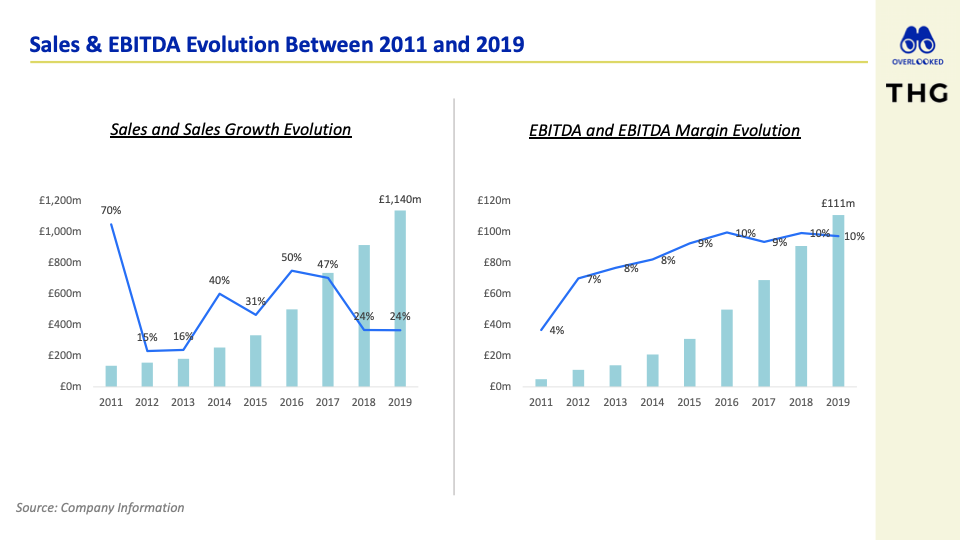 It's a great story to tell for the European ecosystem because (i) THG was born outside London and is the perfect proof that successful tech companies can be built outside main European capitals, (ii) THG decided to list in Europe when most of other European successful tech companies would rather list in the US.
A Vertically Integrated Ecommerce Player
At the core THG's business, there is a platform called Ingenuity which is defined as a "proprietary end-to-end e-commerce technology and operating platform." Ingenuity is the cornerstone of the business powering both in-house brands and marketplaces as well as third party brands which want to build direct to consumer operations.
Ingenuity can be divided into four layers covering the full ecommerce value chain:
Technology with all the key building blocks to run an ecommerce website (platform, payments, fraud, localization, hosting etc.),

Operations with R&D and production capabilities upstream (e.g. 80% sales from MyProtein products are manufactured inhouse) and logistics and customer services capabilities downstream (e.g. THG owns 14 inhouse warehouses running on a proprietary warehouse management system). These capabilities are used for both THG and third party brands,

Brand with anything to build and grow a brand from scratch (content production, online marketing services, translation services, social platform with influencers, CRM with 3m mails, network of affiliates),

Data collection and visualisation capabilities to optimise the performance of the three other layers.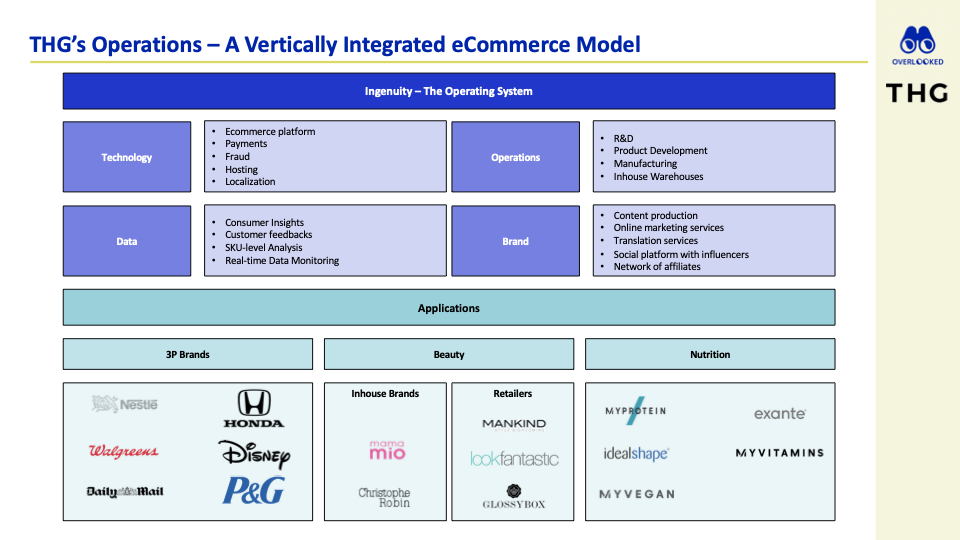 This vertically integrated platform has numerous benefits for THG:
For their in-house D2C brands, it's a unique way to build a robust and defensible model with higher margins, higher pace from ideation to production, successful playbooks to market and scale a brand etc.

THG is a serial acquirer adding either brands, distribution channels or new capabilities for Ingenuity. With a vertically integrated platform, any acquisition can be quickly integrated and generate numerous synergies.

For third party brands, Ingenuity is a uniquely positioned to support large conglomerate of brands in launching D2C operations because it's a one stop shop and brands don't need to look for many different suppliers to start operating.
We will dig into these benefits in the next sections of the paper.
A Best in Class Ecommerce Player with Many Hacks to Learn From
I've spent time on the different websites operated by The Hut Group to get a feeling of their key success factors. When you are able to make over £1bn in sales, it's probably that you are doing a few things better than the rest of the market.
All e-commerce websites operated by THG are almost identical. Ingenuity is powering them with best in class e-commerce practices to maximise conversion rate and basket size.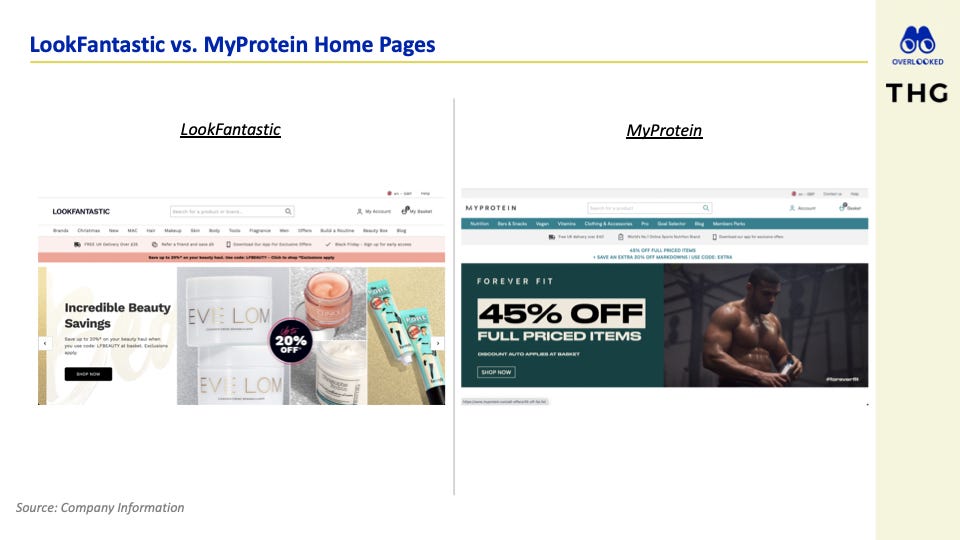 THG ioperates both marketplaces distributing products from inhouse brands and third party brands as well as ecommerce websites for its D2C brands. There is a strong emphasis to increase the share of products from inhouse brands for which THG has better unit economics. In a decade from now, I would not be surprised if a player in the beauty and nutrition space like Decathlon in the sport category will do the same thing as the company sells almost exclusively its inhouse brands. Both THG and Decathlon have the data and the production capabilities to manufacture the products wanted by their customers.
THG uses subscription boxes as a distribution hack to acquire new customers and increase recurring purchase by cross-selling them with other products. In 2017, THG acquired Glossybox. The company was launched in 2011 as a European Birchbox copycat and was backed by Rocket Internet. At the time of the acquisition, THG already had its own subscription boxes distributed through LookFantastic. The acquisition demonstrated that the group was serious about using boxes as a key growth lever. With the Glossybox user base, THG was able to enter new geographical markets, distribute its in-house beauty brands to new potential customers and to have a strong retention mechanism with a subscription business model.
THG is extremely agressive to get a first purchase from a new customer because the group knows that they have outstanding repeat rates. 81% of revenues for Lookfantastic is coming from returning customers and 84% for MyProtein. Moreover, the 3y revenues generated on a MyProtein customer is 12x the CAC. As a result, THG awards free coupon codes for your first purchase, adds sample when you exceed a certain amount spent on a brand, pushes you to subscribe to their newsletter etc.
THG has also focused on reducing friction during the shopping journey by offering shoppers as many options as possible. You can spend 1 hour filling a cart with multiple product but there is also a quick checkout option. You can complete a purchase by signing-in to your account, creating an account, using login from Facebook or remaining as a guest. I'm also stunned by the number of payment options offered to customers.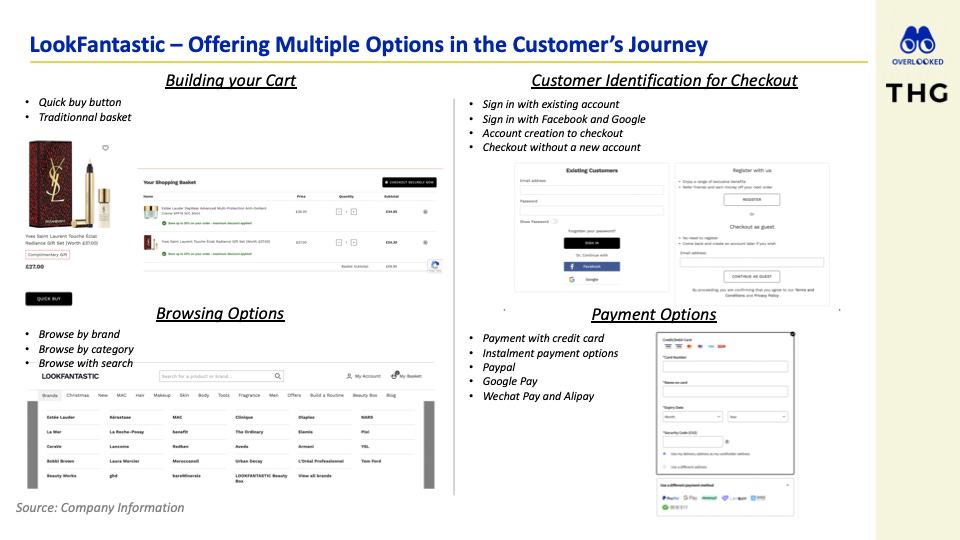 A Serial Acquirer with 20+ Acquisitions Performed since Inception
Since its inception in 2004, The Hut Group has acquired more than 20 companies that can be classified into three buckets: (i) building blocks to reinforce its e-commerce end to end platform (e.g. UK2Group acquired in 2017 to be able to provide hosting to their customers), (ii) D2C brands mainly in the nutrition or the beauty categories (e.g. Christophe Robin acquired in 2019 which is a French haircare brand), (iii) retailers/marketplaces to distribute their brands and third party brands (e.g. Glossybox acquired in 2017). THG is also planning to spend between £50m and £150m every year to make new acquisition. With this historic M&A track-record and these future plans, THG can be classified as a serial acquirer.
Serial acquirers have better success rate than their peers when they acquire companies. The have the right competencies and processes in place to assess and bid for potential targets. They also have the right culture and organization to evaluate what are the missing pieces in their business that can be complemented by external growth and to integrate them into their business. When you look at studies, serial acquirers are able to create more value than their peers (measured in entreprise value growth and EV/EBITDA multiples).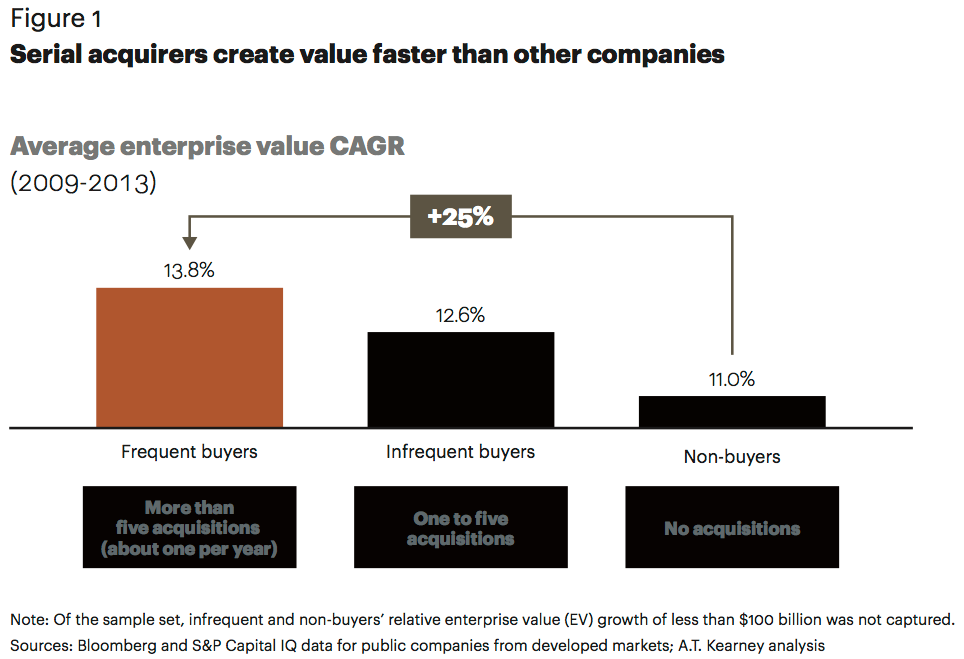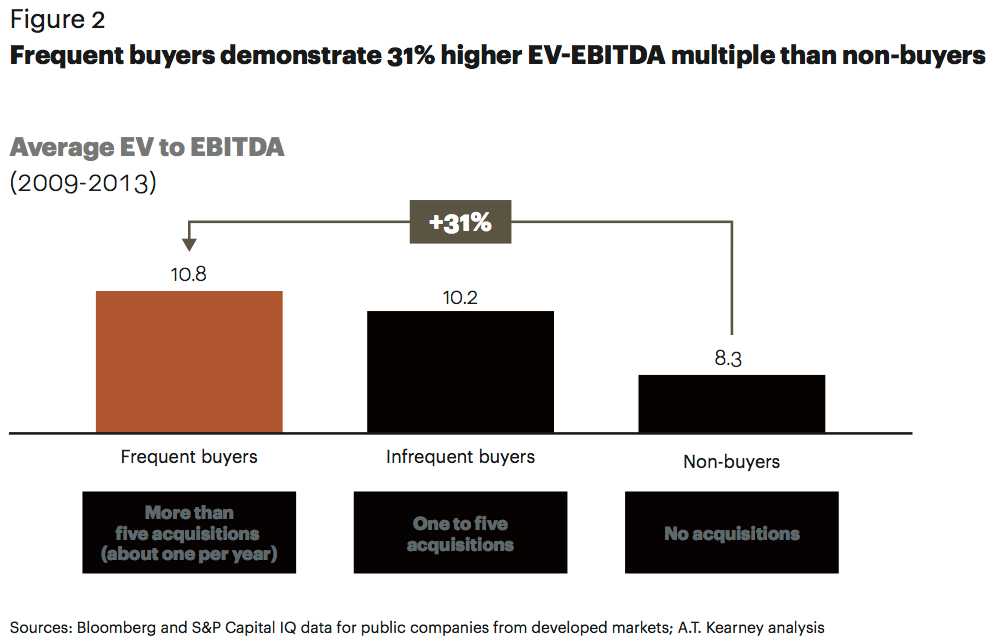 THG has the right set up to be a successful acquirer as the company has a tech platform that is accustomed to work with third party brands. Anytime, you acquire a new brand, you create immediate synergies by onboarding them on Ingenuity and cross-selling them in your marketplaces and online retailers. Every time you acquire a new block for Ingenuity, you are able to integrate it to the platform and start deploying it for your own brands, distributors and your existing customers.
A Good Illustration on How to Build Defensibility as a D2C Brand
For most D2C brands I come across, I'm struggling to understand how they are building defensibility. I always have the feeling that these brands are dependent on Facebook, Google and Amazon for their distribution. I also have the feeling that most products sold by D2C brands are commoditized and seem to be different just because they are under a great brand and they are distributed online. I'm always keen to find counter-examples to this intuition and THG is a good one.
On the one hand, THG is solving the distribution issue that most D2C brands have by having its own distribution channels with the marketplaces and online retailers it manages.

On the other hand, THG has build a vertically integrated model for its D2C brand in which R&D, manufacturing and logistics are partly internalized. As a result, THG has a cost structure that is more efficient than any other competitor
---
Thanks to Julia for the feedback! 🦒 Thanks for reading! See you next week for another issue! 👋 If you want to talk about this topic or want more resources, don't hesitate to send me an email at ade@idinvest.com.