Decathlon - "A Fond la Forme", Really?
Overlooked #10
Hi, it's Alexandre from Idinvest. Overlooked is a weekly newsletter about underrated trends in the European tech industry. Today, I'm sharing with you 10 learnings on French sporting goods retailer Decathlon.
It's Overlooked's tenth issue!
Thank you for following me on this crazy project! 🙏
To celebrate this milestone, I want to talk about an another company I love (beyond Shopify) and I want to follow closely in the coming years.
It's a French company called Decathlon which is a sporting goods retailers founded in 1976 and privately owned by the infamous Mulliez family (Auchan, Boulanger, Kiabi, Cultura, Leroy Merlin, Saint Maclou, Pimkie, Jules, Oney etc.).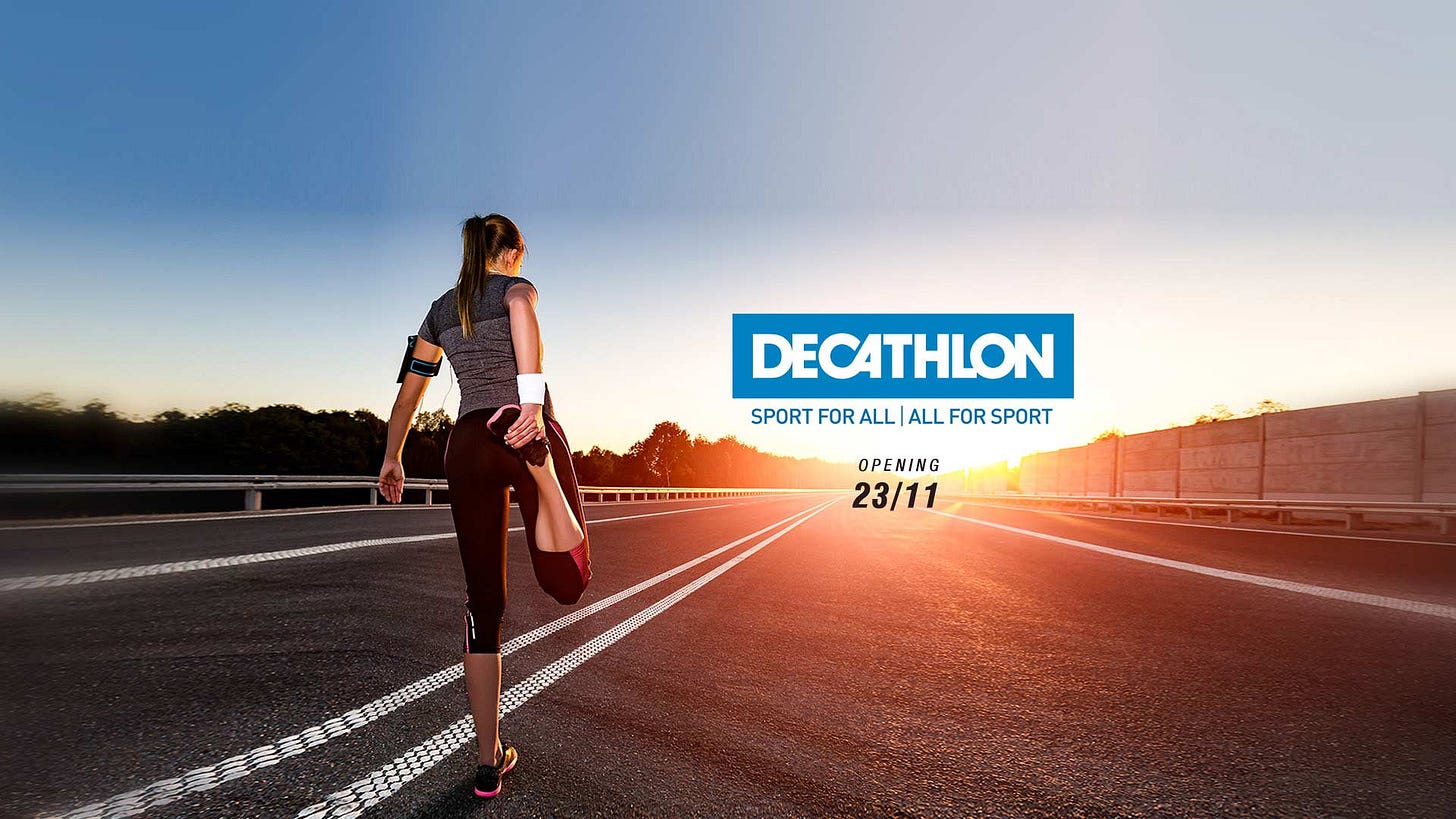 Ten issues for this newsletter, ten sports when you are completing a decathlon event in athleticism and ten learnings about this company. Here is the program for today!
---
As you keep reading this post, I'd love to have your opinion on Decathlon in this Twitter thread - what you love about the brand and what is your take on the future of the company
---

Learning #1 - Decathlon is French people's favorite brand.
Every year, OC&C, a consulting group, is publishing a ranking of preferred brands in France.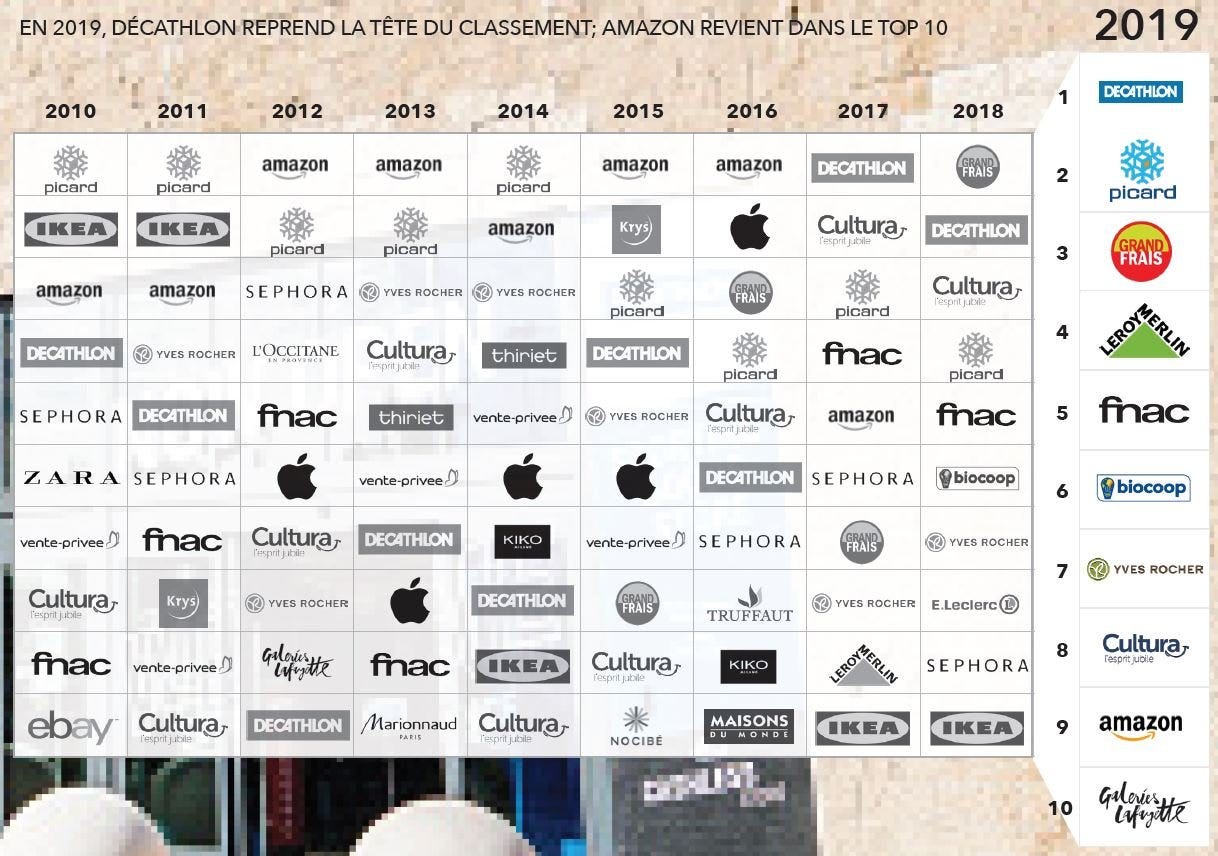 Decathlon was ranked first in 2019 and had always been in the top 10 during the past decade.

7 out of the 10 favorite brands are companies putting the development of their home-branded products (Decathlon, Picard, Grand Frais, Leroy Merlin, Biocoop, Yves Rocher) as a key axis of their strategy.

Amazon is the only US brand in the top 10 and when you look at the history, only two other companies managed to conquer the heart of French consumers (Apple and eBay.
Learning #2 - Decathlon doubled its sales in the past decade from €6.0bn in 2010 to €12.4bn in 2019.
The growth was driven mainly by geographical expansion outside France with a focus on Asia (China and India) and Europe (Spain, Russia, Germany, United Kingdom and Italy). Decathlon has now 2,000+ stores in 57 countries.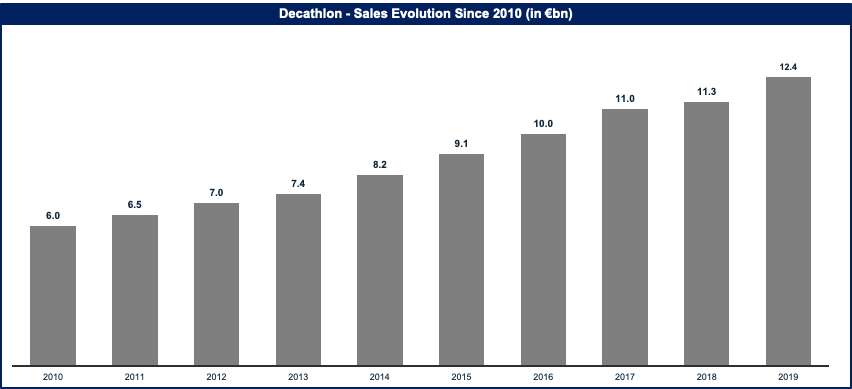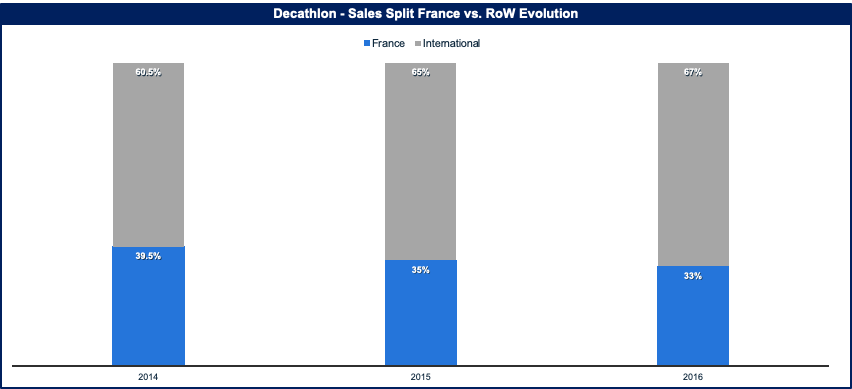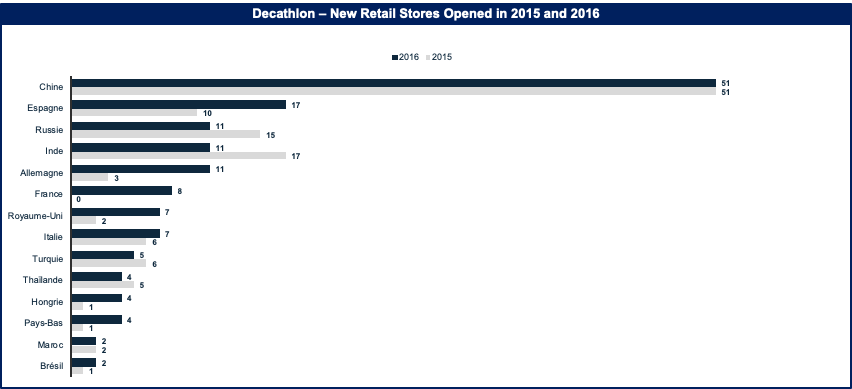 Learning #3 - Selling a passion is an unfair advantage.
People are coming to Decathlon to buy sports-related products related. Most customers are also passionate about these sports. It makes their purchases more emotional than rational. Therefore, customers are less price sensitive and more opened to advice from vendors.

People who are working at Decathlon are also passionate about sports. Every job offer to become a vendor requires you to be passionate about one of the sports in the retail division you will be working for. This is super powerful. You will have knowledgeable and passionate employees who will be able to give great advice to your customer. At the same time, sports develop great qualities like resilience, culture of performance or teamwork which are crucial to have a successful retail store.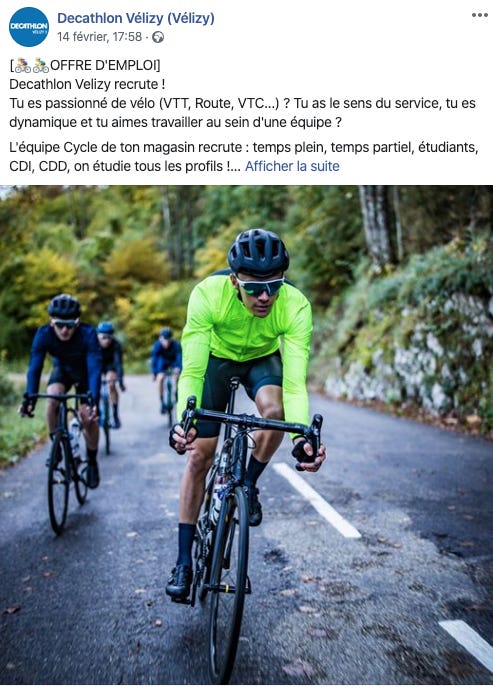 Learning #4 - Decathlon is super strong in retail.
Michel Leclercq founded the company based on the idea that he will replicate the large distribution success of Auchan in the sport vertical.
This retail innovation was the first of a long series of innovations that make Decathlon stores a great place to visit to learn how to manage a store in 2020.
Every employee is polyvalent able to be a cashier, help customers on their spendings, manage stocks, make technical reparations etc. Customer service excellence is at the core of their operations. Some stores are cashier less. Others offer sport classes. You are here not only to buy sporting goods but to live an experience and increase your internal motivation to work out.
Learning #5 - Home made brands vs. third party brands.
Decathlon key success factor is its ability to develop high quality home made products innovative and sold at a fair price. Today, 80% of Decathlon's sales are done thanks to their 83 in-house brands. This internationalization has been key to reduce independence from third parties and to control the whole retail value chain. The last two best selling innovations were the Quechua tent which could be opened in 2 seconds (launched in 2005, 8m+ sold) and the snorkeling mask with a tuba integrated (launched in 2014 and 3m+ sold).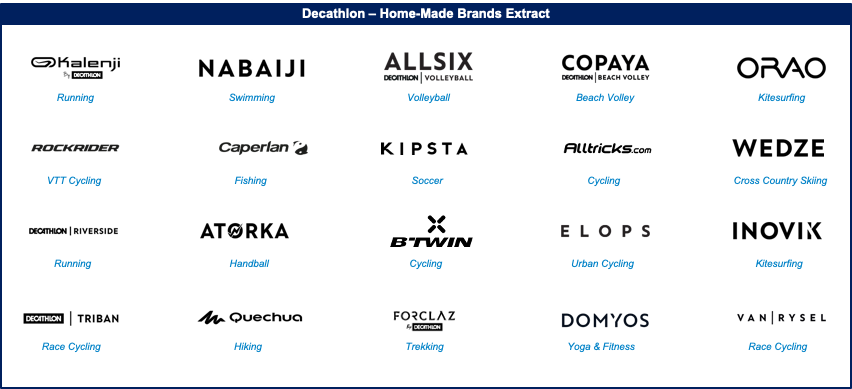 Learning #6 - Decathlon has a cocreation platform.
In 2014, Decathlon launched its co-creation platform. Every employee or customer can present its ideas of products on the platform and the Decathlon community will vote for their favorite projects. The best projects (like the below bows) are produced by the firm and tested with the community before being commercialized.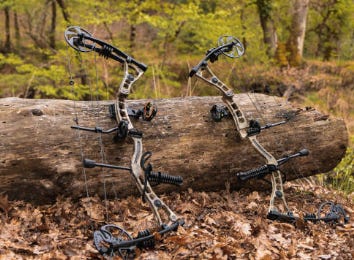 Decathlon also launched a space called "Alive" in 2016 where customers and employees could discover and test in preview the future products.
Learning #7 - Decathlon is conquering the Gen. Z.
My generation grew up with Decathlon in our daily life. At the time, we were ashamed of the Kalenji shoes and Quechua bags our parents were buying us. But the brand has been part of our education and our heritage.
Now, people are even starting to get proud of Decathlon brands - especially thanks to the rap culture in French neighborhood. Rappers like Jul, SCH or Hatik are wearing Decathlon's products and talking about them into their songs.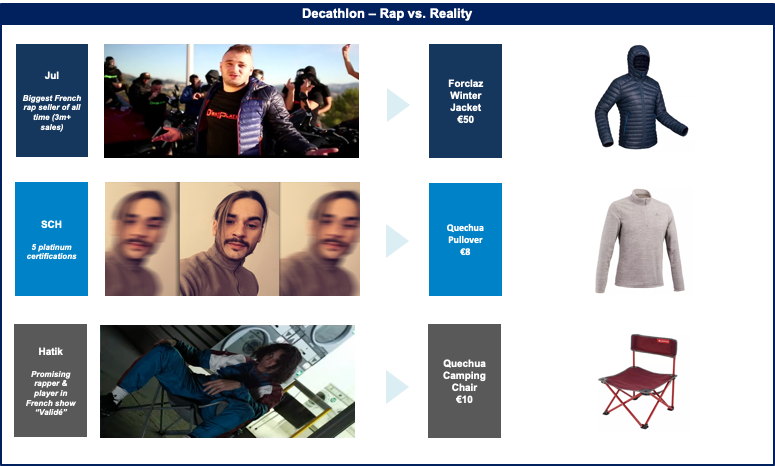 Decathlon was able to ride this re-appropriation by interacting with a growing a community of fans and developing news products accordingly like the jogging Jog 85 released in 2019 or the sneakers Kalenji Revival released last week.
Each time, Decathlon started from old school products to release a new versions issued in limited numbers in a sale to create scarcity but also to test the appetence of the market for these kind of products. I expect them to launch other street related products in the coming months following the huge success of these two experiments.

Learning #8 - Decathlon's digital transformation remains challenging.
Decathlon's amazing community manager and their innovative products are hiding the reality of a company struggling to go online.
On average, sports and fashion retailers make 10-15% of their turnover online vs. 7.7% for Decathlon in 2018.

Decathlon's strength is based on its customer service excellence which is extremely hard to replicate online.

The IT capabilities of the e-commerce platform are not even able to support a limited sale (cf. Jog 85 and Kalenji revival sales).
"All 3,000 pairs have been sold out. [...] Thank you for coming in such great numbers to the funeral of our website…"
Learning #9 - Alltricks's acquisition in November 2019 makes a lot of sense for Decathlon.
It's an amazing signal to the French ecosystem that an innovative and great French corporate like Decathlon takes the risk to acquire a startup. Alltricks is an online marketplace selling products mainly for cycling (bike parts, bicycles and bike wear), was generating €65m in sales in 2018 and was targeting €80m for 2019.
The startup is sharing with Decathlon an ambition to build in house brands and a focus on customer service excellence. The rationale of the acquisition for Decathlon is to (i) enhance its specialization on cycling which is a growing €2bn market in France and to (ii) benefit from Alltricks' marketplace capabilities (sell online and logistics operations).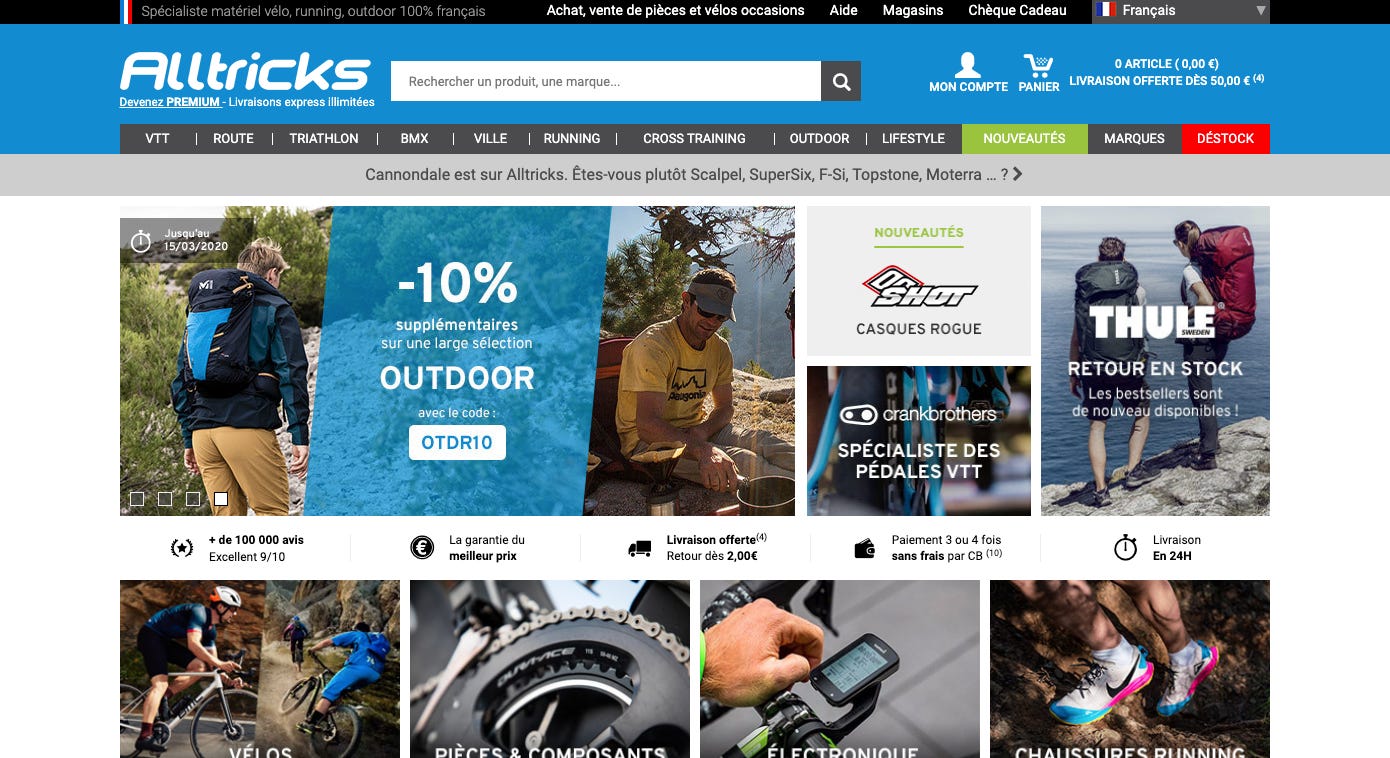 Learning #10 - Decathlon is part of the fast fashion industry.
Low price points. Fabrication in emerging countries. Products used only for a short period of time. All these attributes could describer Zara, H&M but also... Decathlon.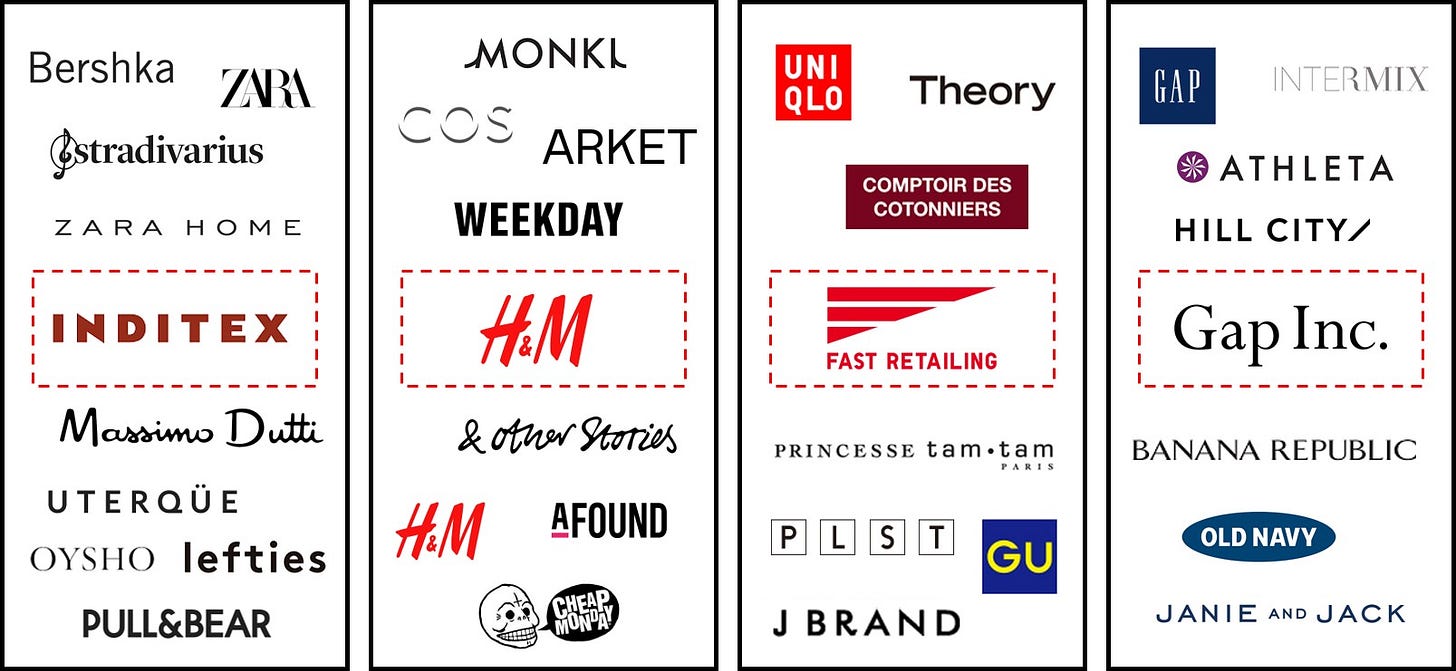 Looking at videos of customers buying Decathlon products, I was surprised by the people explaining that they were happy to buy numerous products at a cheap price at Decathlon for them or for their kids because "it's not a problem if my child does not like it", "it's only for the summer", "I need it once for a run with my colleagues and then I will put it in the trash".
The mission of democratizing sport with low cost products is hard because you have to make concessions on quality and customers don't perceive you as the appropriate brand for serious matters.
For instance, my marathon shoes are not Kalenji because it was unbelievable for me that the brand able to sell me shoes at less than €10 could provide me with great shoes for a marathon. After this weekend spent looking at Decathlon, I know that I'm biased and their high end products are great compared to competitor solutions but many people will keep this unfair opinion.

Thanks to Julia for your valuable insights! 🦒
---
See you next week for another issue! 👋