Why Shopify will buy Amazon in 2029?
Overlooked #6
Hi, it's Alexandre from Idinvest. Overlooked is a weekly newsletter about underrated trends in the European tech industry. Today, I'm giving a first look at Shopify - a company I would like to follow closely in the coming years.
In November 2018, answering to someone telling him on Twitter that Amazon will buy Shopify in 2019, Tobi Lutke, Shopify's founder and CEO, answered that he would rather buy Amazon in 2029.

Beyond this clickbait title to make you read my newsletter, I think that it's worth to dig into Shopify. This year, I've decided to follow closely a selected number of listed companies that are transforming their industry and that are underrated compared to other more mainstream tech companies (Google, Amazon, Uber, Facebook, Microsoft, Tesla etc.). I'm planning to write down one or two issues per year on the companies picked and follow them over the long run.
Shopify is one of them.
Not because it will buy Amazon in 2029. But because Shopify has a tremendous impact on entrepreneurship across the globe.
Shopify is a Canadian-based company founded in 2004 as a software aimed at helping merchants build their own e-commerce platform online. Shopify is powering entrepreneurship by removing the technical and financial barriers to build a business online. The results are outstanding (2018 figures):
Shopify reported $1.1bn in sales

820k merchants on-boarded generating $41.1bn in sales

32k partners in its ecosystem generating also $142m in sales

Online annual sales growth of businesses on Shopify (59%) is more than double the growth of the global ecommerce market (21%) in 2018

1.4m full time jobs thanks to Shopify-based businesses

218m shoppers

20% of sales made by Shopify small businesses are done abroad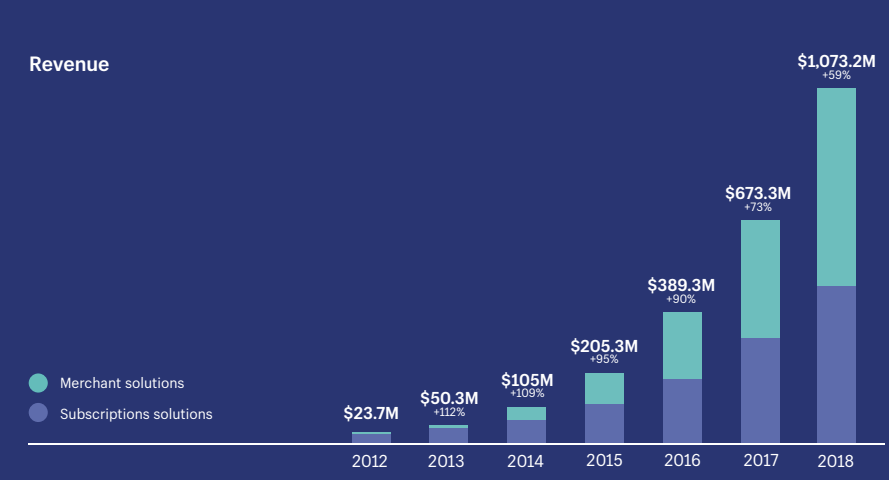 Shopify will announce its 2019 annual financial results on February 12th, 2020. Don't miss them!

Thought #1 - Picking infrastructure over applications. In 2004, Tobi started an online snowboard shop called Snowdevil. He discovered that e-commerce software available at the time were expensive and ill-suited for new online businesses. Using its engineering background, Tobi decided to launch its own software to power its own snowboard shop. His online shop experienced a nice growth in the following two years. But selling snowboards is a seasonal business. So Tobi was thinking about other revenue sources. Selling countercyclical products like skateboards seemed to be the most obvious idea. But at the same, other online merchants were reaching out to him to license its software as they were impressed by the quality of the e-commerce infrastructure behind Snowdevil. Tobi decided to build an infrastructure which could power all e-commerce websites rather than just for a single merchant. Don't worry, Tobi still has his own secret online boutique where he sells socks!

Thought #2 - No-code is not a new trend. VCs are getting excited about the rise of no code tools allowing entrepreneurs to build their company without having a technical background. But this trend is not something new. At all. Wordpress and Shopify have been around for a long time.

Thought #3 - The first sell through Shopify is a key Aha moment for merchants. Tobi made his first sale with Snowdevil when a gentleman from Pennsylvania ordered a snowboard. The way he describes this experience is amazing. Before that, he was a builder of an e-commerce website. Selling a real product to a real person for the first time is a life-changing experience. It's what makes you an entrepreneur. This Aha moment is what Shopify is aiming at for every new merchant who starts to use the software to power their online business. Its north star metric is the timing between the first sale of two new merchants on Shopify platform. As of today, every 52 seconds, a builder becomes an entrepreneur by selling his product for the first time. I love this vision of helping people to become entrepreneurs by giving them superpowers for their online shop.

Thought #4 - Shopify's market size was underrated. Ten years ago, numerous US-based VCs passed on Shopify because they had the feeling that the addressable market for online stores was too small. At the time, there were less than 50k online merchants. Now, more than 1m merchants are using Shopify. VCs underestimated the growing penetration of online sales in the retail market as well as the fact that Shopify's main strength is to lower the financial and technical barriers to entry to build a business online. It's super hard to get the market size right. You tend to limit yourself to the existing market size without taking into account its potential evolution.

Thought #5 - The market potential is still enormous. Even as of today, the market potential is huge as Shopify is waving several key macro trends: rise of self employment, e-commerce growth, explosion of D2C brands, push towards a decentralized internet. Amazon is said to have a 35-36% share of US e-commerce compared to only 4.7% for Shopify. When you take a step back and look at the total US retail market, the potential is even bigger. US e-commerce is a $500bn market but the total US addressable market for both Amazon and Shopify is worth $3.6tr.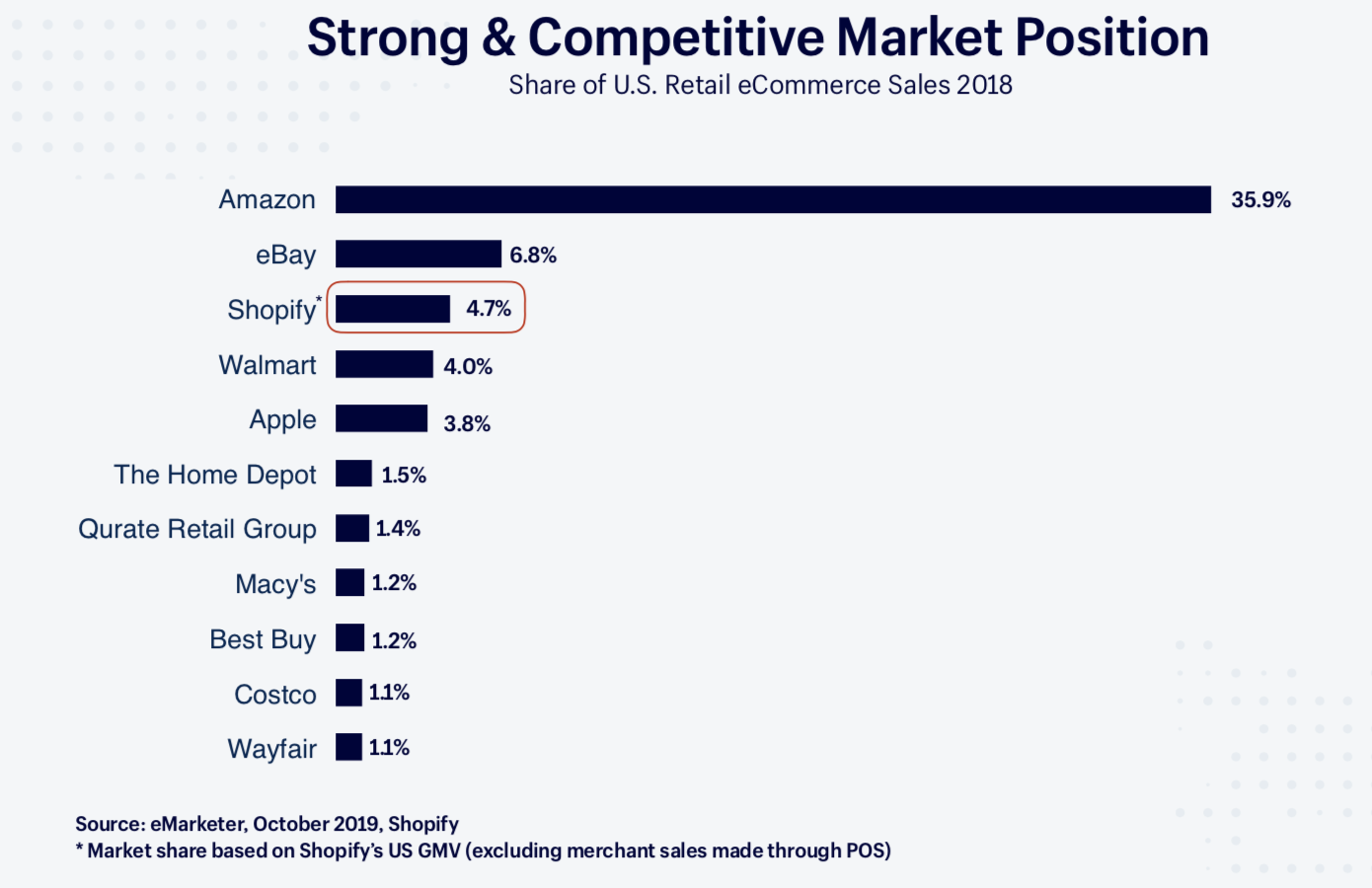 Thought #6 - Being a customer service hustler could make you COO of a company worth $55.4bn in market cap. Shopify COO's name is Harley Finkelstein. Before joining Shopify, Harley was a Shopify heavy user sending more customer service email than any other person. He was both super enthusiastic about the product and extremely exigent in his product feedbacks. Tobi ended up hiring him to bring its hustling spirit to the team. I love the anecdote. Guillaume Cabane did something similar to become VP Growth at Segment and Drift. It's a great way to make a difference to join a company you love.

Thought #7 - "Amazon is trying to build an empire and Shopify is trying to arm the rebels" (Non-GAAP Thoughts). Shopify is not competing with Amazon directly. You can even use Shopify to sell your products on Amazon. While Amazon is focused on providing the best experience to consumers, Shopify is focused on providing the best software to merchants willing to sell goods online.

Thought #8 - Shopify is part of the answer to the future of work. The increasing digitization and automation of our lives are generating profound mutations in the workforce. Bain is forecasting that by the end of the 2020s, automation may eliminate 20% to 25% of current jobs, hitting middle-to-low-income workers the hardest. Universal income is not the answer. Neither is the relocation of the workforce into low-qualified jobs working directly or indirectly for tech companies. Empower individuals by providing them with education and tools like Shopify to become independent entrepreneurs is a better option.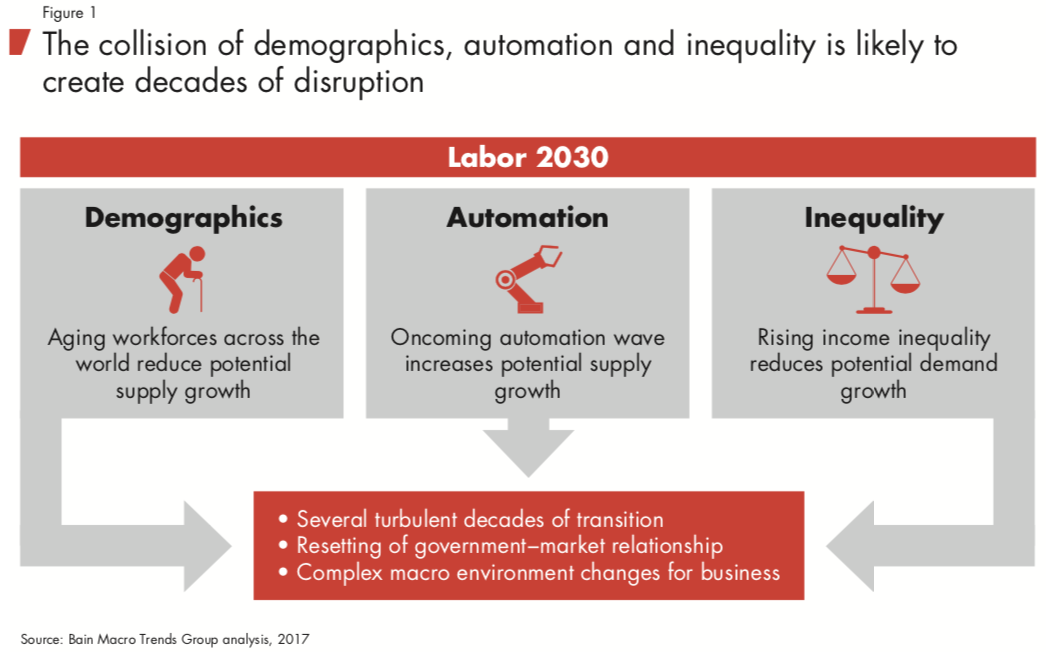 Thought #9 - Shopify is progressively adding layers to give better tools to entrepreneurs. Powering entrepreneurship is a never ending quest. Just to give you a glimpse of what Shopify is doing to achieve its vision, here are three initiatives implemented last year:

In Jun. 2019, Shopify announced the launch of its proprietary Fulfillment Network in the US with its own fulfillment centers to offers merchants lower cost and quicker delivery while maintaining a high level of customer experience. Behind the infrastructure, Shopify also has an algorithm to predict the optimal inventory quantities and the best locations to optimize deliveries.

In Sep. 2019, Shopify acquired Six River Systems which is a warehouse automation and industrial robotics startup. Its core product is a collaborative robot called Chuck who helps on-site workers in warehouses to be more efficient at picking, sorting, packing and replenishing inventories. The rationale behind the acquisition is to strengthen Shopify proprietary fulfillment network.

In Jan. 2020, Shopify announced that it will provide new merchants with $200 loans as starter capital to help them to kickstart their business. No personal guarantee is associated with the loan - meaning that if the merchant does not pay back, the money is lost. This initiative is a nudge to push people to launch their venture and is a similar incentive micro-credit in emerging countries. $200 is not that much when you know that Shopify is spending $1,500 to acquire a customer.

Thought #10 - A glimpse of how mainstream Shopify has become. Most consumers have bought something on a Shopify-powered online boutique in the past 12 months. They just don't know it. I have tried to find French startup online shop powered by Shopify today or at least at the beginning of their journey. I was not disappointed: