🗞 Venture Chronicles - June 2020
Overlooked #27
Hi, it's Alexandre from Idinvest. Overlooked is a weekly newsletter about underrated trends in the European tech industry. Today, I'm sharing the most insightful news of June.
For 2020, I want to pick one piece of news per day and write a short comment about it. I want to talk about something that strikes me. Something that happened in the tech ecosystem. Here is the issue for June!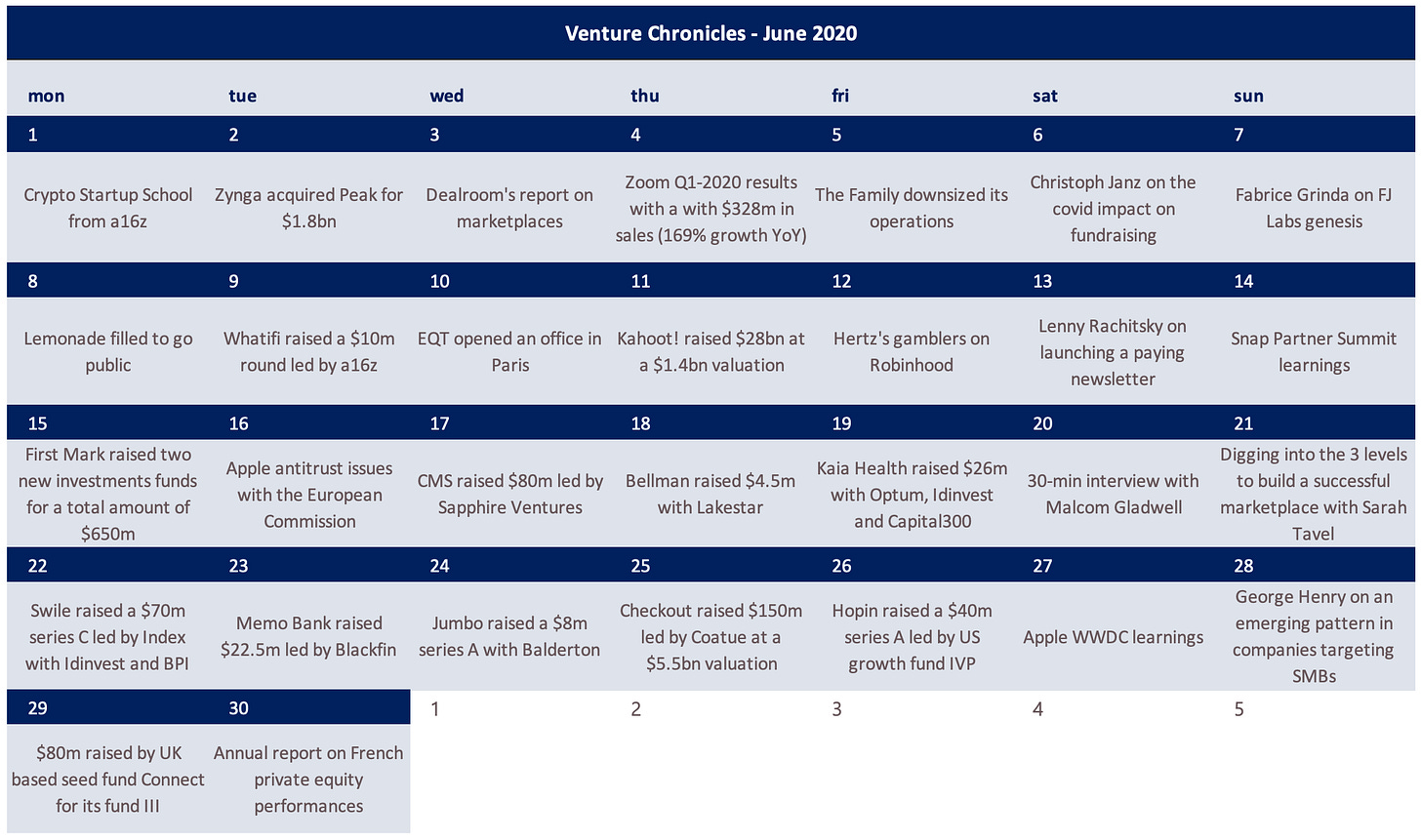 Please note that the date picked for each event is not always the exact date of the event but the date I decided to write about the event.
Monday, June 1st: a16z has started to release the recording of its Crypto Startup School classes. If you want to get into crypto, it's a great introduction far from the boring SEO-optimized articles teaching you what is Bitcoin and why all the industries will be disrupted by the blockchain technology. For instance, Ali Yahya did an amazing session on the defensibility of business models in the crypto-industry. He is explaining that cryptonetworks are multisided platforms that are building defensibility thanks to same-side and cross-side network effects with the interactions between all the stakeholders in the network (e.g. infra graph for layer 1 network effects). (a16z)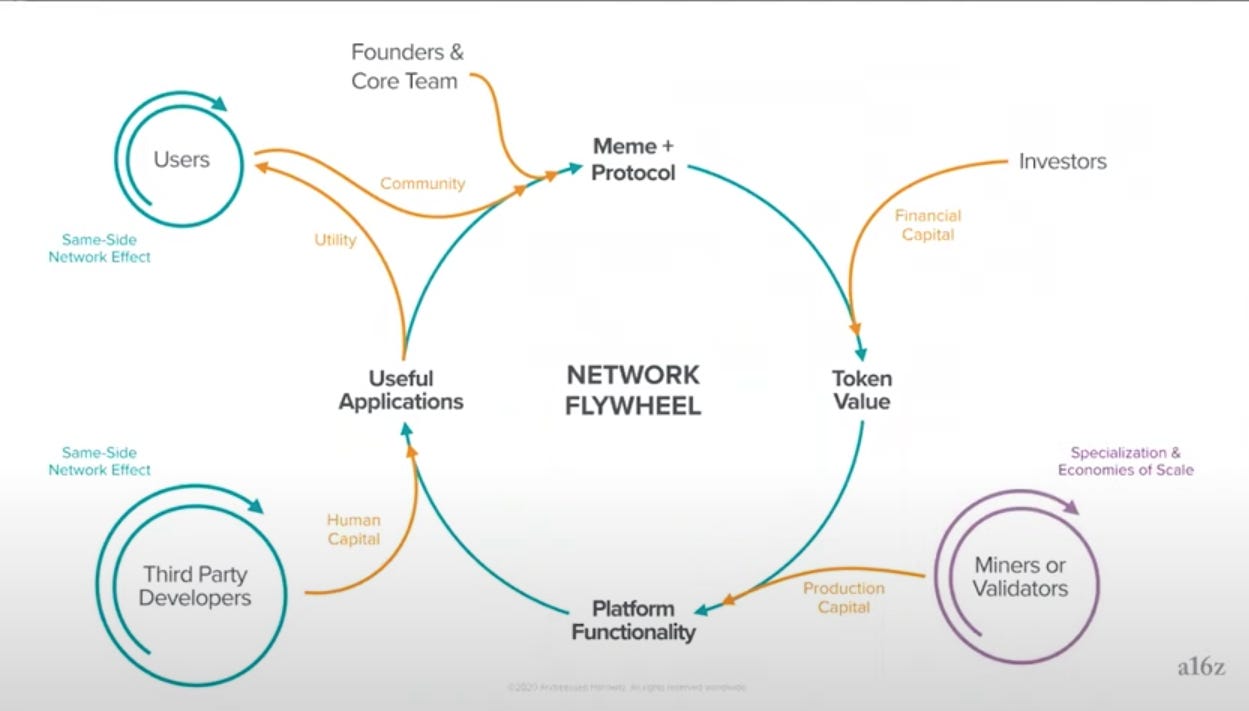 Tuesday, June 2nd: Zynga acquired Istanbul-based mobile gaming startup Peak for $1.8bn. This is an outstanding exit in the middle of the covid crisis for the European gaming industry and for Earlybird which owned an unusually high 30% stake into the company ($520m exit value for the fund). Peak was initially developing games for the Arab world before releasing two international successes with Toy Blast and Toon Blast. It generated $600m in sales in 2019. Tencent was also in line to acquire the company. To win big money in venture, not only do you have to be right but you have to be right against the consensus. Betting on casual mobile gaming is contrarian. Owning 30% of a company as a venture investor is contrarian. Congrats to Earlybird! (Hendelsblatt, Hummingbird)

Wednesday, Jun. 3rd: Dealroom released an exciting report on marketplaces in partnership with Speedinvest, Point Nine and Adevinta. Marketplaces are playing an increasing role in our consumer lives and covid has accelerated their adoption. The report is giving good indications on what's next for marketplaces.

Some of the biggest consumer spending areas remain untapped by venture capital like housing, healthcare and education.

Three key categories have to be disrupted by marketplaces: regulated services, sustainability and future of work.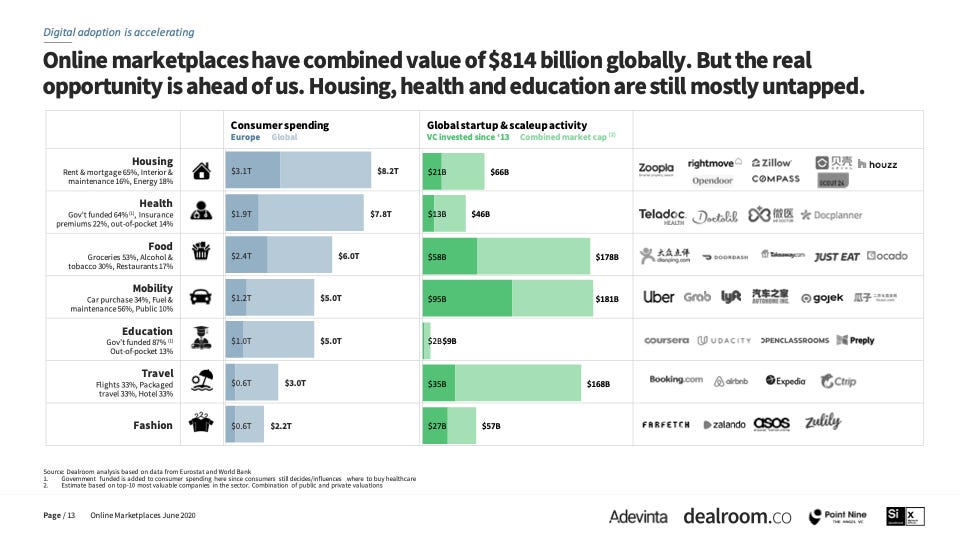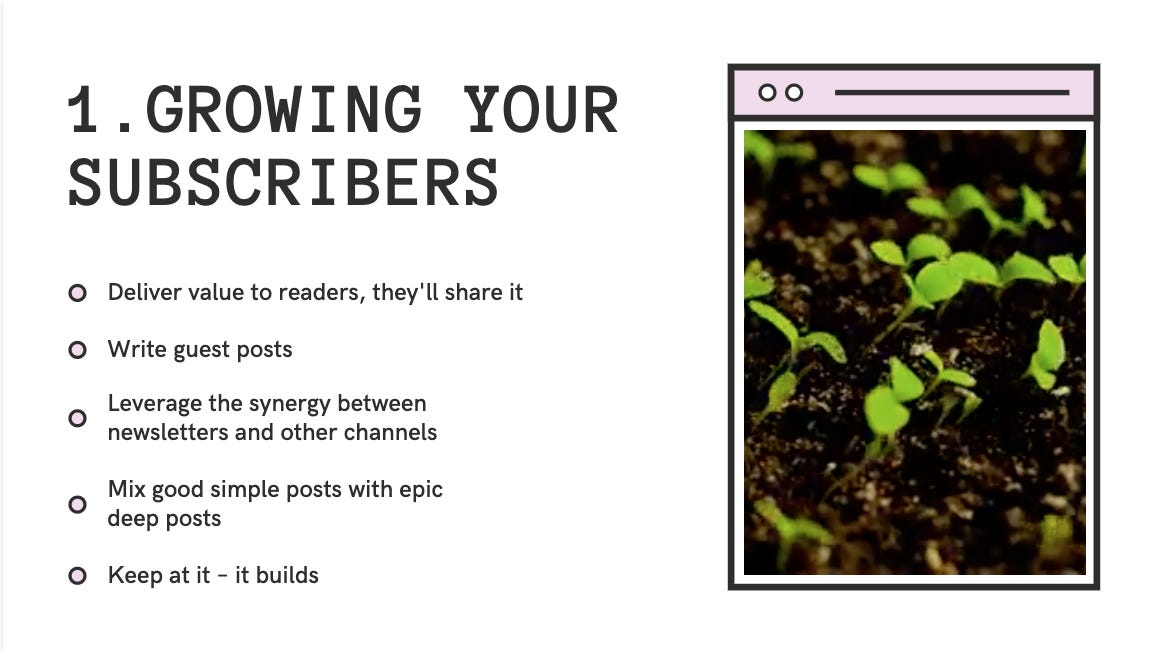 Sunday, Jun. 14th: I watched Snap Partner Summit. So many French companies are working within the Snap ecosystem (including Voodoo, HomaGames, Yuka, Yubo, Yolo, etc.). (Snapchat, 🇫🇷 Le Panier). Here are my three favorite announcements:

Local Lenses which "enable a persistent, shared AR world built right on top of your neighborhood"(e.g. paint together with your friends the building in front of you).

Camera Kit added to the Snap Kit to let 3P applications use Snap's AR camera (e.g. Snap lenses x Squad or Triller or… Yubo 🤫)

Snap Minis which are micro-apps developed by third parties and integrated into Snap chat (e.g. mini-relaxation with friends on Headspace, compare your class schedules on Saturn). Snap is getting one step closer to Asian super apps.

Monday, Jun. 15th: FirstMark disclosed two new investment funds: a $380m early-stage fund (FirstMark IV) focused on seed and series A and a $270m opportunity fund (FirstMark Opportunity III) to double down in portfolio companies and to make growth investments. FirstMark is one of the most active US investor in France with investments in companies like Dashlane, Ledger, Dataiku, Sketchfab. (Techcrunch)

Tuesday, Jun. 16th: The European Commission opened an antitrust investigation against Apple practices within the AppStore which takes a generous 30% cut on every mobile application transactions. It's problematic because Apple does it on services (music, movies and e-books) for which it has its own offer. Spotify and Rakuten are leading the war against Apple. It would not be irrelevant to have Apple forced to lower its cut rate down to 1-2% -something similar to other payment systems like Stripe or Adyen. (The Verge)

Wednesday, Jun. 17th: Berlin-based headless CMS startup Contenful raised a $80m series E at a valuation close to $1bn led by Sapphire Ventures with the participation of General Catalyst and Salesforce Ventures. Contentful has 2.2k paying customers including 22% of the Fortune 500. It's an impressive European SaaS success story founded and seeded by Balderton and Point Nine in 2013 followed by a series B with US investor Benchmark in 2016. (Techcrunch)

Thursday, Jun. 18th: Bellman raised $4.5m for its property management system in a seed extension led by Lakestar with the participation of existing investors Connect Ventures and Financière Saint James. Bellman is working with 100 buildings representing 2.5k customers. Watch out for this space in France. Matera also raised a series A with Index. Bellman and Matera have both outstanding teams and there are huge pain points to be solved in property management. (Techcrunch, Pietro Bezza, Clément Parramon)

Friday, Jun. 19th: Kaia Health is raising a $26m series B led by Optum, Idinvest (💙) and Capital300. Kaia is a digital therapeutics startup with 400k users which is using computer vision in a mobile application to help people suffering back pains to do physiotherapy exercices on their own. (Techcrunch)

Saturday, Jun. 20th: I listened an insightful 30-min interview on France Culture with Malcom Gladwell. He discussed his last book (Talking to Strangers) but also the future of media. For instance, he explained that the media industry is starting to get decentralized at a fast pace (with both professional journalists like him leaving media corporations to build their own media as well as citizens starting their own media) and that we are far away from measuring all the consequences of this shift. My girlfriend is Malcolm Gladwell's biggest fan and we cannot recommend enough his podcast Revisionist History, which inspired this newsletter's name. (🇫🇷 France Culture)

Sunday, Jun. 21th: Sarah Tavel has published three posts to detail the three levels to build a successful marketplace. The overall thesis is to say that you should start slow be creating the perfect experience for both sellers and buyers before growing fast until the market tips in your direction. Once you have a good market positioning, don't rest and go for a total market domination. (Part I, Part II, Part III)

Level 1: kickstart the marketplace by creating experience for both side of the marketplace that is significantly better than on any other substitute. You should now start by focusing on growing your GMV.

Level 2: tip the marketplace in your direction by identifying and maximising growth and happiness tipping loops. The market will tip when network effects start to kick in and it gets easier to grow the marketplace.

Level 3: dominate your market by becoming the indisputable market leader across all categories and all geographies.

Monday, Jun. 22th: Swile raised a €70m series led by Index (doubling down after leading the series B) with the participation of Bpifrance Large Venture and Idinvest (💙). 210k people in France are using Swile in 8k companies. Swile started as a booking mobile app for teams to book takeout lunches with discounts. Then it evolved to take down the French meal voucher cartel (Sodexo, Edenred, Up and Natixis Intertitres). Swile is now going after all employee benefits (gift card, transportation subscription etc.) and is expanding outside France (Brazil this year, other European countries next year). (Techcrunch, Funding Crush 🇫🇷 )

Tuesday, Jun. 23th: Memo Bank (ex. Margo Bank) raised a $22.5m series led by Blackfin with the participation of existing investors Daphni and Bpifrance. Founded by Jean-Daniel Guyot, Memo Bank is a bank with a proper credit institution agreement targeting SMBs (10+ FTEs and €2m+ sales). Memo Bank spent 2 years building a full core banking system and obtaining the right banking agreement. (Techcrunch)

Wednesday, Jun. 24th: Jumbo raised a series $8m led by Balderton. It's a B2C mobile app to manage your privacy and data on the internet launched by Sunrise Calendar (sold to Microsoft) founder Pierre Valade who is well known for being a top product-oriented founder. Monetizing consumer privacy services will be hard but I'm convinced that we are moving into this direction. My personal opinion is that privacy is a human right that should be enforced by every democracy and States should even subsidize solutions like Jumbo. (Bernard Liautaud, NextView, Tech.eu)
I'm super excited about these three companies (Swile, Memo Bank and Jumbo). It's the best proof of the growing maturity of the French ecosystem. Loic Soubeyrand (Teads sold to Altice for $307m in Mar. 2017), Jean-Daniel Guyot (Captain Train CEO sold to Trainline for $189m in Mar. 2016) and Pierre Valade (Sunrise Calendar sold to Microsoft for $100m in Feb. 2015) are three successful repeat entrepreneurs. They did not need to start a new business to get rich or become well known in France. Yet, the three of them decided that they wanted to build a new bigger project tackling super complex topics (meal vouchers, banking, privacy) and applying the learnings from their previous experience (e.g. taking all the time needed to build a top notch product before scaling).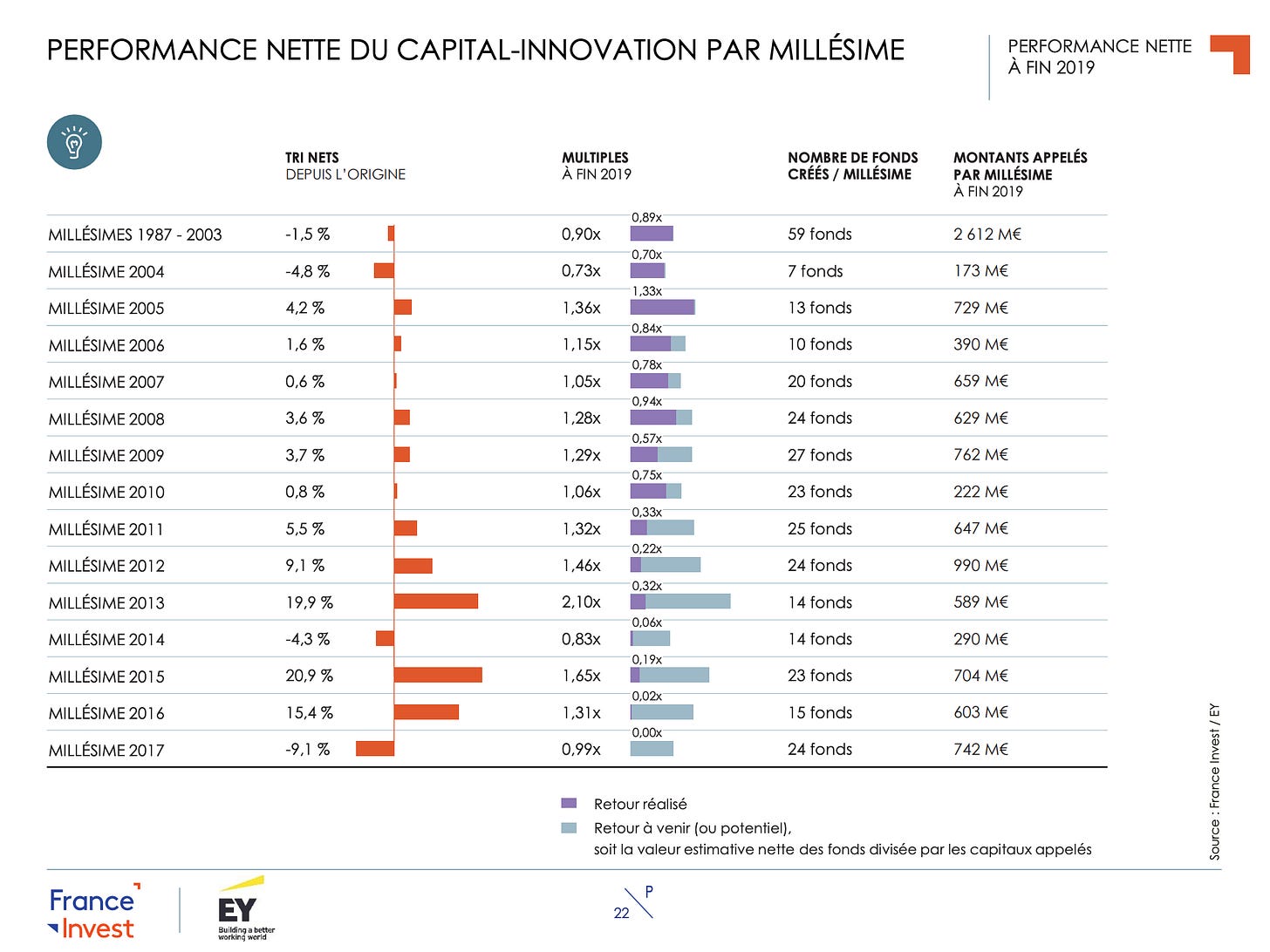 ---
Thanks to Julia for the feedback! 🦒 Thanks for reading! See you next week for another issue! 👋