Your Ear is the New Eye - The €100bn Audio Industry
Overlooked #2
Hi, it's Alexandre from Idinvest. Overlooked is a weekly newsletter about overlooked trends in the European tech industry. Today, I'm talking about the €100bn audio industry and I am trying to make the case that the industry size could double in the next decade discussing Airpods, podcasts, music streaming and voice assistants.
I am a radio-maniac. I remember listening to RTL when I was a kid while eating my breakfast. Now, I still listen religiously but to France Culture's news update at 8AM every morning. I fell in love with radio voices like the ones of Bernard Poirette, Hervé Gardette or Adèle Van Reeth.
Then, I discovered philosophy and podcasts in high-school. In 2013, I started to listen to Les Nouveaux Chemins de la Connaissance on France Culture which was available on Apple Podcasts. It was great because I was in school when the show was running and I was able to listen to it during the weekend while running.
Since then, listening to podcasts has been part of my daily habits. I discovered many other amazing shows. Malcom Gladwell's Revisionist History podcast has even inspired the name and the spirit of this newsletter. I know the introduction by heart: "My name is Malcolm Gladwell and you're listening to Revisionist History, my podcast about things overlooked and misunderstood. This episode is about..."
Audio has a greater impact on my daily life - education and consumption habits - than video.
I totally get the point of Spotify's CEO, Daniel Ek, when he claims that the audio industry is undervalued compared to the video industry. "Video is about a trillion dollar market. And the music and radio industry is worth around a hundred billion dollars. I always come back to the same question: Are our eyes really worth 10 times more than our ears? I firmly believe this is not the case." He is confident that the audio industry could double in the coming years.
In this issue, I want to give you facts and data points to prove to you the ubiquity of audio in our daily lives. It will keep on growing in the next decade.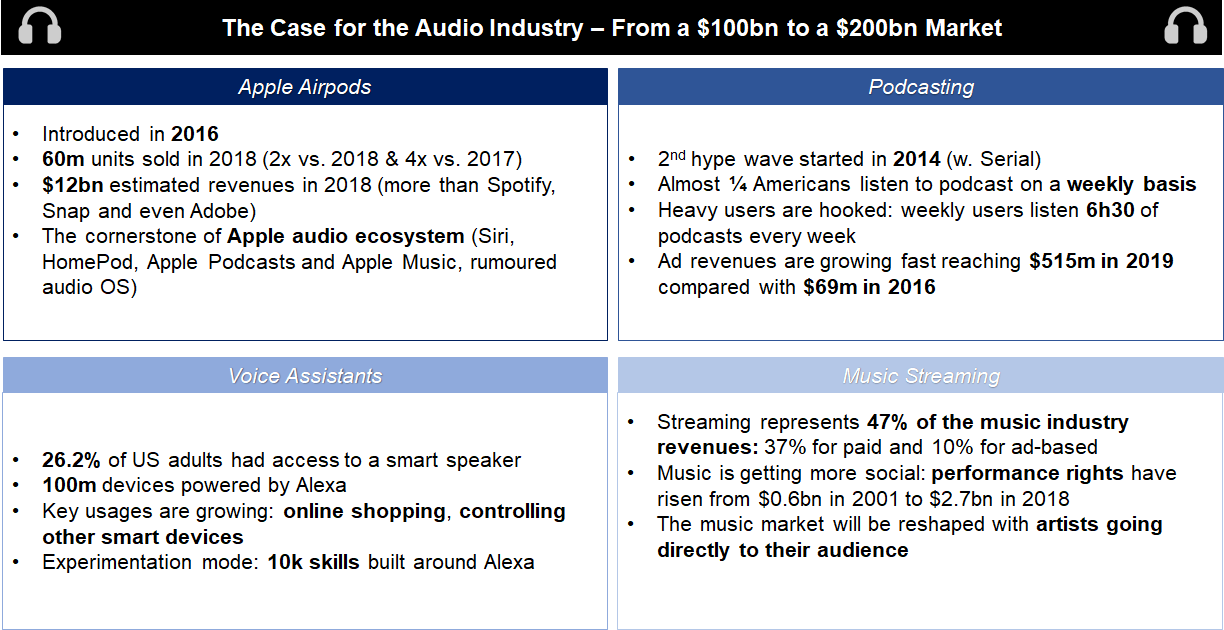 Apple AirPods were introduced in 2016. At a beginning, it was a joke. People were laughing at people wearing them on the street. Then, something happened. Airpods became mainstream.
In 2019, Apple was reported to have sold 60m units (2x vs. 2018, 4x vs. 2017). It is said to be the fastest growing product sold by the US-based giant with a 50%+ profit margins.
Now every smartphone manufacturer has started to build their own version of Airpods. Some are creepier. Others are better.
When you take a step back, this success is insane:
Compared to Apple's past history, Airpods past quarter sales could exceed the sales of iPods at its apogee back in Christmas 2007

Compared to peers, Airpods could be generating more revenues than top tech companies like Spotify, Snap, Square and Twitter. I don't even mention traditional headphone traditional players (Bose reported $4.0bn sales in 2019)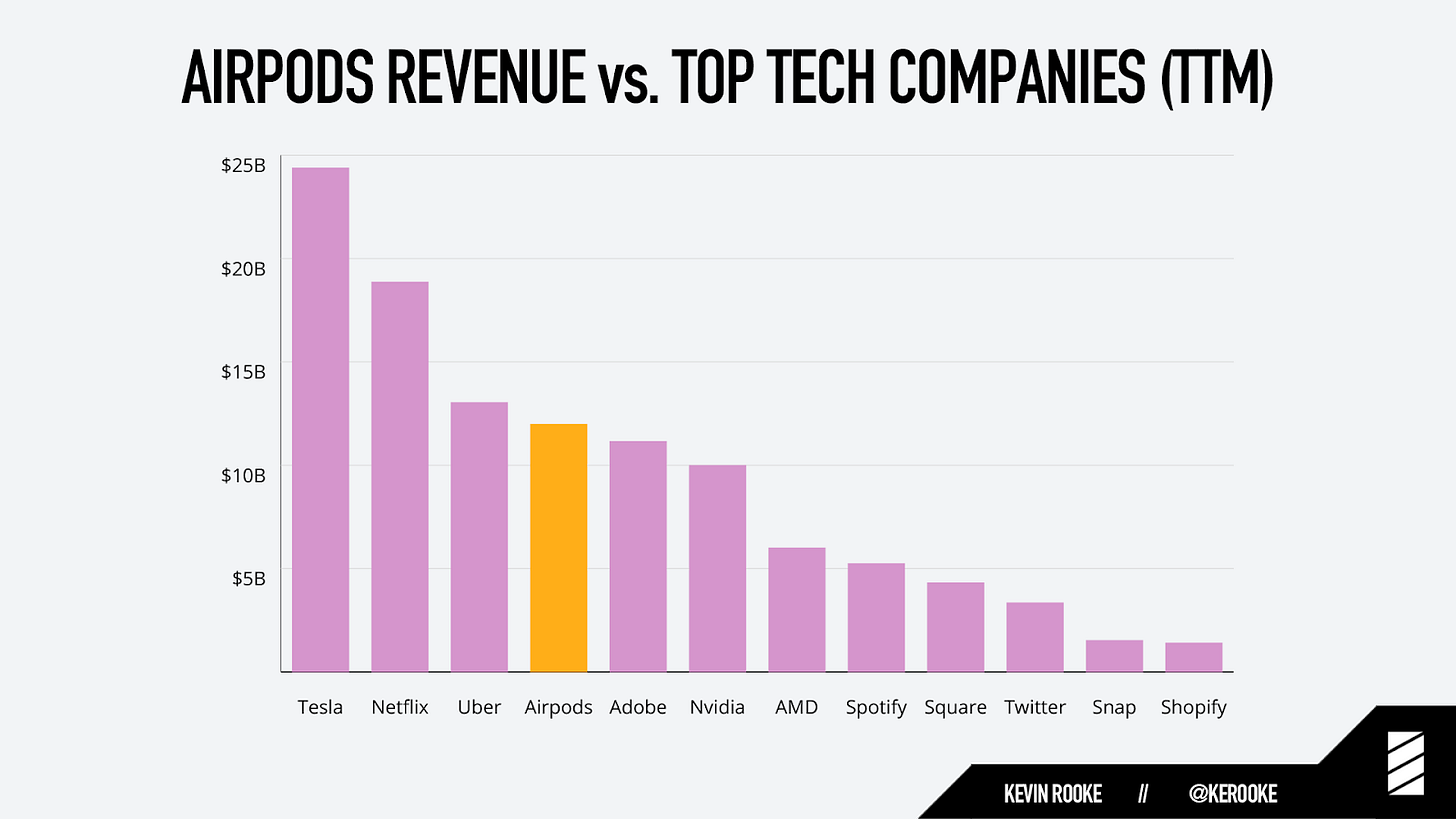 Apple is now trying to build around this success. There is still room for revenue growth (yes, I know the basics of strategy consulting interview preparation):
By increasing volume: 100m Airpods have been sold so far compared to the 900m iPhone installed base

By increasing prices: Apple released Gen. 2 priced at $200 ($50 more expensive than Gen. 1)

By diversifying the product line: releasing a Pro Version with noise cancellation priced at $250
Apple is well positioned to build an ecosystem in the audio industry. Apple is rumored to be developing an operating system for Airpods. More people are using voice based messages to communicate. Apple has services like Apple Music and Apple Podcasts which are well positioned in their respective market. Apple has its virtual assistant Siri and its smart assistant the HomePod.
NB: Apple does not report figures for AirPods sales. I used the figures mentioned in the articles in the Source section which are based on assumptions.

The podcast industry is relatively new. The term was coined in 2004. A 1st hype cycle happened between 2005 and 2007. Steve Jobs said back in 2005 that "podcasting is the next generation of radio". We are now in the 2nd hype cycle which started in 2014 with Serial, the first podcast success which reached 5m downloads in 1 month.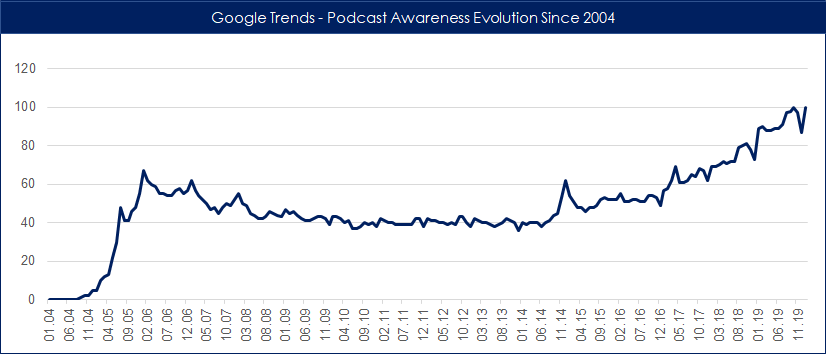 Podcast consumption has been growing quickly in the past 5 years. 32% of Americans are now listening to podcasts every month compared to 9% in 2008. Podcasts are conquering new audiences with 65% of active listeners who started listening in the past 3y. Heavy users are hooked (weekly podcast consumers listen to 6h30 of podcasts every week) and podcast demographics are attractive for advertisers (30% graduate degrees and 44% millennials).
The publisher side of the business could be divided into 5 main categories: media company, podcast-only company producing several shows, large independents, non media businesses and individuals. Looking at the number of downloads per episode, you see a power law with the top 1% podcasts having 35k downloads per episode compared with the median 124 downloads per episode for the total market.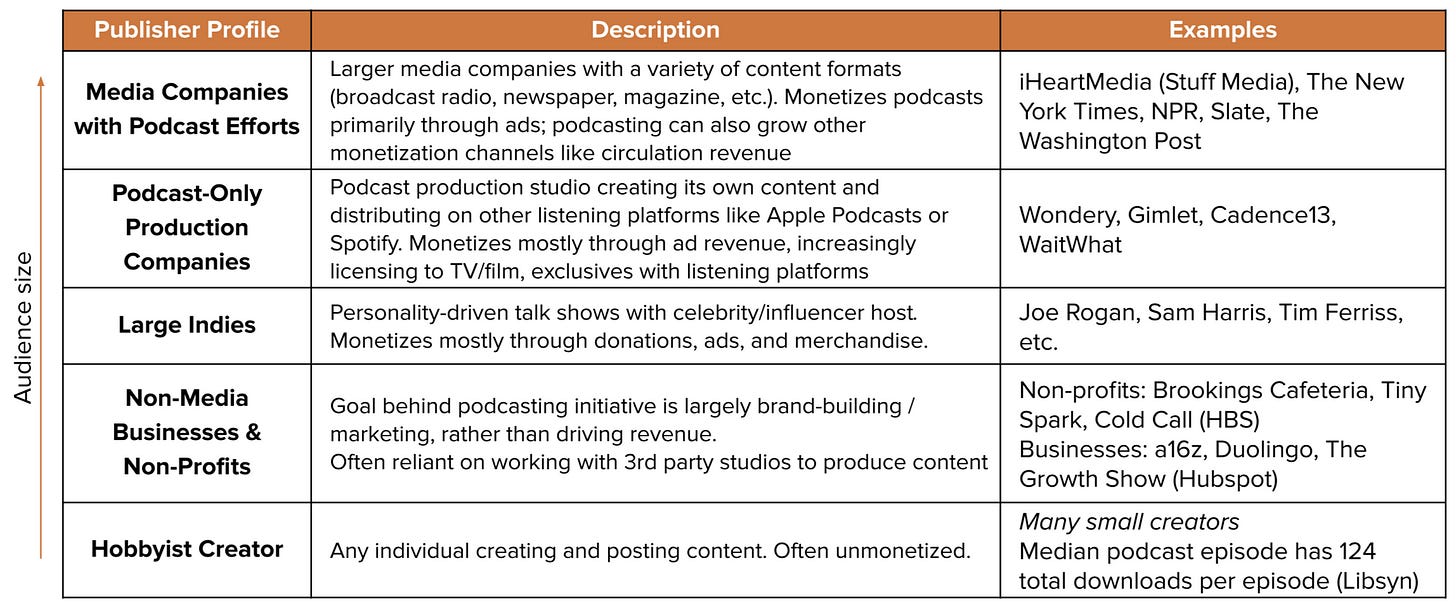 Here are some topics to follow in the coming months for the podcast industry.
Analytics for podcasters are ridiculous. Podcasters are using aggregators like Anchor to push their content on the different podcast platforms. But these platforms does not provide the same metrics on users and on usages. They don't have the same definitions for what is a listened or played podcast. As a result, the data is fragmented across platforms. Platforms don't provide podcasters with attribution data on how listeners discovered your podcast. It is also impossible to do precision targeting - something Google and Facebook are extremely good at.
Breaching the monetization lag between podcast and radio. Podcast ad revenues are growing strongly (reaching $515m in 2019 compared with $69m in 2016) but remain a drop in the ocean of the advertising revenues (internet, television, newspapers and even radio). Looking at the revenues generated per active user per hour, podcast is 10x less monetized than radio. This monetization lag is not due to a lack of efficiency compared to other media. In fact, Nielsen reported that pre-roll podcast ads increase purchase intent by 10.8% vs. 10.3% for video ads. This is mainly due to the fact that podcasting remain under the radar of advertisers and that the advertising tools around podcasts are at their early days (no pre-built monetization tools on major podcast platforms, bad analytics on usage and demographics, long tail is harder to monetize).
Media companies and independents publishers to converge. Let's take the example of France. In the early days of French podcasting, on the one hand, you had amateurs who were launching a podcast to talk about a hobby on their own or with other people. On the other hand, you had French radio companies releasing their emissions on podcast platforms - without exploring new formats. Now successful amateurs are becoming more professionals by investing in better sound materials, structuring themselves into networks and starting to attract advertisers. On the opposite, media companies are now producing native first podcasts. You also have people from the traditional media industry building their own podcast business like Mathieu Galet (ex. INA and Radio France) with Majelan in France or Govind Balakrishnan (ex. BBC) with Curio in the UK.

Podcasting is a country by country business. When you look at the top 100 ranking in the French Apple Podcast app, only 3 podcasts are in English (The Daily from The New York Times, Global News Podcast from the BBC, 6 Minute English from the BBC).

Podcast as a marketing feature. Increasingly, corporations and startups are building their own podcast for brand marketing reasons. In France, you could check Alan's podcast called Good People or Pretto's podcast called L'Amour est dans le Prêt. Abroad, the most convincing success story is The Twenty Minute VC built by Harry Stebbings which was a cornerstone to build its own VC Fund called Stride together with Fred Destin. But, you can also check a16z podcasts and The Growth Show produced by Hubspot.

Smart speakers are penetrating every household. At the end of 2018, 26.2% of US adults had access to a smart speaker. 100m devices are powered by Alexa. In the US, it is a duopoly market led by Amazon and Google. Amazon has a stronger market share but Google seems to be catching up and is stronger than Amazon abroad. Sonos and Apple are the two main players in the other category.

Low price speakers (<$50) account for 43% of the market. Manufacturers tend to make numerous reduction programs on this low price speaker and it's not unusual to have them in a free bundle with another more expensive high tech product. This is mainly because players like Google and Amazon are not trying to earn money by selling the hardware but are trying to build an ecosystem of software and services around smart speakers.

Usage remains unproven but interesting use cases are growing. Daily usage has declined between 2018 and 2019 from 64% to 47%. It is partly explained by the fact that smart speakers are moving to the mass market and this category of users are less willing to use smart speakers compared to early adopters. Most use cases remain rudimentary (ask a question, listen to music, check the weather, set an alarm, set a timer). An interesting daily usage which is disproportionate compared to monthly and trial usage is the control of smart home devices (23.5% daily usage). Voice commerce is also slowing increasing (15% monthly usage in 2019 vs. 13.6% in 2017).
Voice assistants are getting smarter. I was super impressed by the introduction of Google Duplex back in 2018. It's an A.I. voice assistant able to do automatically background tasks for you like booking an appointment. The voice assistant is able to imitate human behavior in its voice as well as verbal tics.

We are still in the experimenting phase. From a user perspective, we have to learn to speak efficiently to a smart speaker. It was the same when we had to learn how to text or how to use a computer. From the business side, companies are also experimenting. For instance, Amazon is iterating to find the best products to use its voice assistant as well as the key use cases. 10k skills has been built around Alexa with numerous use cases tried by brands (order flowers, having stats on a video games etc.). In Sep. 2019, Amazon launched a long list of Alexa-powered hardware including weird objects like a ring, a connected dog tag and glasses.

Music streaming has saved the music industry. The music market was slowly declining because of the reduction of physical sales. Digital sales which started in 2004 and were embodied by the iPod and iTunes were not able to compensate this decline. Thankfully, music streaming did it. Spotify was founded in Sweden in 2006 and since then the streaming market share has been growing fast and has been able to stop the declining trend of the market in 2015. It is now representing 47% of the industry revenues (37% for paid streaming and 10% for ad-based streaming).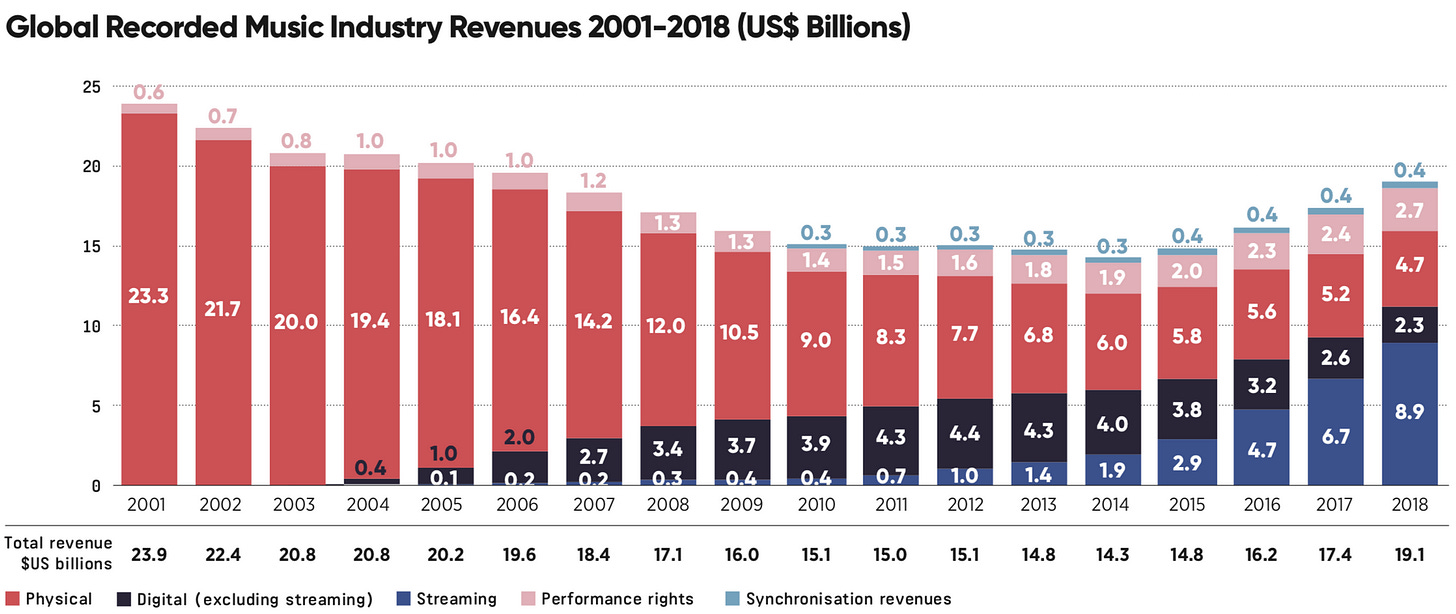 Music is getting more social. The other worth mentioning trend on the above graph is that performance rights has risen from $0.6bn in 2001 to $2.7bn in 2018. People are no longer buying physical recording to support their preferred artists but are willing to spend more on concerts and festivals. Another interesting trend is the rise of social network TikTok which promotes short video clips with a musical background.

The music market will be reshaped. I am excited to see an increasing number of artists going directly to fans without signing horrible deals with music labels. Spotify keeps talking about building a double sided marketplace for both users and artists. Spotify is giving the tech to independent artists to engage directly with their audience. Each artist has an homepage which can be personalized with information, pictures and playlists. Artists also have access to analytics to get a better understanding of what is happening. Tools are progressively added - the last one being an advertising platform to let artists who pay push their content to people.

Airpods
Podcasting
Voice Assistants
Music Streaming
Thanks to Julia and Maxime for the feedbacks! 🙏
---
See you next week for another issue! 👋