March 2019 — French Startups Funding Rounds
Last month, French startups raised €484m through 33 deals with an average amount of €14.7m and a median amount of €1.4m. This time, the €475m record of May 2018 has been broken mostly thanks to new mega rounds that created two French unicorns: €160m for Kyriba and €150m for Doctolib.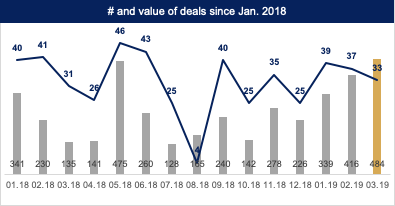 In only 3 months, 7 startups raised rounds above €50m (Wynd, ContentSquare, Ynsect, Mirakl, Shift, Doctolib and Kyriba) compared with 9 rounds for all 2018 (Dataiku, Blablacar, Evaneos, Deezer, Vodoo, Open Classrooms, Recommerce, Ledger, Front)! Here is the proof that the French ecosystem is growing in maturity and is able to produce companies fighting at the international scale.
Top 10 Funding Rounds 🚀

Business Models: SaaS is Definitely the King!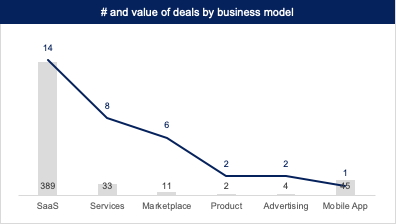 By far, Software-as-a-Service was the most represented business model with €404m raised through 15 rounds representing not only 46% of the total number of deals but also 84% of the total amount raised. In fact, in the top 10 fundraising rounds, there ware 5 SaaS companies: Kyriba, Doctolib, Shift Technology, Oslo and Implicity.
Besides Doctolib, my favorite pick is Shift Technology. It is fraud-detection technology company designed for insurance industry. The €53m series C round was led by Bessemer (backed 120+ companies that have done an IPO) with the participation of existing investors Accel, General Catalyst, Iris and Elaia. Bringing a US fund as a lead investor will help the company enter the US market where it is less present so far compared with Europe.
Shift's main product is Force, a software detecting insurance fraud with a 75% accuracy rate — crucial for an industry where c.€12bn are lost to fraud every year. This round aims at increasing this rate to 80% and develop new business lines for the insurance industry. The first new product is called Luke. It is a platform that manages disasters automatically and it is currently tested by 4 customers (including AXA Spain).
If you want to know more about Shift, you can read this paper from Elaia in which the French VC Fund explained the reasons why they invested €1.6m along with Iris in the seed round back in September 2014!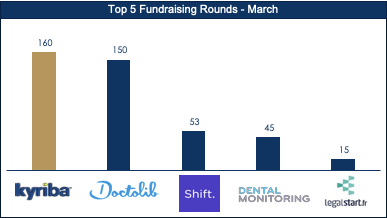 Beyond SaaS, service was a business model under the spotlight in March with €33m raised in 8 rounds driven by the first fundraising round of Legalstart. This company is quite famous in the French ecosystem because any entrepreneur wanting to build a new startup will ask Legalstart to help him in his legal proceedings. Since inception in 2013, it has helped more than 150k entrepreneurs and has now 15k subscribers that pay a monthly fee to have an on-demand juridical expertise.
Legalstart is an interesting case because it is a company that has been profitable since day 1 and that had refused for a long time to raise money from VCs. Yet, Isai growth fund convinced them that an equity investment between €15m and €20m would be relevant in order to diversify the company into new business lines (esp. integration of law professionals into their services & tools to digitalize their practices) and to enhance the product (better UX, mobile app development).
Marketplace was also a business model well represented with 6 rounds for a total amount of only €11m. The delivery marketplace Trusk was the main source of funding with €7m raised with ViaID and Daphni. Other projects were seed rounds (Welmo, Hire, Coworkees, SpaceFill and Cocoonr).
Sectors: Kyriba & Doctolib are Distorting the Breakdown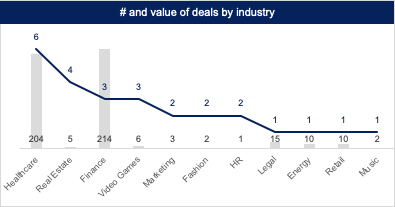 This month was dominated by four industries. On the one hand, healthcare and finance driven by mega rounds. On the other hand, real estate and video games with mostly seed rounds.
Healthcare was the most represented sector with €206m raised through 6 transactions (Doctolib, Dental Monitoring, Implicity, Synapse Medecine, Hellocare, Dr Milou). Three of them are trying to empower health practitioners to enhance the relationship they have with their patients during a treatment:
Dental Monitoring (€45m raised with UK PE fund Vitruvian): a web and mobile application designed for self-monitoring dental treatment. Patients will use the application to send pictures of their teeth to their dentist to help him manage their treatment remotely

Implicity (€4m raised with Xange, Serena and Cap Décisif): a remote monitoring platform for patients with connected pacemakers and defibrillators that is compatible with the five main hardware providers (Abbott, Biotronik, Boston Scientific, Medtronic & Microport).

Synapse Medicine (€2.5m raised with Xange, BNP, BPI and Kima): AI solution to help doctors select the right drug prescriptions by taking into account the profile and the medical history of their patients
Another industry that shinned thanks to big rounds is Finance with 3 rounds for a total amount raised of €214m thanks to Kyriba, Shift and Eloa.
On the other side of the spectrum, the Real Estate sector raised €5m in 4 small rounds: €400k for Welmo, €1m for Smart Hab, €1.1m for Cocoonr and €2m for Homeland. The latter was founded in 2016 and is building a digitalized condominium management platform. It is entering a oligopolistic market in which two thirds of condominiums are managed by 5 players (Foncia, Nexity, Citya, Urbania et Immo de France) and in which the digitalization level and the customer satisfaction rates are quite low.
By providing digital tools to property managers and condominiums, Homeland significantly increases the quality of the service while reducing the price compared with other property managers. As of today, Homeland is managing 150 condominiums and plans to reach 200 to 300 building by the end of the year while developing new tools for its property managers (accounting, relationships with tenants and third parties, claims management etc.).
Like the Real Estate sector, Video Games was another active industry in terms of fundraising with 3 small rounds (GamersOrigins, Quidol and WGF) and for a total amount of €6m. The €3m GamersOrigins funding round shows us quite explicitly that the e-sport team will not play in the same category as Vitality that raised €20m in November 2018. Indeed, Vitaly raised this amount of cash partly to enter the League of Legends European Championship which is a closed league like the NBA where you have to pay an €8m franchise to be in the league for several years. Accessing this competition allows Vitality to attract professional players but also better sponsors.
GamerOrigins has a completely different business model: the e-Sport team is here to establish the video games expertise of a marketing and advertising agency that help brands reach gamers.
Investors: International PE Funds Investing in the French Tech Market
VCs were involved in 15 transactions (46% of total) for a total amount raised of €263m (55%). This involvement is a bit lower than the previous month (51% of total transactions and 87% of amount raised).

This is mainly due to the presence of PE funds on two big rounds. On the one hand, the €45m fundraising round of Dental Monitoring by Vitruvian. On the other hand, the acquisition of a majority stake of Kyriba by Vitruvian, beyond the €160m influx in cash. These investments highlights the trend of seeing large PE funds being more and more interested in investing in funding and acquiring technology startups.

Foreign investors were quite active this month by participating in 7 transactions accounting for a total amount raised of €413m (i.e. 85% of total). The two trends we saw in February are confirmed: foreign investors are involved in the main transactions and are no longer afraid to invest without any French coinvestor (Kyriba, Dental Monitoring and Hellocare).

Business Angels invested in 14 rounds representing a total amount of €167m. This latest figure is biaised by the participation of German entrepreneurs coming from the healthcare industry in last Doctolib's €150m round. Doctolib is not afraid of involving local practitioners in his shareholding structure even at a late stage to maximize the odds of conquering a new market.
Monthly "Coup de Coeur" — Doctolib 💉 🦄
Here we are! Knowing the story of doctolib since inception, we were quite confident that the startup would end becoming a unicorn! Thanks to this massive €150m round led by General Atlantic (with the participation of existing investors Eurazeo Growth, Accel, Kernel and BPI), the company crossed the famous €1bn valuation threshold.
General Atlantic is anything but a rookie investor in the French ecosystem. It is its fourth investment in a French marketplace in less than one year! They also invested in ManoMano (Sept. 2017 and April 2019), Open Classrooms (May 2018) and Sézane (June 2018). General Atlantic is a US growth equity investment firm founded in 1980. The list of the companies they backed in the last few years is just insane: Klarna, Automation Anywhere, Slack, Uber, Snap, Typeform, Airbnb, Flixbus, Adyen, etc.

Doctolib was founded in 2013 as a scheduling service for health practitioners in France. Six years later, Doctolib has entered the German market, has started to work with hospitals and has launched a telemedecine offer. Now, the company has 800 FTEs. Every month 35m users go on the webiste or the mobile app to schedule an appointment.
Doctolib works with 80k doctors and 1.7k healthcare facilities (I let you compute the implied MRR with a €129 monthly suscription for general practictioners…) but is far from having conquered the whole adressable market both in France and Germany as only 15% of French health practicioners and 1% of German health practicioners use Doctolib.
The end game is to build a Salesforce-like software for the healthcare industry i.e. become a SaaS company with a range of services to help practitioners switch from traditional software suites to browser-based applications. With this fresh funding, Doctolib will double its team size, will enter new markets and launch new products.
I am sure that we will still be impressed in the coming months by the new barriers that Stanislas and his team will be able to break!