June 2019 — French Startups Funding Rounds
June broke all records with almost €700m invested in 66 French startups! With a €205m fundraising round, Meero is now the biggest on record in France so far this year, beating Doctolib's €150m fundraising announced in March 2019.
But we should also see the wood for the trees. Beyond Meero's round, the French startup ecosystem is booming with both well-known startups like Payfit and Ornikar raising funds to replicate their local success outside France and a new wave of promising ventures raising their A round to accelerate their growth like Geroges.tech and Taster.
Since I have started in Venture Capital at the beginning of the year, I have been impressed by the quality of entrepreneurs who are raising funds: super ambitious, international-driven and execution monsters. June fundraising rounds were the epitome of this dynamism.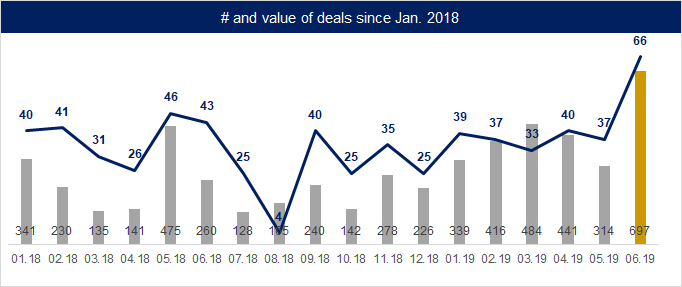 June broke all records with almost €700m raised!
In this article, I dig into the two biggest rounds of the month which are Meero's €205m series C and Payfit's €70m series C. I also give you the data on most praised business models and sectors as well as some insights on active investors last month.
🚀Top 10 Funding Rounds 🚀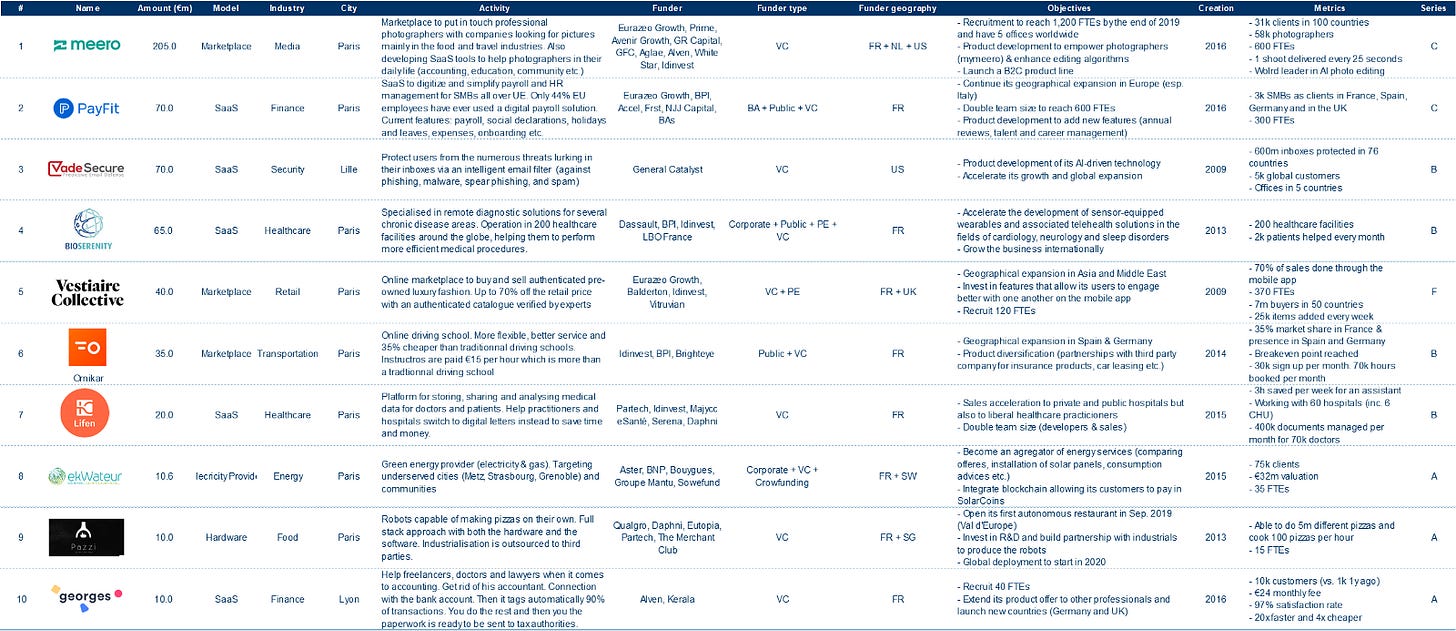 📷 Meero Refocusing on Photographers 📷
In June, Meero grabbed the headlines of the European tech press after the announcement of its last €205m series C joining the restricted select club of French startups that raised more than €150m in a single round:
€250m for OVH in July 2016 with KKR and TowerBrook

€183m for Voodoo in May 2018 with Goldman Sachs

€178m for Blablacar in September 2015 with Accel, Insight, Lead Edge Capital, Grape Arbor and Vostok New Ventures

€160m for Deezer in August 2018 with Access Indsustries, Orange, Rotana, Kingdom Holding and LBO France

€150m for Doctolib in March 2019 with Eurazeo, BPI, Accel, General Atlantic

€150m for Sigfox in November 2016 with Intel Capital ,Bpifrance, Idinvest Partners and iXO Private Equity

Let's try to take a step back. Meero was founded in 2014 by Guillaume Lestrade and Jeremy Teper. Initially, it was a traditional marketplace helping individuals and companies find a photographer in various sectors (real estate, food, travel, etc.). At the time, Thomas Rebaud, Meero's current CEO, was working on several startup projects including Watchdog system (a safety lock company) and a photo agency which was using Meero.
At the beginning of 2016, Thomas joined Meero as co-founder and CEO. He turned the model into a full-stack photography platform taking care of most steps of production from photo shooting booking to retouching. Meero became the managed marketplace it is today.
Since then it has experienced an exponential growth in revenues, in employees, in shootings etc. I think that three key elements were essential in this exceptional path:
The customer focus shift from SMBs to enterprises with dozens of millions annual photography budgets and needs all over the world like Grab, Oyo, HomeAway or Regus. Today, Meero has more than 31k customers in 100 different countries. No other French startup has such a global reach!

The development of a super strong editing tech to reduce shooting editing time to almost nothing. A professional photographer spends hours to produce enhancements to each photograph. Meero used AI-based algorithms to learn how to do it in a scalable way.

There is no other direct global competitor. It's differentiation lies into: (i) its ability to scale and optimize operations worldwide, (ii) and the seamless experience it has built for photographers (post production and booking) and clients (standardization and efficiency).KodatIT (a marketplace for photographers built by Kodat) and Snappr are only marketplaces and Ouiflash the other French player does not have Meero's global reach. The biggest threat for Meero could maybe come in several years from software based on GAN to produce artificially and without the need of photographers high quality pictures of food, real estate, e-commerce etc. HERE you can read more on this last topic.
With this new round, Meero announced a complete re-branding and refocus on its community of photographers. The vision is to build a strong brand in the photography world as established as Kodak, Canon, Sony or Nikon and recognized by both customers and photographers.
Meero wants to provide its photographers with not only a steady source of revenues from prestigious customers but also with a set of tools to simplify their daily life. The startup is developing an in-house tool called mymeero to help photographers manage different sides of their activity: accounting, CRM, marketing, file storage and compatibility.
Moreover, Meero is also focusing on building an educated community of photographers. The startup is experimenting several ways to train its photographers from online masterclasses to physical events gathering photographers in 100+ cities and 35+ countries. Building a community in such a fragmented market is valuable because being a photographer in the 21st century is not an easy life. Photographers struggle to earn a living, are alone and don't have a place where they can learn and exchange with peers.
Beyond this refocus, Meero also plans to open new verticals (like weddings and e-commerce) and extend its tech team (by recruiting 220 people by the end of 2020) to enhance its editing algorithms and apply them to other verticals.
After a first wave of flattering articles praising that a new unicorn was born, that it was the biggest round ever raised in France bla-bla-bla, a second wave of critical comments were made by journalists criticizing the precarious status of photographers working for Meero. You can find some of them here, here, here and here.
Here are the main criticisms raised by these French articles:
Meero is dragging prices down for photographers.

Meero is intermediating the relationships with the customers preventing photographers from building their own portfolio of clients.

Meero dehumanizes photographers with standardized and constraint missions and with their automated editing algorithms.

There are no copyrights on pictures taken for Meero's clients.
It's hard to have a definitive opinion on this job casualisation. Innovations are always changing our daily habits. Meero is growing super fast and it is hard to build from the ground up a sustainable way of living for their photographers.
But compared to Uber at the same stage of development, Meero is way ahead on providing tools to help their workers (education, AI-algorithms to avoid editing for boring missions, community building, SaaS to help them in their admin tasks) spend more time on being creative and do their own personal projects.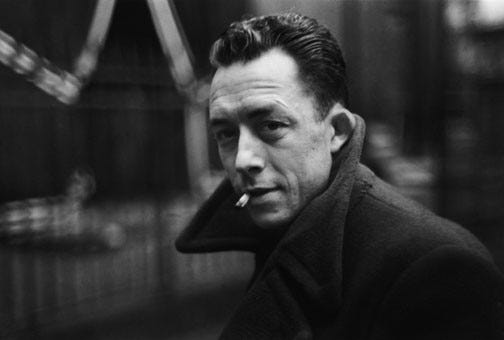 I wish that, one day, Meero young photographers will be able to take portraits of French novelists like this one of Camus by Cartier-Bresson!
💳
Payfit: Bringing Back Happiness in Human Resources Management 💳
I recently had the chance to prepare and be there during an interview with Firmin. He is Payfit's CEO and one of the three co-founders along with Ghislain (CEO) and Florian (CPO). During the interview I was struck by two things.
First, Firmin is a super calm, super concise and zero bullshit founder. He will never tell you that he plans to change the world from end to end. He will never oversell Payfit to potential stakeholders (employees, customers, investors etc.) He will explain you quietly that he is on a humble mission to help European SMBs enter the digitization era by providing them with a simple to use payroll software. And if this software can also be useful to address other HR issues with additional features (like leaves, onboarding, employee feedback collection or expenses), then it's great!
Second, Firmin is deeply and sincerely concerned by bringing happiness everywhere around him. Care is at the core of Payfit's activities. He wants all Payfiters to be happy when they come to work everyday. Otherwise it is not worth building a company. It is the same for his customers. Payfit aims at simplifying the life of HR people and employees in European SMBs in every matter related to human resources. HR is boring and painful for everyone when it is not digitized. Payfit makes it sexy. Maybe, one day, thanks to Payfit, every employee will be happy to make their expenses…
You can watch the 20 Minutes VC Firmin did with Harry at the family to judge how concerned he is about happyness
For companies with less than 50 employees, there is no software alternative in the market to manage payroll. The only available option is to hire a certified accountant. Competition is stronger beyond 50 employees but most of the time existing solutions do not offer as many features as Payfit for an equivalent pricing.
Payfit raised a €70m series C in a round led by Eurazeo Growth with the participation of BPI and existing investors Accel, Frst and Xavier Niel. As of today, it has 300 employees and 3k customers in France, UK, Germany and Spain (including LeCab, Manomano, Le Slip Français, Front, eFounders, Pumpkin, Heetch, Alan, Station F, Maddyness, Livestorm, Cleany, Gimlyb). Payfit will continue its European expansion by opening Italy and doubling team size in the coming month. Payfit is also building other product features (annual reviews, talent and career management etc.) to build the most comprehensive HR solution dedicated to SMBs.
The key competitive advantage of Payfit in its European expansion is an homemade programmatic language called the "Jetlang". In the early days, Firmin and his cofounders took 15 months to build an easy to learn and easy to use language. Why? Labor laws are constantly evolving and are very different from one country to another one. Without mentioning complexity. Jetlang is a language able to take into account every Labor Code and transform it into a simple payroll solution. Any change in the regulation (like the recent implementation of the income tax at source in France) is therefore easily integrated in the product.
Therefore, to launch the product in a new country, Payfit only needs two local people that will be trained in Paris to learn the Jetlang and learn the local Labour Code. Thanks to the simplicity of the Jetlang, they will be able to ship a beta version of the product in just a few months. The startup built the Spanish product in 8 months, the German one in 6 months, the UK one in 4 months. The goal is to develop the Italian product in less than 3 months. In bocca al lupo Payfiters! 🐺 Italy is waiting for you!
Metrics on Business Models, Industries and Investors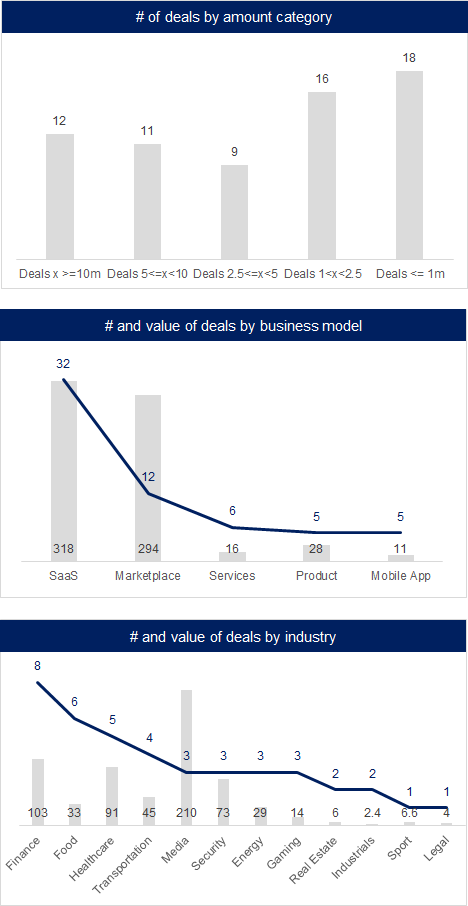 Business Models
SaaS reign was more contested in June than any other months in 2019 with "only" 32 transactions for a €318m total amount. Payfit (€70m), Vade Secure (€70m) and Bioserenity (€60m) were the SaaS startups that raised the largest rounds

Marketplace was under the spotlight not only thanks to Meero mega round (€205m) but also thanks to Vestiaire Collective €40m series F and Ornikar €30m series B

It is also worth to mention the €10m ekWateur funding round which is an electricity provider focused on providing green energy. The sector is experimenting a consolidation trend (e.g.Total bought Direct Energie for $1.4bn in April 2018) and there is space for players focused on poviding green energy (like Bulb in the UK)
Sectors
It was another diversified month in terms of sectors with startups raising more than 3 rounds in 11 different industries

Finance did well with 8 rounds (12% of total) for €103m (15%) with Payfit, Georges, Finexcap, AAA, Otherwise, Moneyway and Redfox Finance

Food is making a come back this month with two promising projects for the future of the market: the Pazzi pizza robot which raised €10m with Qualgro, Daphni, Eutopia, Partech, The Merchant Club and Taster the restaurant natively designed for delivery which raised €7.0m with mainly foreign investors (Battery, Heartcore Capital, LocalGlobe, GFC, Founders Future)
Investors
VCs remain the core players of the French funding market being involved in 42 rounds (64% of total) for a total amount of €659m (95%)

Out of the 5 biggest rounds, 4 were led by French investors (Eurazeo Growth for 3 startups and Dassault the last one). Eurazeo seems to be successful in its strategy of being a true alternative for startups raising late stage rounds vs. US and UK growth funds

Foreign investors were involved in 13 transactions (18%) representing a total investment of €440m (63%). Prestigious foreign funds like Prime Ventures, Balderton, Accel, General Catalyst, DN Capital, Heartcore, GFC, Battery and Local Globe took part into French funding rounds