January 2019 — French Startups Funding Rounds
Last month, French startups raised €339m through 39 deals with an average amount of €8.7m and a median amount of €3.0m. This month was very similar to January 2018 where €341m had been raised through 40 deals and we do not observe the same ramp-up of equity fundraising we had at the beginning of last year.
Top 10 Funding Rounds 🚀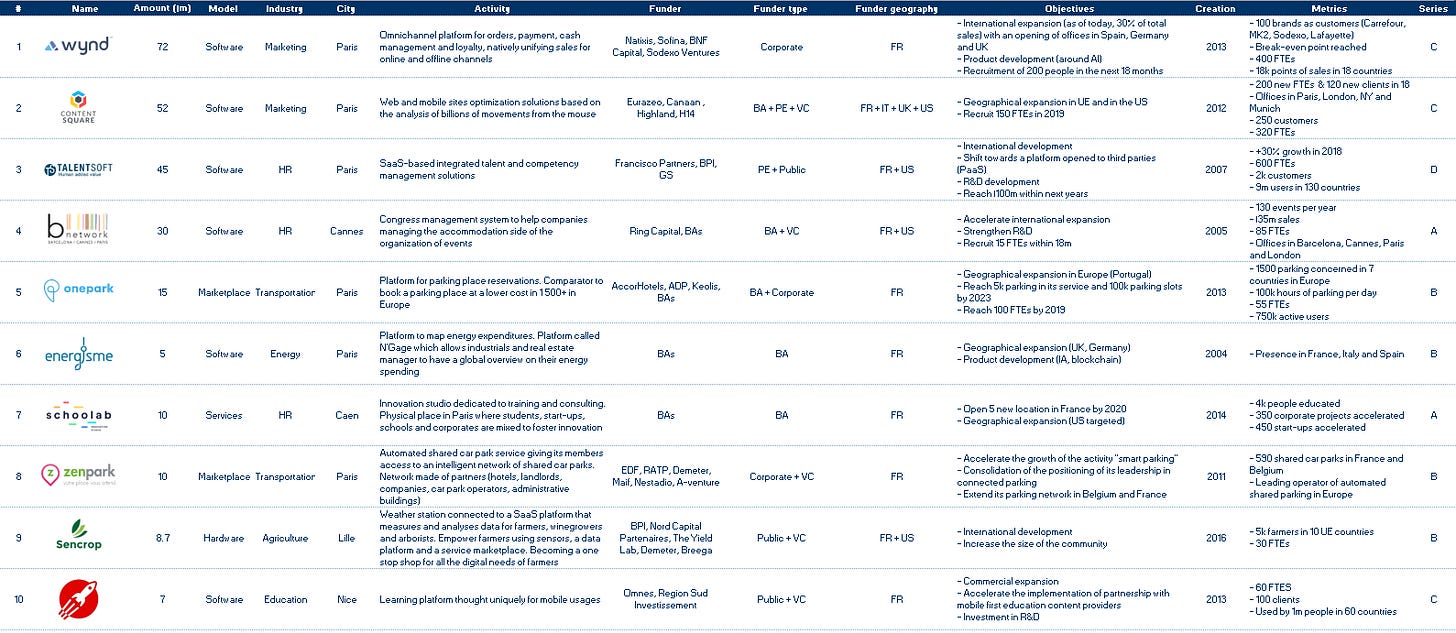 Business model: software remains the king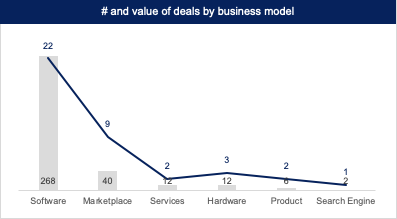 Software was the most popular sector representing more than half of the fundraising rounds (56%) and more than two-third of the amount raised this year (79%) with €268m raised through 22 rounds. The three largest rounds of the month were software-based startups:
Wynd: €72m raised in a series C led by Sofina (Belgium-listed investment company in PE and late venture funds) and Natixis with the participation of BNF Capital and Sodexo Ventures which were already investors. Wynd provides an omni-channel solution aiming at unifying the sale process both online and offline. The goal of this round is to speed up the internationalization of the product through the inauguration of offices openings in Spain, Germany and UK while still developing the product (notably with AI-based tools to increase the performance of its clients operations).

Contentsquare: €52m raised in a series C round led by Eurazeo with the participation of Canaan Partners, Highland and H14 (an Italian family-office). Contentsquare offers web and mobile sites optimization solutions based on the analysis of billions of movements from the mouse. With those funds, it aims at pursuing its geographical expansion in the US and in Europe while entering the Asian market.

Talentsoft: €45m raised in a series D round led by US PE fund Fransisco Partners with the participation of existing investors BPI France and Goldman Sachs. The startup provides a SaaS talent management platform to manage all HR-related issues (recruitment, learning, performance, competencies, salaries etc.) Three priorities have been identified for the following years: international development, opening of the platform to third-parties applications (following Microsoft example) and product innovation.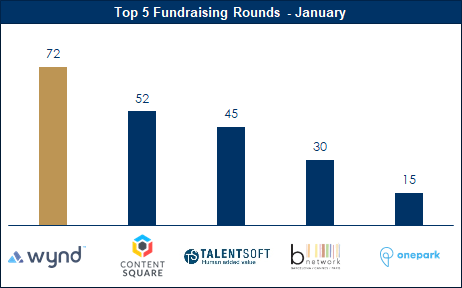 Beyond software, marketplaces has been well-represented with 9 rounds (23%) for a total amount raised of €40m (11%). It should be noted that two marketplace startups that are trying to change the way we park our cars in main cities have raised money. With the decrease of outdoor parking slots in every European cities and the rise of autonomous cars, new solutions have to be invented to manage parking efficiently.
Onepark: comparator of parking all over Europe with 1.5k+ parkings registered that lets users book their parking slot in advance especially in crowded transportation places like airports and train stations for a cheaper price. It raised €15m in a series B with prestigious corporates like ADP, Keolis and AccorHotels but also with Angels.

Zenpark: automated shared car park service giving its users access to a network of shared car parks (of hotels, companies, real estate managers, public administration etc.) where they can book in advance their parking slot and manage autonomously the entrance and exit in the parking. It has raised $10m in a series B with EDF, RATP, Demeter, Maif, Nestadio and A-venture.
Sectors: transportation, marketing and HR under the spotlight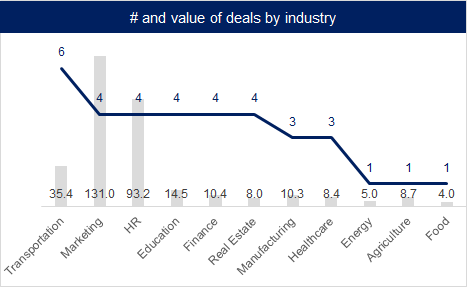 Transportation is the sector with the highest number of fundraising rounds with 6 operations for a total amount of €35.4m -the two main rounds being the ones of Zenpark and Onepark. But in terms of deal value, marketing and HR where the two sectors that attracted the most capital with respectively €131m and €93.2m raised.
Investors: VCs are still driving the French fundraising market but BAs and Public entities are also well represented
VCs have been involved in 26 transactions (67% of total) for a total amount raised of €241m (71%). They remain the core engine of equity fundings in startups. It should be noted that Ring Capital was the only French VC involved in one of the five largest fundraising rounds (the €30m round of bnetwork). Foreign VCs and investors had to take the lead in the main transactions of the month illustrating the unwillingness of French venture capital fund to invest after the seed and series A rounds.

Foreign investors were involved in the major transactions of the month (Wynd, Contentsquare, Talentsoft): 8 transactions (21%) representing a total amount of €222m (88%)

Business Angels were extremely active compared to the last few months as they were involved in bigger transactions than usual (bnetwork, Schoolab, Onepark) while still being involved in smaller rounds (participating in 12 out of the 21 transactions lower than €3m)
Monthly "Coup de coeur" — Zoov 🚲
Zoov has raised €6m in a round led by daphni, C4 Ventures and Road Ventures. BNP Paribas Développement and the Banque des Territoires have also contributed to the round. Zoov is a free-floating bike sharing solution, but with a completely different value proposition.
Everyone living in Paris knows that we are still waiting for an amazing bike sharing solution. In 2018, the sector was completly shaken up with the change of the public service and the massive arrival of new players. Before, we had a unique service called Vélib where bikes were attached to huge stations requiring civil engineering to be set up. Bikes were heavy, poorly designed, unable to collect data and not electric.
The city of Paris decided to modernize its bike sharing infrastructure last year starting important investment to change all the stations. It took way more time than what was initially planned and when the new Velib solution was released, it was a fiasco. Nothing was working properly.
In the meantime, startups like Ofo, Gobee, Mobike etc. invaded the capital with their free-floating solutions without looking too closely at the costs incurred and without anticipating deteriorations. After several months of operations, several of them decided to leave Paris, their activity being financially unsustainable.
Zoov is trying to bring the best of a Velib-like solution and a free-floating solution. It has a full control of its service ("à la Frichti") from design to operation. Hence, employees are able to iterate and enhance every aspect of the bike and the service they are building around it. For instance, every Zoov bike is equipped with sensors meant to improve maintenance operations. Reparations can be anticipated. Data on the usage of the bike can be collected.
In crowded areas, Zoov has developed a respectful approach to sharing public roads deploying compact stations requiring neither public investment nor civil engineering. In less-crowded areas, users can let their bike without attaching it to any station.
To use a Zoov bike, you will have to download the app. You enter your final destination and Zoov will suggest you to book one of its bikes while telling you how much the ride will cost you. The bike is unlocked thanks to the app through a bluetooth connection and a GPS especially designed for bikers will drive you towards your destination. When you arrive, you have a guaranteed spot if you choose to park the bike at the station and you just have to click once in the app to return the bike.
Zoov is currently testing its solution in the Plateau de Saclay area (South of Paris). The funding collected has four goals:
Financing the roll-out of the service in the Saclay region,

Launching the service in several French conurbations,

Iterating on the bike and on the mobile app,

Doubling the size of its French workforce.
I hope they will reach their objectives. Our cities deserve a better biking-service solution.