February 2019 — French Funding Rounds
Last month, French startups raised €416m through 37 deals with an average amount of €11.2m and a median amount of €3.0m. This month was impressive compared to the last fourteenth months especially in terms of total amount raised: there was only one month, May 2018, during which more money was raised, with €475m raised through 46 deals including Vodoo's €173m and OpenClassrooms' €51m rounds.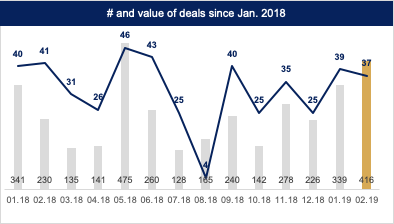 Top 10 Funding Rounds 🚀

Business Models: New Categories for more Granularity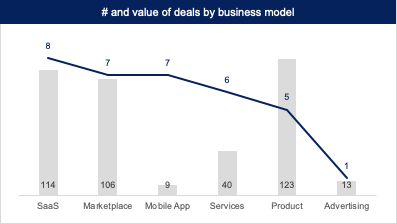 I decided to add more granularity in my analysis by breaking down the software category into sub-categories that are closer to the reality of how startups are earning money (SaaS, marketplace, mobile app, advertising etc.)
Software-as-a-Service was the most represented business model with €114m raised through 8 rounds representing 22% of the total number of deals and 24% of the total amount raised. In the top 10 fundraising rounds, there were 4 SaaS companies: Alan, Lunchr, Botify and Odaseva.
Alan hit another thrilling milestone by raising a €40m series B with Index and DST Global which is a late-stage venture capital fund — founded by Russian billionaire Yuri Milner — that invested in numerous prestigious companies (Alibaba, DoorDash, Flexport etc.). Alan has 27k users and reported €25m sales in 2018. With this round, the goal is to conquer the French market and to attract all the freelancers and companies with less than 500 FTEs. Alan will recruit 110 employees in 2019 and will try to reach 100k users by 2021.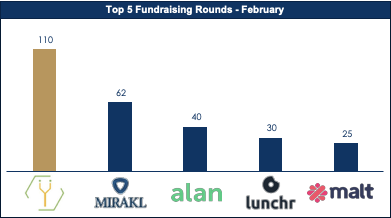 Beyond SaaS, marketplace was another business model targeted by investors in February with €106m raised in 7 rounds (vs. €40m and 9 rounds in January) driven by Mirakl's €62m series B and Malt's €25m series C.
Mirakl helps retailers to launch and grow their marketplace (either B2B or B2C) offering a one-stop-shop solution to build a marketplace with all the features you can think of. The venture arm of US private equity giant Bain Capital ($105bn) is leading the round along with previous investors Elaia and 83 North.

Malt is a SaaS-enabled marketplace connecting freelances with companies wanting to outsource certain tasks. Beyond this linking, Malt also provides both parties with services. On the one hand, established companies access a dashboard tracking all the financial and juridical matters related with hired freelances, have a key account manager dedicated and can connect their services to Malt's platform. On the other hand, Malt automates for freelancers the billing of their missions, insure them and act as a trusted third party that is keeping part of the money during the time of the mission.
Mobile app was also a business model under the spotlight with 7 rounds for a total amount of only €9m, meaning that the companies involved were raising a seed round (Yuka, Salvum, Kobus, Yield, Ourco, The Green Data and Louer Agile).
On the contrary, only 5 startups selling a physical product raised money last month but for a total of €123m (more than SaaS or marketplaces) well driven by the €110m round of Ynsect but also the €8.8m round of Typology, the new venture of Ning Li. Ning is a serial entrepreneur and has become famous for building Made.com: an e-commerce platform providing designer furniture directly sold to the consumer. He is building another digital native vertical brand specialized in skincare and cosmetic products. I can't wait to see what he will be able to achieve!
Sectors: A Well-Balanced Month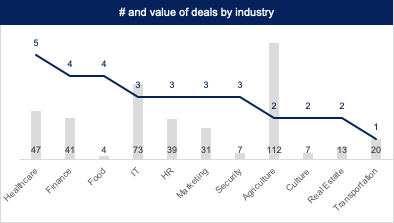 It was a pretty diversified month in terms of sectors and it was hard to decide on which ones to focus on.
Healthcare is the sector with the highest number of fundraising rounds with 5 operations for a total amount of €47m. Beyond Alan's €40m round, smaller projects raised money to tackle issues different from what we are used to: will-management for Testamento, connecting ambulances with healthcare prescribers for Ambler, training for first-aid procedure through Salvum's mobile app.
Agriculture was the other sector under the spotlight with €112m raised in 2 rounds, mainly driven by the round of Ynsect. This startup is specialized in grooming insects to transform them into agricultural products such as fertilizer that are more sustainable. As of today, the insect used is a beetle called mealworm that can be used to produce YnMeal (a protein food for animals) and YnFrass (an organic fertilizer). The funding will allow the company to build a mega-plant near Amiens that will produce 20k tons of proteins per year and to go abroad (especially in the US).
Investors: The French Ecosystem is Attracting more and more Foreign Investors
VCs were involved in 19 transactions (51% of total) for a total amount raised of €361m (71%), remaining the growth engine of startups funding. It was a particularly busy month for us at Idinvest as we were involved in 6 rounds covering all the investment spectrum from seed to series C. Ynsect, Lunchr, Malt, Botify, Colonies and Ambler are all either joining our portfolio or being refunded to push forward their vision.

Foreign investors were extremely active this month whether by being involved in the major transactions of the month or also by doing investments without any French co-investor (Alan and MyDataModels). Out of the 15 main rounds of the month, 10 were done with foreign investors with a special mention for Index that took part into 2 rounds this month (Alan and Malt).

Business Angels invested in 16 rounds representing a total amount of €55m being focused on smaller rounds. Michaël Benabou (founder of Vente Privée) and Xavier Niel maintained their strong pace of investment in their structures with respectively 2 investments for Financière de Saint James and 5 investments for Kima Ventures
Monthly "Coup de Coeur" — Lunchr 🍴 💳
Lunchr raised €30m in a series B led by Index with the participation of former investors Daphni, Idinvest and the arrival of Kima as a new investor. The company is reinventing the corporate lunchtime by providing employees a dematerialized payment solution for meal voucher and an online lunch booking platform with group discount. They have 2k customers (including Redbull France, LeLynx.fr, Spotify France and Qonto) and an impressive 0% churn since product launch.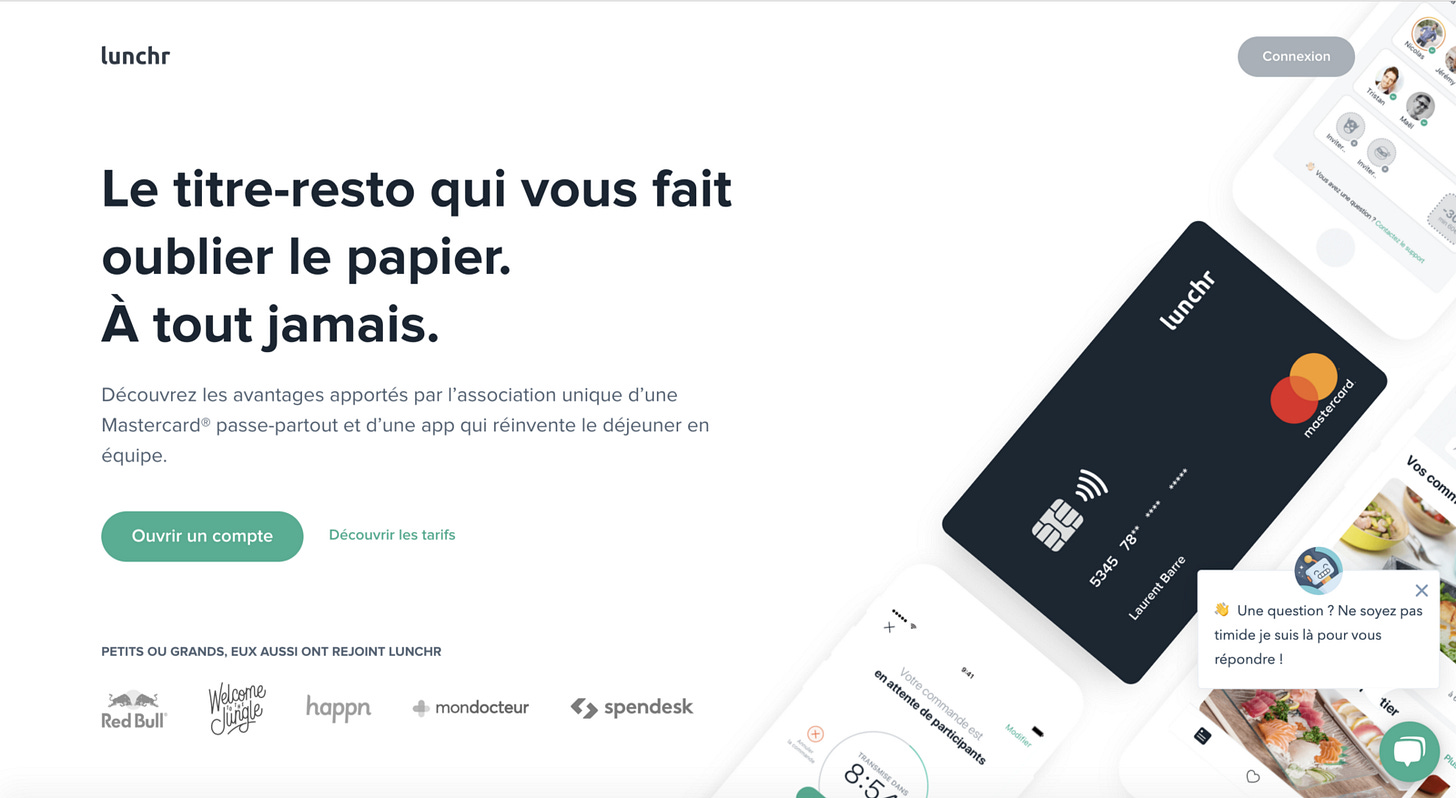 Lunchr's motto: "The meal-voucher that will make you forget the paper. Forever."
I love Lunchr for several reasons. First of all, I hate paper-based meal vouchers. I hate them so much that I stroke a deal to sell 6 months of meal vouchers to a friend with a 15% discount on their face value to buy a Switch with the money earned.
Second, the startup is fighting an established oligopoly in the meal vouchers French market (Edenred, Sodexo, Natixis and Group Up). In France, employers are required to support financially their employees for their lunch. They can either have a cafeteria or give them meal vouchers. For years, these four players have shared this market by providing paper meal vouchers making money on lost and unused meal vouchers. Lunchr completely upset the market by introducing a dematerialized payment solution and by pushing incumbents to be innovative again.
Third, Loïc Soubeyrand is a great entrepreneur. He is anything but a beginner. He was the CEO of Teads, a company specialized in video advertising that he sold to Altice for €305m in 2017. When he launched the booking platform in January 2017, Lunchr was secretly developing the dematerialized payment solution. The idea was to keep competition at bay while acquiring an initial customer base.
With this round, Lunchr will start its internationalization in Europe this year and in Latin America next year. The startup is also targeting to have 200k users and a €400m GMV by the end of the year.