Dark Kitchens - Reshuffling the Food Delivery Market
Overlooked #4
Hi, it's Alexandre from Idinvest. Overlooked is a weekly newsletter about overlooked trends in the European tech industry. Today, I'm talking about the rise of cloud kitchen businesses in Europe and how they are changing the face of the food delivery market..
Several hundred years ago, posting houses were places where horses were kept and could be rented or changed out. Travelers would arrive to these houses to exchange horses and move to the next leg of their journey. Logically, the posting houses also became auberges where travelers could rest for the night and eat something.
Posting houses permitted the rise of auberges specifically suited for this infrastructure of posting houses to feed and offer rest to travelers. The same is happening with dark kitchens and the food delivery infrastructure.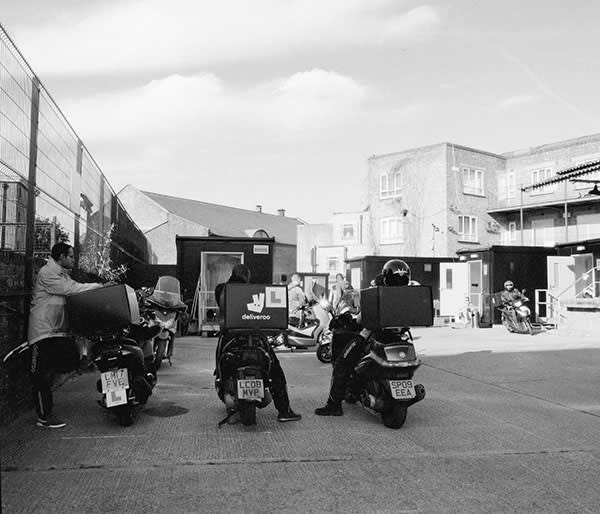 Credit: William Spooner

1/ A new generation of startups is emerging and is raising capital in the European food industry. Food delivery platforms were amazing successes for European venture capitalists. Index, a UK-based venture fund, was so convinced by the depth of the food delivery market that they even invested into two food delivery platforms: JustEat and Deliveroo.
Today, a new generation is emerging and tackling other layers in the food value chain: primary production (Ynsect, Infarm, Agricool), alternative proteins (This, Mosa Meat, Meatable), D2C grocery (Crispr, Jow, La Fourche) and dark kitchens.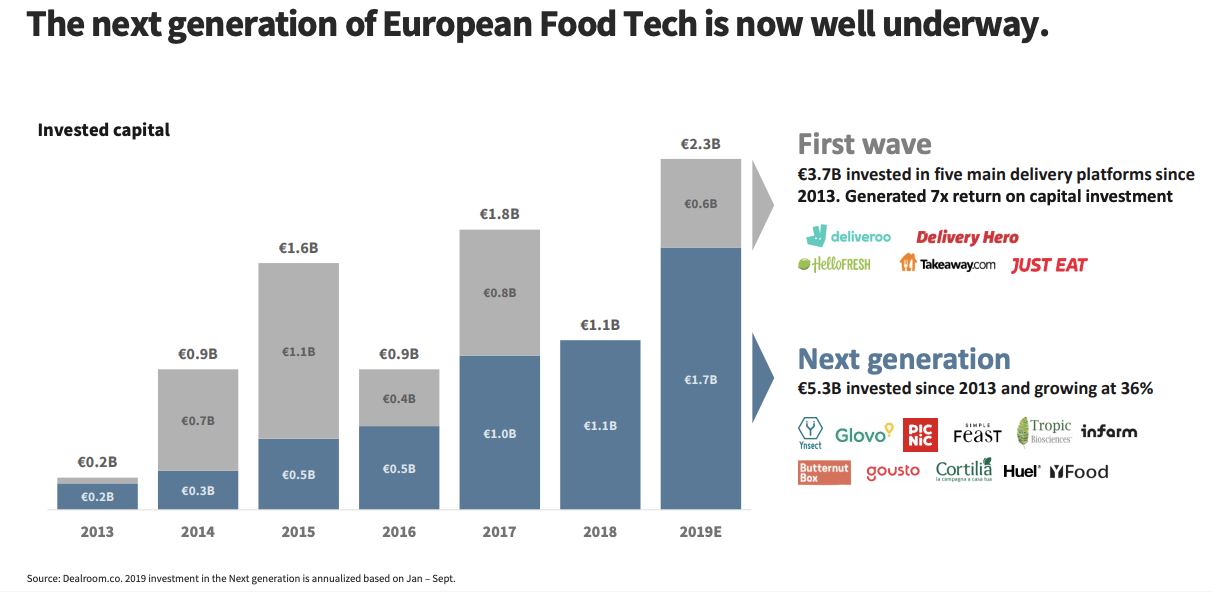 2/ What is a dark kitchen? With the rise of delivery platforms like Deliveroo, JustEat, DeliveryHero and Glovo, came the idea of dark kitchens which are kitchens that only do delivery. They are free from the consumer-facing elements that you would find in a traditional brick and mortar restaurant.
Dark kitchens eliminate key pain points of restaurants like the need of a high street, an expensive location as well as the need to serve customers in a front room.
Dark-kitchens are also perfectly suited restaurants to the new infrastructure built by food delivery platforms - like auberges were for posting houses:
The kitchen and the dishes are specifically designed to be optimized for delivery,

The location is cheaper and optimized to make quick deliveries in a specific geographical area,

A data driven approach is used to build new food concepts according to current customers tastes.
3/ The rise of dark kitchens is great because managing a brick and mortar restaurant is super challenging. New restaurants have high failure rates: 15% after 1 year, 38% after 3 years and 53% after 5 years. Moreover, it's a low margin cyclical business (during the week, during the year and during the different economic cycles).
4/ For both traditional restaurants and dark kitchens, excellence is driven by people and products. Big Mamma's CEO Tigrane Seydoux explains it better than anyone. Big Mamma is an amazing entrepreneurial success with 10 Italian restaurants opened in Paris, London and Lille. Tigrane says that running a restaurant is all about execution driven by both products and people.
Big Mamma sources the best Italian products from a network local Italian producers and fights on a daily basis to make the best meals for their clients. Everyday, for every seating, for every clients, you have to restart from scratch. Chefs must be obsessed by cooking the best dishes all the time. Food is neither a software that you can release full of bugs and then iterate to enhance it overtime or a hardware that you have to design once perfectly and then your are done. You have to cook the dish over and over and it has to be perfect anytime.

Regarding people, BigMama has worked hard to attract the most motivated cooks and waiters - also sourced in Italy. When they join the company, a strong emphasis is given on the culture and on building the best possible career paths within the company.
5/ Dark kitchens are on the rise in Europe with three different operating models highlighted by Sifted report on the food industry:
Independent kitchen space rental startups leasing kitchen spaces to food businesses

Delivery platforms with their own dark kitchens

Delivery-only food brands independent from delivery platforms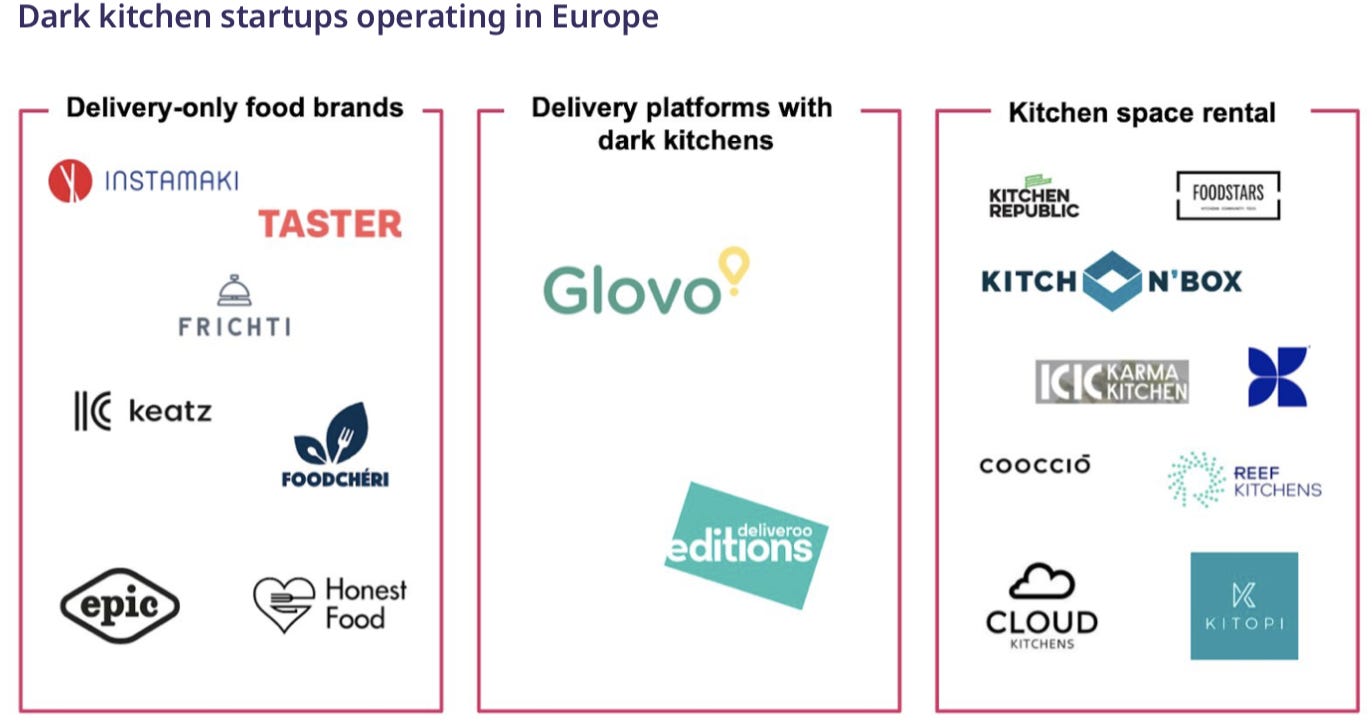 Model I - Kitchen space rental startups
It's a "WeWork for kitchens" model. Startups acquire or lease over the long term real estate space and then build kitchens optimized for food delivery that will be leased to food businesses.

Food businesses are able to rent kitchen space from few hours to several months. It can be used by existing restaurants running out of capacity to serve the growing demand for food delivery or by entrepreneurs wanting to bring a new food concept to the delivery market.

Besides the access to the kitchens, these players could also offer additional services like the dishwashing, access to technology to process orders etc.

They also try to optimize the asset utilization by letting customers book spaces for smaller periods than traditional rents (an evening, a day, a week, a month etc.) from dark kitchens but also other food businesses.
Model II - Food delivery platforms building their own dark kitchens
Deliveroo started to launch dark kitchens in 2016 with its Editions offering. It has now 21 Editions sites (mainly in the UK) for a total of 140 virtual restaurants. The original plan was to launch hundreds of sites quickly but it did not happened because it's a capital intensive business and Deliveroo is still heavily investing in acquisition to face the intense competition in its core business. The business model is to take up to 40% of its virtual restaurants turnover and force them to use exclusively Deliveroo to deliver their meals.

Glovo launched "Cook Rooms" in 2018. It has now 2 dark kitchen spaces in Spain (Barcelona and Madrid). It offers extra space to restaurants on the Glovo platform in exchange of a 5% extra commission on orders.

Uber Eats is claiming to have 900 virtual restaurants in the UK. The company is adopting a partnership approach with kitchen space rental startups. In the UK, it is launching a restaurant accelerator with Karma Kitchen. The idea is to take 5-7 food concepts currently underserved on the UberEats platform and kickstart them in a Karma Kitchen. Support will be offered in branding, marketing and operations.

For delivery platforms, the idea is that it is cheaper to produce food in dark kitchen and it will therefore incentivize customers to order more on their platforms. Oscar Pierre, Glovo's CEO, explains that it currently costs around €12 per person to order food on the platform which too expensive to be a frequent purchase. Dark kitchens could reduce this amount to €7-8 which would become really attractive. Moreover, developing food concepts into smart kitchens give food delivery platforms the ability to offer exclusivities to their customers to make them stick to the platform (like Amazon, Apple, Disney and Netflix in the film industry).
Model III - Delivery only food brands / Virtual restaurants
The idea is to design food specifically for takeaway and build food concepts missing on delivery platforms and sought by customers. It takes a few months to design the concept and the recipes, another few months to test it and iterate before scaling it into a network of dark kitchens.

Virtual restaurant work closely with delivery platforms to identify areas of unmet demand

Technology is used to reinvent how kitchens should be run in a delivery only world from order management to sales forecasting and meal production optimization
7/ Numerous questions remained unanswered about the dark kitchen model. There is a gap between theory and practice, pitch decks and execution.
On paper, dark kitchens have better unit economics than traditional restaurants (lower rent, no front room, less labour costs etc.). Yet, the food industry is price sensitive and an intense competition between dark kitchens in the coming years could push down prices and lead to pressure on margins.

Brand building is hard. As a dark kitchen, you have limited opportunities to engage with your customers as they book on the food delivery platforms and you have no control on the delivery process. Moreover, most dark kitchens develop several food concepts with different branding (e.g. Taster with Out Fry, Mission Saigon and O Ke Kai). It's hard for them to be perceived by the customers as a single entity.

Offline marketing of a good restaurant location is underrated compared to online marketing. A good location is not only a way to make people seat in your restaurant but also a medium to attract new customers. It's a marketing channel per se. In the end, it's not impossible that those customers attracted offline are less expensive than customers attracted online.

Dependency to delivery platforms. Delivery platforms are still in the consolidating phase. Mergers are happening (Takeaway x Just Eat), players are opening and closing cities every months. These changes are impacting dark kitchens. Keatz had to close 4 kitchens when Deliveroo decided to exit the German market. Since then, Keatz has reacted by developing its own web shop offering customers the possibility to order directly from its website.

How to scale? Is it really a $1bn+ business? Managing dark kitchens remains a city-by-city business. It takes time and capital to open a new city and it's hard to be able to build the supply chain to get exactly the same taste in numerous different cities. Franchising seems to be the best way to grow quickly all over the world but could these startups do it while maintaining high quality?

Working conditions are precarious. Working in a dark kitchen which goal is to be super efficient and automate most of the tasks is not that far from working in a car production line to build the T-Model one century ago...
Disclaimer: My employer, Idinvest, is investor in numerous startups mentioned in this newsletter (Glovo, Frichti, This, Ynsect).

Thanks to Julia and Guillaume for the feedbacks! 🙏
---
See you next week for another issue! 👋