🔨 Breaking into Venture Capital - European Junior VC Career Paths
Overlooked #15
Hi, it's Alexandre from Idinvest. Overlooked is a weekly newsletter about underrated trends in the European tech industry. Today, with my friend Maxime, we are digging into the ideal career paths to break into Venture Capital and we try to give you concrete advice to enter this mysterious world.
Working in Venture Capital has become trendy. From the outside, it seems to be the best job in the world for recent graduates: you are exposed to many different industries and business models, you meet outstanding entrepreneurs and deal with tech-related topics every day, you develop both qualitative and quantitative skills, your workload is lighter than other jobs like consulting and investment banking etc.
But it's hard to break into this industry. Finding a job or even an internship is complicated. Job offers are not always accessible and recruitment processes are not homogenous.
Can you objectively maximize your chances to trust a junior position in a VC fund?The answer is yes, and here is how.
We looked at all the different career paths of junior VCs in both France and Europe to find the most common patterns to join the industry. We also gathered concrete advice to help you find a job or an internship in Venture Capital.

VC embodies well the French conception of elitism, which is very related to educational establishment. It turns out that you can increase significantly your chances of entering a major fund with a very specific academic background: Top 5 business/engineering school or Top business master from a Parisian university.
When looking at 72 French VCs* who started their investment career before turning 30, almost 50% went through HEC, ESSEC or ESCP Europe - the 3 most renowned and prestigious French business Schools. 20% studied at Sciences Po or Paris Dauphine University and 16% at Polytechnique, Centrale-Supélec or Mines ParisTech. This leaves very few seats for outsiders, even more so with network effects and school solidarity when a position opens in an investment team. Some will jump in the bandwagon later after an MBA in one of those schools or an American University.
*Disclaimer

: This study's sample was made on 24 French investment teams gathering the most renowned funds of Parisian scene, at all investment stages (seed, early stage, growth). Among them are 360 Capital Partners, Alven, Bpifrance, Breega, Caphorn, Daphni, Elaia Partners, Eurazeo Growth, Frst, Gaia Capital Partners, Iris Capital, Idinvest, Kerala Ventures, Kima, Korelya Capital, ISAI, Partech, Newfund, Serena, Ventech, and XAnge. In order to reflect as close as possible current hiring market in the VC landscape, we only analyzed the career profile of VCs who started their investment career before turning 30 years old.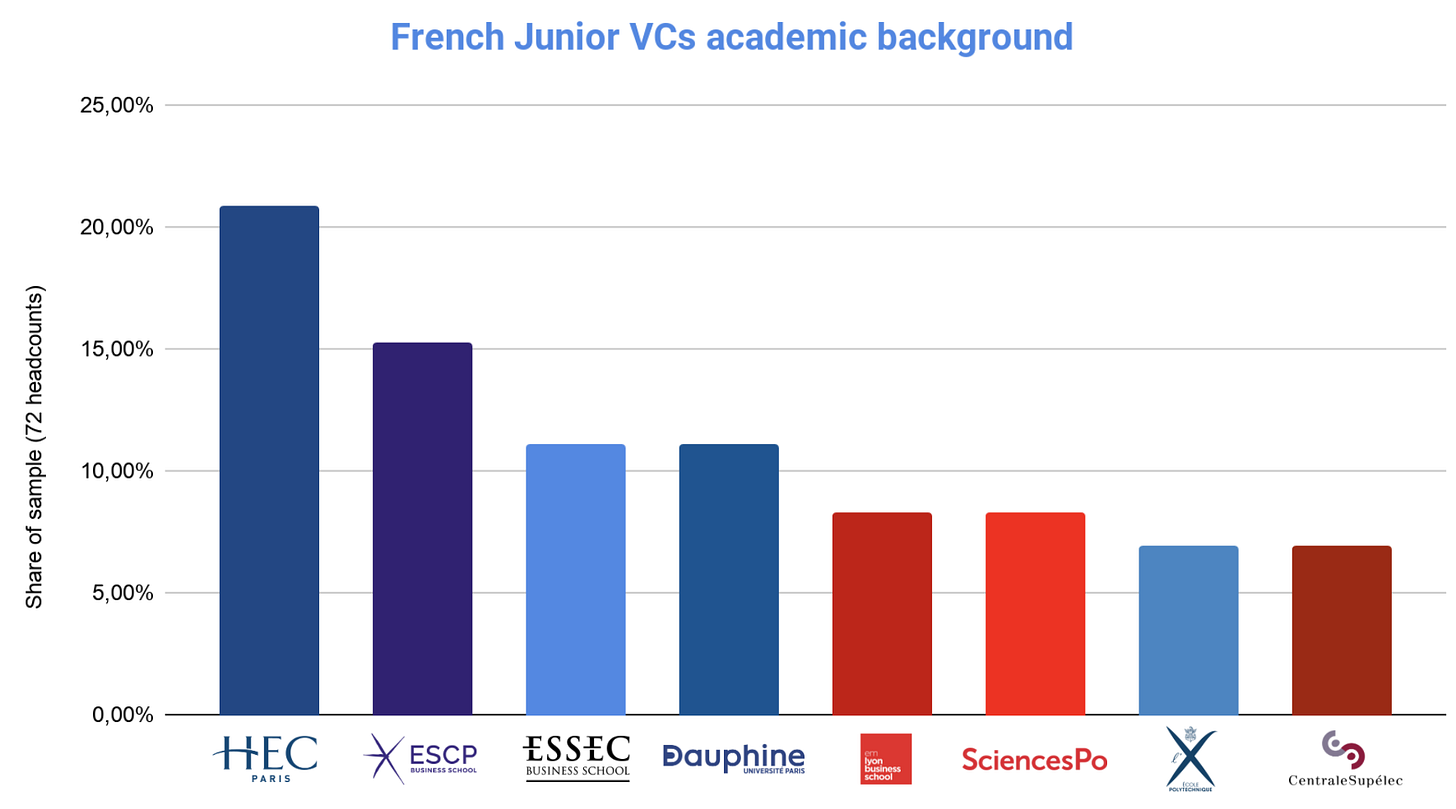 Overview of French Junior VCs' academic background - Disclaimer: there is overlap between some of these schools in case of double degree
Double degrees between management and engineering institutions are without doubt a plus for any candidate willing to break into VC - it accounts for 24% of our sample - as it is considered by some VCs as a guarantee of solid business background, deep analytical skills and interest/knowledge in specific tech verticals. To that extent, schools which manage to arrange these opportunities for their students (HEC-X entrepreneurship program, ESSEC-Centrale-Supélec double degree) also give them a real asset while applying in a VC fund.
Internship choices should not be taken lightly. You should have in mind that more than one third of Junior French VCs went through an internship in a fund before their full-time position, either at the end of their study or during their school years. Alternatives to a prior experience in VC are mainly of three types:
"Analytical-perceived" professional experiences: M&A, Private Equity, consulting, audit and business analyst jobs. Let's not kid ourselves and admit that a six-month internship at McKinsey or Rothschild will open you doors, just like in any other industry.

Start-up/Scale-up experiences: Be careful when you pick a startup to work for. Not all the startups are created equal in the eyes of VCs. Ideally, pick a startup backed by a tier 1 VC fund. I would say best options may be the following: either be a top management right hand in a seed / series A start-up or work in key teams in a later stage startup (product management, growth, sales, operations etc.).

Start-up related experiences: Incubators, accelerators, fundraisers also allow you to enter in the ecosystem and form a network of founders, VCs, etc.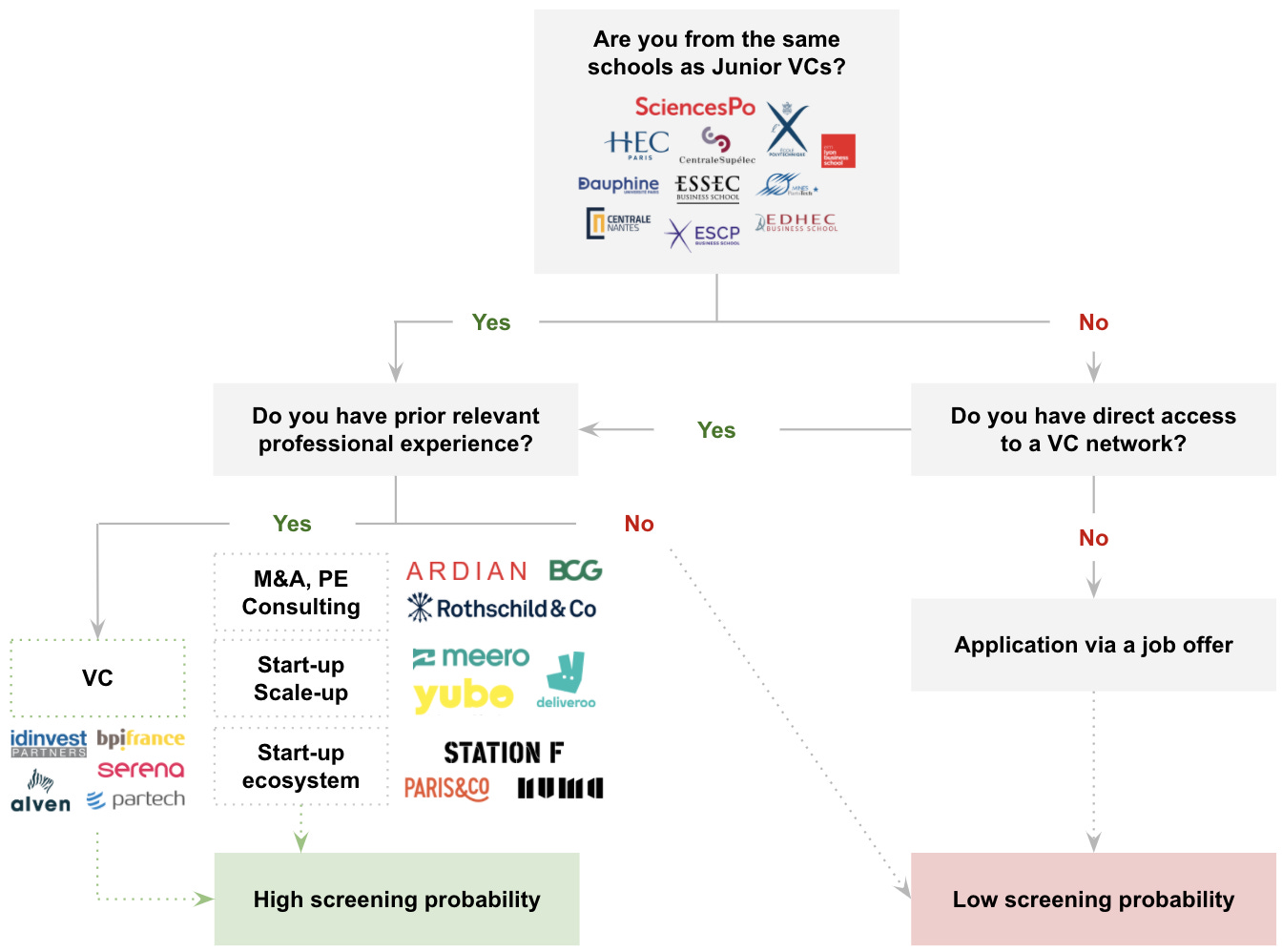 Getting through French VC Screening
For those who did not became VCs juste after graduating but still entered a fund before turning 30, we found almost the same patterns except for one trend: entrepreneurs. More than 50% of these juniors founded a company or a project tied to this ecosystem.

We have also looked at junior VC career paths outside France. We wanted to discover the parallels and key differences between the French VC industry compared to the rest in Europe.
Learning #1 - Most tier one venture capital firms don't have analysts (e.g. Accel, Index, Atomico, P9, Localglobe, Blossom, Stride).
Like other categories in private equity, VC seems to be a job for experienced people. To take an investment decision and support a company during its growth, you need to have a certain professional maturity.
Learning #2 - When foreign venture capital firms do have analysts, they seem to add value to a specific part of the VC activity.
For instance, Creandum has a 2-year analyst program after which juniors will pursue their career in the ecosystem (as an operator in a startup, as an entrepreneur or as investor in another VC fund etc.) but not within the Creandum team. The idea is to have support for the analytical tasks in venture capital (analyzing companies, digging into markets, supporting portfolio companies on specific missions etc.). Creandum acknowledges honestly that two years in venture at the beginning of your career is not sufficient to be a good VC investor and that you must gain experience elsewhere before being fully operational and performing.
Learning #3 - Most juniors have international backgrounds.
VC firms are opened and love to recruit foreigners or people who have spent time during their studies and / or professional experiences in different countries. Most European VCs pretend to have a pan-European investment scope and as a consequence recruiting foreign employees who have existing knowledge in their local ecosystem is a key asset for them. Moreover, combining different nationalities reinforces the diversity of opinions in a fund and therefore helps to take better investment decisions. Unfortunately but not surprisingly, in France, this geographical diversity is rarely present in our funds.
Learning #4 - Tier-one foreign funds who are investing in France have French-speaking people covering the national ecosystem and these people are spending a lot of time on the ground.
Just look at the number of French partners working for foreign VC funds (e.g. Martin Mignot and Dominique Vidal at Index, Philippe Botteri at Accel, Bernard Liautaud at Balderton, Fred Destin at Stride). Most of the time, these partners are working hand in hand with a junior to cover the French market.
Learning #5 - The path to break into VC is similar in France and abroad with 3 main components:
Enroll in a tier-one business or engineering university in your home country,

Have professional or academic experience abroad,

Do an internship in the startup ecosystem (VC, tier one startup, accelerator), in finance (investment banking) or in strategy (in a corporate or in a consulting firm).
Learning #6 - The hardest part is to enter the closed circle of venture capitalists.
Once you have a foot in the door by completing an internship or starting a career in VC, it's easy to move from one fund to another. Numerous career paths start by joining a tier-2 fund, spending some years there working hard to build a reputation amongst your peers before moving to a tier-1 fund.
Now that we have set the stage with key learnings European and French young VCs, let's become practical and give you our views on how to break into Venture Capital in France.

One of the key questions you should ask yourself before trying to get a job in VC is the following: do you have a VC compatible personality?
As it is well explained by Clément Vouillon (Is it better to start my career in a VC firm or in a startup?) or Sophie Bruchou in her interview for the Sonar podcast, there are downsides to this job and you have to be sure you are comfortable with them when starting your career in this field. Best way to approach certainty on this is probably to go through an internship in a fund, providing you with both skills and maturity towards the job.
How? As Maxime and I were former applicants and I've been working at Idinvest for over a year now, here are some concrete steps you can follow to maximize you're chance to get an interview and be well positioned for the job:
Rule #1 - Make sure you know the fundamentals:
Basic operating rules of the industry: How does a VC fund work? How would you source a company? What is a typical VC grid when he/she meets a founder?

French and European VC ecosystem characteristics: What are the major funds and their portfolios? Do you have in mind latest rounds and exits? Do you see specific investment trends in the last few months?
Rule #2 - Give depth to your profile
Build a strong vertical expertise. It's not hard to master a topic better than 90% of other people. VCs are generalist and you can be more knowledgable on a topic than 90% of them if you put sufficient efforts in your research. Our advice would be to take an industry that you like, find several trends that are reshaping this industry and pick 2-3 European startups illustrating this trend that you will pitch during your interviews.

Be aware that French VC funds are not world class. I am convinced that you could make a difference by talking about tier one funds strategy and recent investments (i.e. Accel, Balderton, Index, Northzone, Creandum, Atomico in Europe). French VCs know that they are tier-2 in Europe even if they are trying to raise the bar to reach the level of their European counterparts. Knowing this fact and playing around it will demonstrate that you understand what is at stake in the European VC industry and that you are interested in Venture beyond French frontiers.

Start to write short investment memos about the startups you like to start thinking and working like a VC

Look at Point Nine open source deal memo and analyse companies following all the categories mentioned.

Blake Robbins recommends to write a fake investment memo per week looking at interesting companies which have just raised a seed / series A round. Then, track these investments and choose one company per month to virtually invest in amongst the four memos done for this month. Also, you have to think about the stage you would rather invest in and about the investment thesis you would love to have.
Rule #3 - Reach out to analysts or interns working at funds you are interested in, ideally a few weeks before the offer is published.
Ask them specific questions about their fund to stand out and make sure you'll be in the recruiting pipeline when they open applications. For this, Linkedin is a good channel.
Rule #4 - Make sure you have access to job offers.
Step 3 should do the work for you but you can still miss the information. You can also join Junior VC France group on Facebook. Most juniors post a job description there when they open a position.
Rule #5 - Be fast and sharp on your applications.
Send them maximum 4/5 days after the offer is issued, with proper resume and tailor-made cover letter/email/answers to the offer's form.
Rule #6 - Kill your interviews
Be ready to answer a list of invariable questions about you and your relationship to Venture Capital: Why do you want to work in VC? What would make you a good analyst in a fund? Don't pretend that you are an entrepreneur, especially if you are not.

Remember VCs spend their days looking at opportunities and meeting entrepreneurs. Quickly, they develop opinions on people and businesses. By default, they must decline deals and refuse to work with entrepreneurs. It's not because those VCs are hiring interns or analysts that they will change the way they work. Like entrepreneurs raising funds, you have to stand out: make a good first impression, highlight your key competitive advantages, create momentum etc.

Be technically ready. VC interviews have nothing to do with structured processes you'll find in consulting or finance. However, you can be asked to assess a company based on nothing but you're common sense, run through a P&L or a fundraising deck. Most of the time, expectations are not super high but you should be aware it exists.
There is one final thing you can do to grow your chances to get a job in VC from 80% to 100%: doing and building things which will make you stands out from the "wannabe VC" crowd.
Like in a lot of other industries, your resume is no longer sufficient and you have to differentiate yourself. It's not because you are from a top business or engineering school and that you did two internships in shiny industries that you should automatically be hired in Venture Capital. Because many other people like you have this same background.
In other domains, recruiting people based on their public achievements is quietly becoming a standard. Developers are working on projects that they showcase on Github. Data scientists can demonstrate their skills by participating in Kaggle competitions for companies they want to work for. You should adopt this philosophy to build your career over the long term and try to build a place on the internet in which you will showcase your past achievements.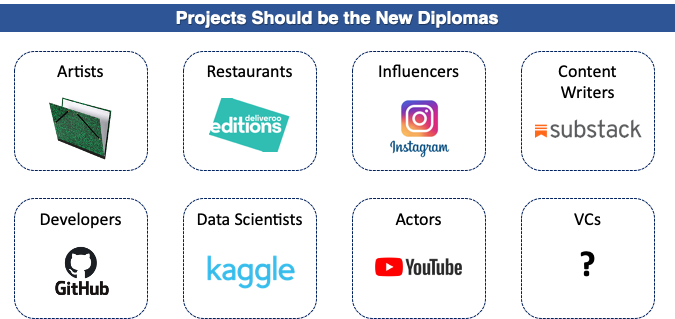 In Venture Capital, it's hard because there is not a standardized way to demonstrate your skills. You have to be creative and try to build something that will stand out when you will be applying for a position.
Of course, the best example in our industry is the incredible success story of Harry Stebbings. He is 23 years old, is a partner in a seed fund and has the biggest podcast audience for VC-related content worldwide. He started his career by launching a podcast called The 20 Minute VC at the age of 17 years old and was able to meet and interview all the best venture capitalists and founders over the world building an extensive network. The Twenty Minute VC podcast episodes are now being downloaded 5m+ times per month. He managed to join Balderton for a summer internship in 2015 and joined Atomico in 2016 as entrepreneur in residence. In 2017, he left Atomico to raise its own £40m fund with Fred Destin. The fund is now called Stride.VC, is investing in seed in France and in the UK and has already done great investments in the past 18 months (Cazoo, Jow, Strapi, Impala, Froward Health).
He set the bar super high for anyone who aims at breaking into Venture Capital, but it's great to have him here in Europe as a reminder that all glass ceilings can be broken if you put enough efforts and that we could all be better at what we are doing.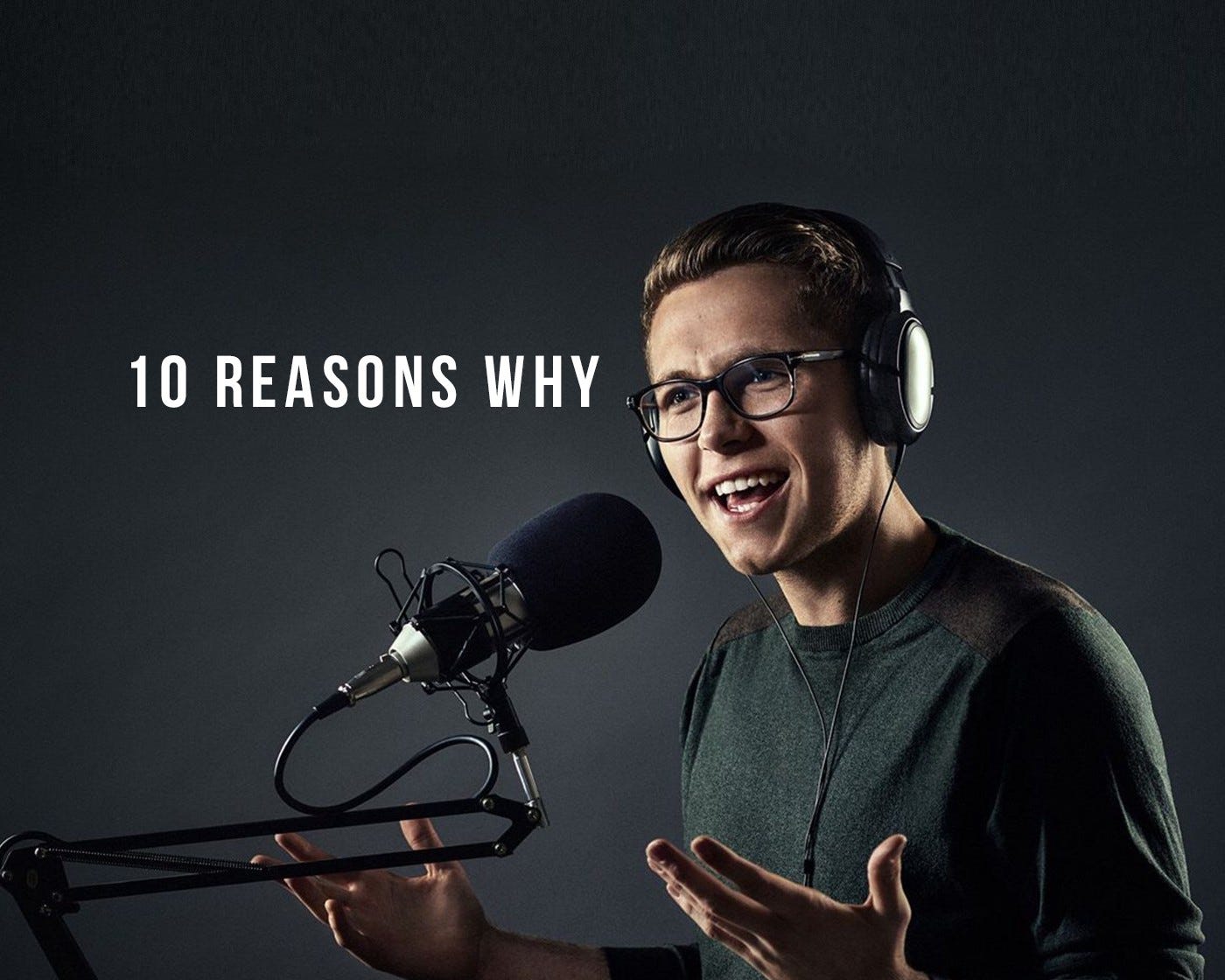 Another insightful story is the one of Andrew Chen - now general partner at Andreessen Horowitz focused on consumer startups. After cofounding a startup acquired by Uber, he led the Rider Growth product team. In parallel, he started a blog talking about "growth, metrics and network effects." During his interview process at a16z, he created a 80-page investment deck inspired by all his previous essays and his experience as an operator on which metrics to look at when you plan to invest into a startup. Being an operator, accumulating knowledge about growth and writing content around his learnings were detrimental ingredients to make the difference to join a16z. The main learning here would be to pick a vertical and be part of the top 5% experts about this vertical. Write about it and be vocal about it.
You should also look at the story of how Li Jin (now partner at a16z) broke into the VC industry. She applied to Andressen Horowitz by uploading her resume on the website and Franck Chen gave her a shot by inviting her to take a coffee. After a 6 month interview process, she was able to join the investment firm. Here the learning is that you don't need to have access to connections to break into venture capital. You just need to be prepared and resilient. Reach out to people you want to work with. Do it in a smart way and you will discover that there is always somebody who is willing to give you a chance to shine.

We hope that this long article was insightful! To sum-up, if you are really serious about breaking into venture capital, it takes time to prepare the ground. You have to step in the ecosystem, build a differentiated profile and learn the ropes of the jobs. Preparation and resilience pay off. If you are still struggling after all this, send us an email (maxime.fonsale@essec.edu and ade@idinvest.com).
Thanks to Julia, Thibault and Hadrien for the feedback! 🙏
---
See you next week for another issue! 👋