April 2019 — French Startups Funding Rounds
April was another strong month for the French ecosystem with €441m raised through 40 transactions with a €11m average amount and a €2.2m median amount.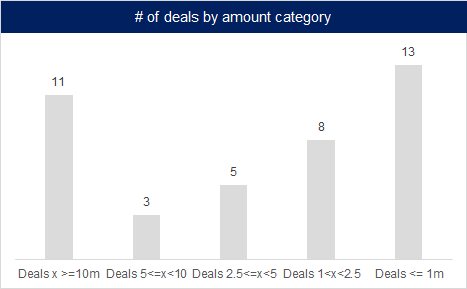 Almost as many deals above €10m than below €1m
This is the third consecutive month during which French startups have raised more than €400m. It had never happened before. What a great time to raise funds for startups!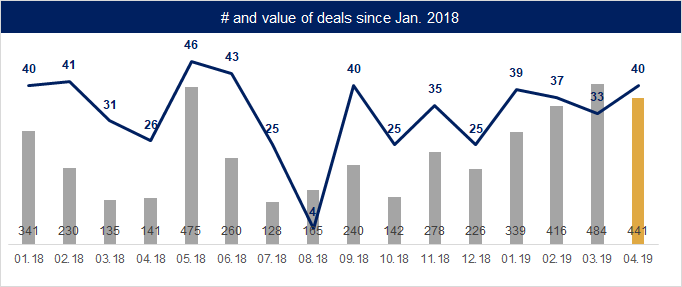 In only 4 months we have reached the same number of rounds above €50m than during all of 2018 with the addition of two new mega rounds announced in April (€110m for ManoMano and €100m for HR Path).
Top 10 Funding Rounds 🚀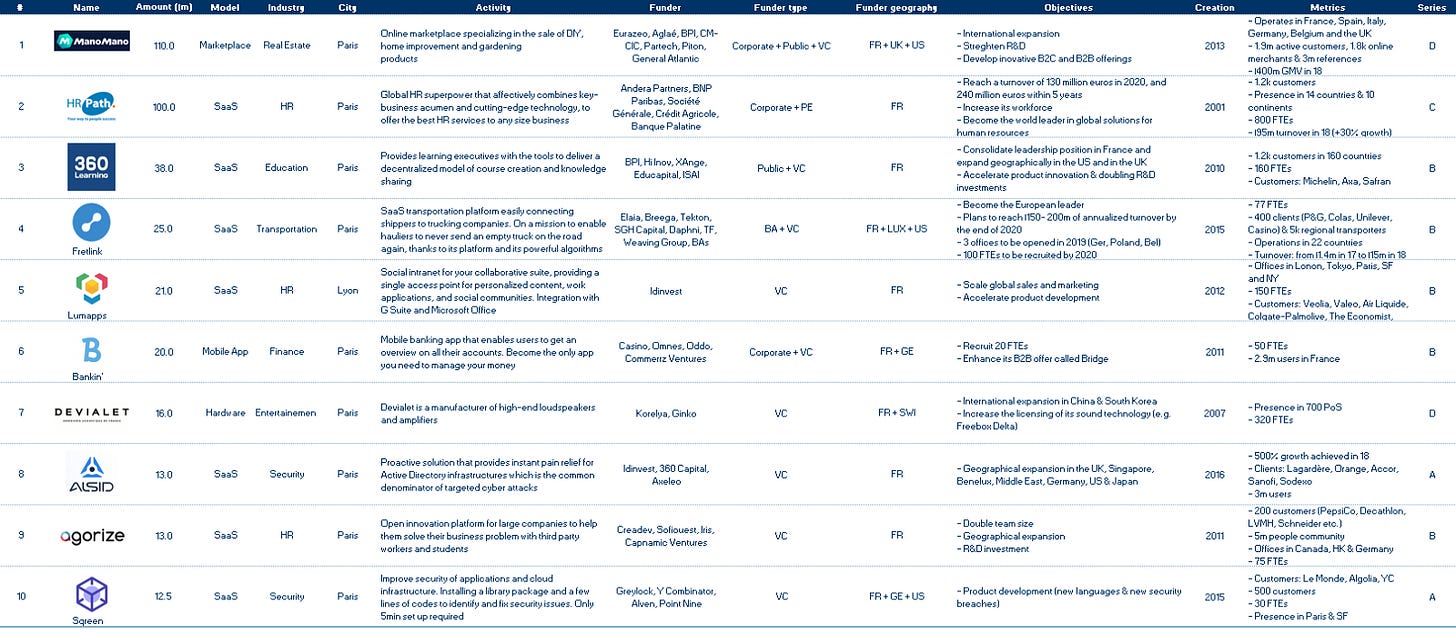 Let's talk about cyber and education!
As usual: SaaS is the most represented business model and April is a diversified month in terms of sectors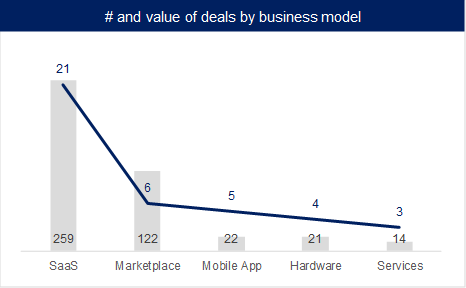 By far, Software-as-a-Service was the most represented business model with €259m raised through 21 rounds representing 53% of total deals and 59% of total amount raised (vs. respectively 46% and 84% in March). In the top 15 fundraising rounds, there were 10 SaaS companies!
Marketplace was the second model most represented with 6 rounds for €122m raised well sustained by €110m ManoMano's round. The third business model most praised by investor was Mobile App with 5 rounds for €22m raised: Bankin' raised a €20m series B and 4 small projects raised rounds below €1m (WaryMe, Teazit, Kannelle.io and Lab2U).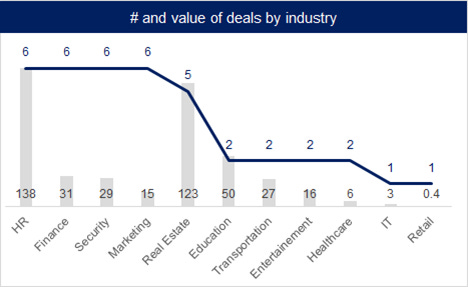 It was a diversified month in terms of sectors with HR, Finance, Security and Marketing well represented with 6 rounds each. Real Estate is close to these sectors with 5 rounds. Of course, looking at the amount raised, HR and Real Estate are well beyond other sectors because of ManoMano and HR Path mega rounds.
When you invest in a country, you have to spot what the main sectors are, what the country is strong at because that's where you'll find the best entrepreneurs you can back. I really believe that security and education are part of those sectors in France.
🔐 Cybersecurity: Alsid & Sqreen 🔐
France is strong in security. We have major players in the field like Thales and Safran and a strong national strategy since 2015 (National Strategy for Digital Security) to fight against cybersecurity threats.
For many years, French and foreign companies involved in the security industry have been attracting the French best engineers right after school and have been able to retain them for their whole career.
But things are starting to change! We are seeing a bunch of experienced French engineers leaving their company to launch their own start-up focused on a certain field of cybersecurity. Investors love them because they are experienced, have a strong expertise in security and perfectly know the shortcomings of existing solutions. Alsid and Sqreen were built by this kind of guys.
Cyber-security is a huge market. Just to give you a rough idea, the average cyberattack cost for a French company is $3.8m and Saint-Gobain announced a €250m loss in revenues following the NotPetya attack in June 2017 that was based on an Active Directory breach. Also, this is not only a concern for large companies as 20% of SMBs are also affected by cyberattacks.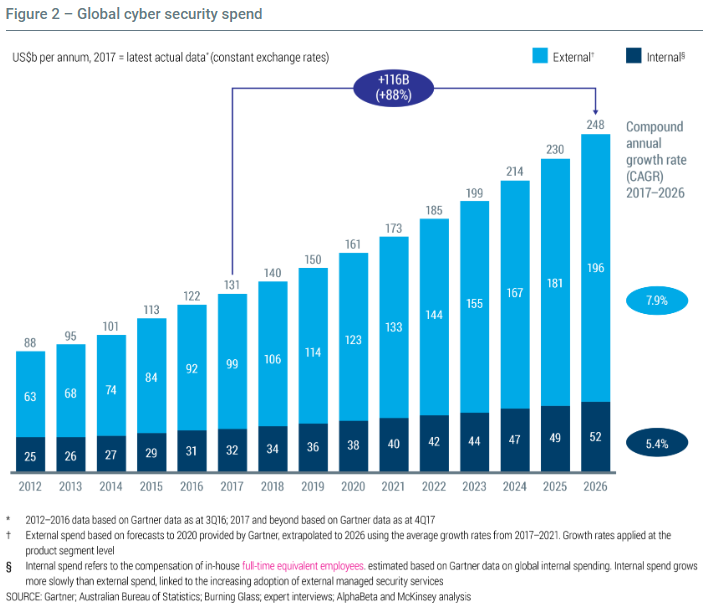 The cyber-security market is growing strongly
Alsid was founded in 2016 by two experts from the French National Agency for Information System Security (called ANSSI) which aims at protecting the country from cybersecurity threats. Here, Emmanuel (CEO) and Luc (CTO) were building and deploying audit tools to assess the infrastructures level of protection against cyber-attacks.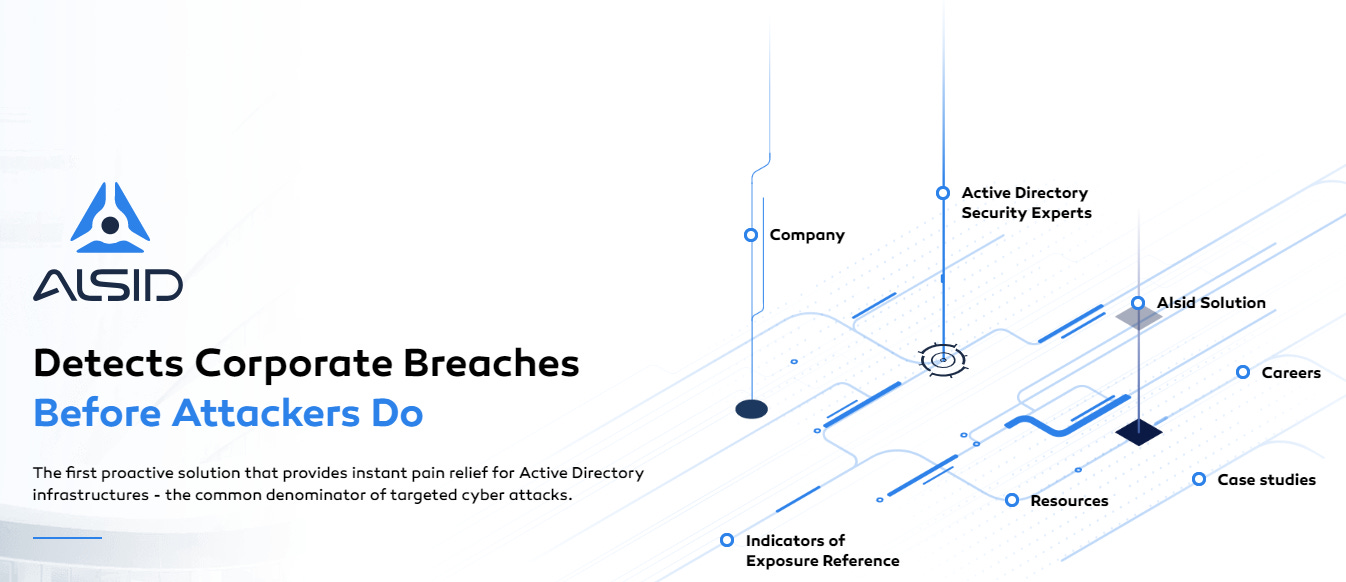 They decided to build a company tackling Active Directory issues. Most companies use Active Directory to manage users and their access rights. For instance, when you enter an ID and a password to access your corporate computer or network, an Active Directory check will be done to make sure that you have the appropriate rights.
For big companies, it is a strong pain to manage Active Directory rights and hackers often take advantage of the situation. Alsid is a SaaS solution for IT and cybersecurity workers in these company that will help them to identify potential risks in their Active Directory systems and give them actionable levers to temper them.
Alsid currently monitors 3 million Active Directory users, has signed prestigious clients like Lagardère, Orange, Accor, Sanofi, Sodexo and registered a 500% growth in 2018. Idinvest led a €13m series A in the company along with existing investors Axeleo and 360. The next step for them is to sell their solution in foreign countries focusing on Europe, Japan and the US.
The Sqreen story is a bit different. You still have two founders that have known each other for more than 8 years. Pierre Betouin (CEO) and Jean-Baptiste Avia also worked in security for years (at Apple) before creating their startup.

Sqreen improves security of applications and cloud infrastructure. By installing a library package and a few lines of codes, their software can identify and fix security issues.
The startup went to Y Combinator during the winter 2018 batch and raised there a €12.5m series A led by US investor Greylock with the participation of existing investors Alven and Point Nine. What they have achieved so far is quite impressive as they have more than 800 customers (including Algolia, Le Monde, Blablacar), 200 of them being paying customers. Half of the team is in San Francisco already addressing the US market.
The goal with this round is mainly to focus on product development by adding new languages and being able to identity new security breaches. All this while being able to on-board the strong inbound sales pipeline and keep customers happy!
💻 Education: 360° Learning & Simplon 💻
After more than a century, our teachers are still fighting hard to accomplish this mission and we are seeing a wave of French entrepreneurs trying to tackle the drawbacks of our education system. Here are few examples:
Lalilo is teaching kids how to read through an online and personalized program

42 is teaching programming for free to help thousands of people to enter the lab our market

OpenClassrooms is an open online course platform that is pushing hard to become a full-fledged degrees provider and to develop training in partnership with companies to better answer their recruitment needs

Livementor is coaching nascent entrepreneurs to build the first bricks of their projects helping them on specific pain points like doing online marketing, building a community, develop a good writing strategy
Their founders — respectively Laurent Jolie, Xavier Niel, Mathieu Nebra and Alexandre Dana — are all moved by the same mission: fight the defaults of our current education system. And it does not matter that their learners are either a 6 y.o. kid learning to read or 40 y.o. man going back to school after being unemployed for years.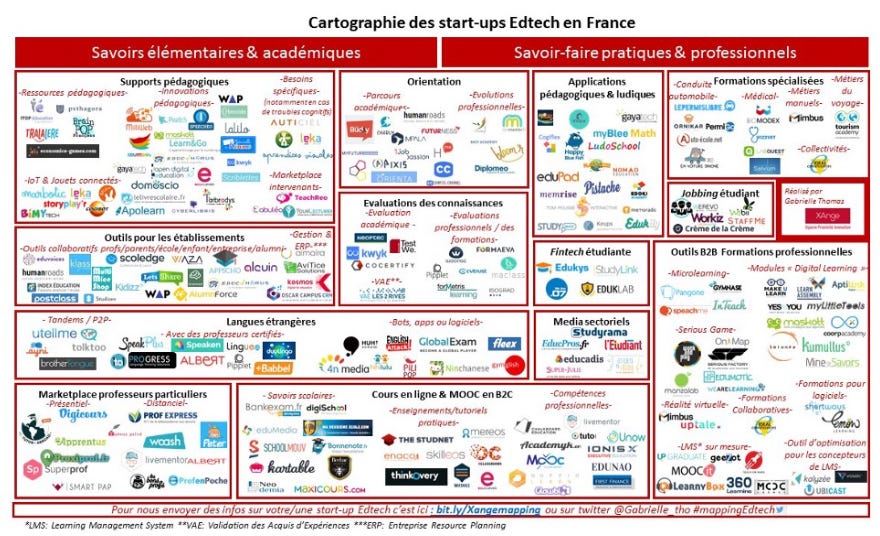 2 years ago, Xange made this great mapping on the French EdTech Ecosystem
360 Learning and Simplon.co which raised a round in April are also motivated by this exact mission. On the one hand, 360 Learning is tackling the pains of continuing education which is compulsory in France but poorly digitized, not collaborative and most of the time extremely boring.
Corporate training incumbent solutions are outdated both culturally and technologically. Moreover, 75% of learners say collaboration is the most important way they learn.
Therefore, the startup developed a SaaS platform on which execs can easily build corporate training programs for their team that are customized to their needs and collaborative.
360 Learning has 1,200 customers in more than 160 countries. With this €38m funding round with BPI, Hi Inov, XAnge, Educapital and ISAI, it aims at consolidating its leadership position in France, expanding geographically in the US and in the UK and accelerating product innovation by doubling R&D investments.
On the other hand, Simplon.co is a network of solidarity and inclusive factories that offers free 6-month training in digital professions (programming, AI, data, cyber-security, product owner etc.). This helps people that are out of the system to find a job and offers fresh new start of their professional lives.
Simplon has 69 factories in 15 countries and has trained more than 4k people with an impressive 75% success rate in helping them find a job. The startup raised €12m with CDC, Amundi, Aviva, Esfin Gestion, France Active Investissement, Inco, Mirova and Phitrust.
The goal of this round is to reach 10k yearly people trained around the world by 2023 and to pursue its international expansion in Europe and North Africa. Simplon will also try to better reach people that are in precarious situation and will reinforce its network of corporate partners.
Investors: BPI is at the core of the French ecosystem
VCs were involved in 23 transactions (58% of total) for a total amount raised of €263m (73%) remaining the main fuel engine of the French fundraising market.

Another PE player entered the French tech market with the participation of Andera Partners in the €100m round of HR Path. This trend is being confirmed month after month.

A specificity of the French fundraising market is the strong involvement of the BPI which is the investment arm of the State. This is part of the startup friendly ecosystem that France is trying to build. Over the last four months of 2019, BPI was involved in 27 transactions (18% of total) representing a total amount of €514m (31% of total). These figures are impressive!

Looking at the last CBInsight report on Q1 2019 French fundraising rounds, I also noted a decrease of CVC / Corporate participation in French tech deals since the beginning of the year compared to previous quarters (16% of all Q1 19 transactions vs. 24% in Q4 18 for instance). In April, Corporates were involved in 9 transactions (23% of total deals) showing a new momentum for them. Let's see how this trend evolve in the coming months.

Foreign investors took part in half of the top 10 transactions of the month (ManoMano, Fretlink, Bankin, Devialet and Greylock). More broadly, they were involved in 11 rounds (28% of total) for a total amount of €204m (46%). None of their investments were done without a French coinvestor like it was the case for the previous months.

Business Angels invested in 16 rounds representing a total amount of €44m mainly in smaller rounds. In fact, taking Fretlink out of the equation, all their investments were in rounds below €3m.
Monthly "Coup de Coeur" — ManoMano 🔨
ManoMano is an online marketplace specializing in the sale of DIY, home improvement and gardening products. It raised €110m in a round led by Eurazeo Growth with the participation of General Atlantic and previous investors (BPI, Aglaé, CIC, Partech, Piton Capital).
Eurazeo Growth is the byproduct of the merger between Eurazeo and Idinvest growth teams. It is positioning itself as an ambitious growth fund able to invest €50m+ in European most successful startups and the track-record is already quite impressive (Backmarket, Doctolib, Farfetch, Glovo etc.).
By doing so, Eurazeo Growth is bringing a brick that was missing in the French capital provider market between VC funds and public markets / private equity funds and will be able to compete directly with US and UK growth funds. Let's understand why they invested in ManoMano!
ManoMano is tackling a poorly digitized market (only 15% of online sales in B2C and 1% in B2B) where most consumers still prefer going to Leroy Merlin or Castorama to answer their needs. It is succeeding by implementing a customer-centric experience. It has replaced offline expertise by a strong DIY community of people ready to provide advice on products but also by highly qualitative contents.
Another strength of the startup is how it has reinvented the relationships between the marketplace and its merchants. ManoMano is a data intensive company and does not hesitate to give free data to merchants to help them optimize their sells. In October 2018, it also launched ManoMano fulfillment a solution to help merchants become digital and to manage all their logistic. This service line already represents 10% of sales!
The startup is already present in 6 countries (France, Spain, Italy, Germany, Belgium and the UK) that represent a €400bn annual market and it is pretty well internationalized as French sales only represent 25% of the total turnover. It had a €400m GMV in 2018 and has now 1.9m active customers, 1.8k merchants and 3m online references.
With this fresh funding, the goal is to push forward internationalization but also to work on developing innovative new B2C and B2B offerings. I wish them luck in this new challenge and I can't wait to see how far they will go!