Discover more from Overlooked by Alexandre Dewez
Writing about tech trends deserving better coverage
Over 7,000 subscribers
🎮 Voodoo Games Deep Dive - Another French Unicorn is Born
Overlooked #32
Hi, it's Alexandre from Idinvest. Overlooked is a weekly newsletter about underrated trends in the European tech industry. I took a little break over the summer but I am back to a weekly schedule. Today, I'm sharing a deep-dive on Voodoo Games, a French gaming company that created the hypercasual mobile game category.
Last week, Tencent acquired a minority stake (20-25%) into French mobile game developer and publisher Voodoo at a $1.4bn valuation.
It's a great achievement. Voodoo passed the unicorn $1.0bn valuation threshold and convinced Tencent - the most prominent gaming company in the world - to invest.
Voodoo created a new category in mobile gaming called hypercasual games. The company was able to dominate its category for 2 years (2017-2018) experiencing an exponential sales growth from €1.1m in 2016 to €71.0m in 2017 and €325m in 2018.
But, the last 18 months have been challenging for Voodoo as the company has lost market shares against new players on the hyper casual game market and grew its top-line by only 10.8% in 2019.
As a result, Voodoo is currently reinventing itself to regain its leadership in the hyper casual segment and to find new revenue lines in other mobile gaming genres and beyond mobile gaming.
It's a turning point for the company: will Voodoo be an ephemeral success or will the company manage to become the next European Supercell able to reinvent itself continuously?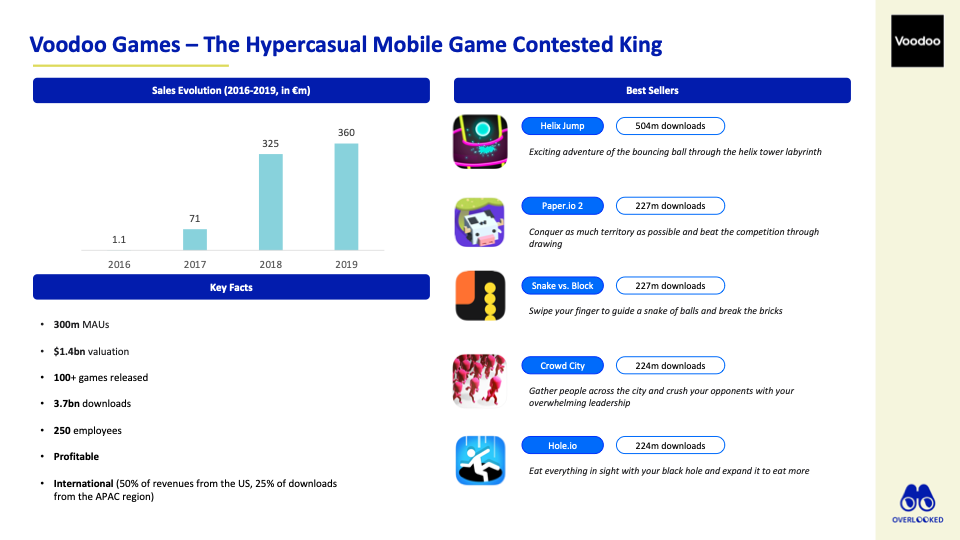 In this paper, I will cover the following episodes of the company history:
Chapter I - Category Creation

Chapter II - Category Domination

Chapter III - Category Contestation

Chapter IV - Reinvention?
Chapter I - Category Creation
Part A - From Voodoo's inception in 2013 to a $200m fundraiser with Goldman Sachs in 2018
In 2013, Alexandre Yazdi and Laurent Ritter founded a gaming studio that would become Voodoo. They raised €280k in equity crowdfunding in September 2014 to finance a quiz game called Quiz-Up. The game had 300k players at the time. Voodoo spent a year developing the game before the fundraiser and spent another year after to refine it. The idea was to grow it to 2m players by hiring developers and translating the quizzes in different languages. It never became the expected success.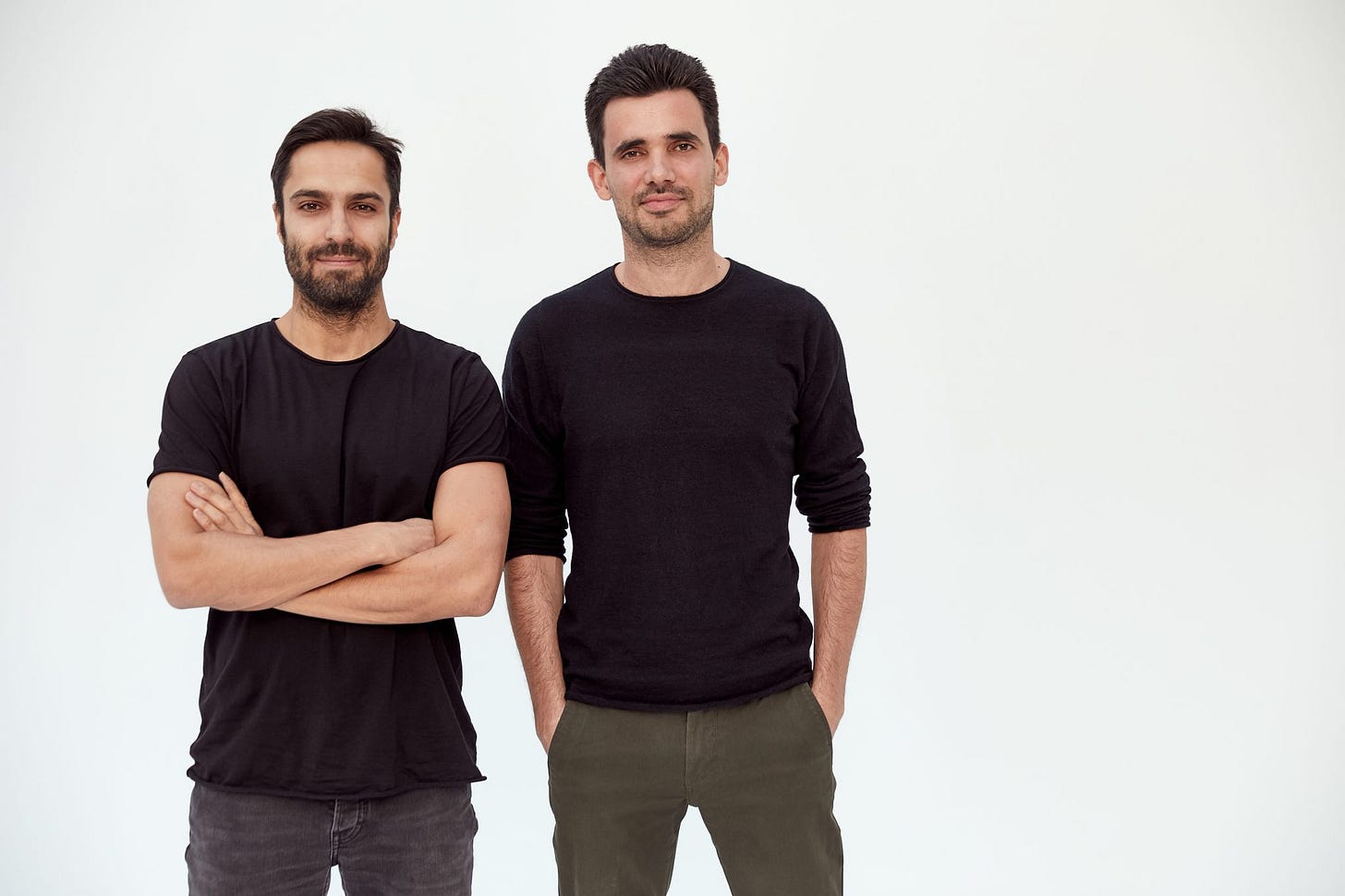 Alexandre Yazdi and Laurent Ritter
Then, Voodoo worked on another mobile game released in 2015 with an arcade genre using the same development process (1y to build the game and 1y to refine it). It was another failure.
At this point, Voodoo was backed against the wall. The founders decided to rebuild from scratch the game development process using the lean startup methodology. Instead of spending months developing a single game with a polished design and a complex gameplay, Voodoo started to industrialize game prototype generation and testing. Every developer had to produce one game prototype to be tested per week. At this stage, a game is only a core mechanic with a poor design and no depth. It's a minimum viable product that is tested for product market fit. Most prototypes have poor usage, acquisition and retention metrics. You abandon them or build a new iteration.
But sometimes, you find product market fit. You have a promising concept appealing to the users. In this case, you refine the gameplay and start to scale it right away using advertising to acquire users and to monetize the game.
In 2016, Voodoo released its first hypercasual hit with Paper.io. It's a snake-like mobile game: you control a character and you compete with other players to become the largest and the latest character on the map. The trick is that Paper.io is not multiplayer. Other characters are bots. It's easier to build and there is no need to reach a large user base to have a viable game.
In order to scale more efficiently and build this machine to generate hypercasual games blockbusters, Voodoo decided to expand its activities beyond game development to become a game publisher.
Voodoo moved to publishing naturally because developers were interested in its first successes and were asking for advice. It managed to transform these relationships into publishing deals. Voodoo differentiates itself on the publishing market by working with developers upstream before the release of the game when most publishing deals are signed only once the game is released. It helps developers to apply the lean startup methodology to game development, to test and get feedbacks on their prototypes, to access industry benchmarks and knowledge. Voodoo builds strong relationships early on with developers and is therefore the natural publishing partner to promote and monetize the high potential games through advertising. Now, Voodoo is generating 2/3 of its revenues from publishing vs. 1/3 for development.
Voodoo has a tech platform to evaluate prototype and give feedbacks to developers. Downstream, this tech platform is also used to optimize and scale acquisition and monetization.
The publishing model creates a flywheel: the more hits you do, the more developers reach out to work with you, the more games and learnings to share you have and therefore the more new hits you are able to generate.
In 2018, Voodoo raised $200m from Goldman Sachs growth fund. At the time, it was perceived as a bold move from Goldman: all European VCs passed on or missed the opportunity. The funding had three key objectives: (i) international expansion with new offices and local talents in foreign countries, (ii) going beyond the hypercasual segment and even beyond the gaming market, (iii) make acquisitions (acquire technologies or gaming studios).
As you see, with hypercasual games Voodoo created a new mobile category. It's not a gaming genre per se. You can have puzzles, quizzes, racing, fighting etc. that are hypercasual games. I would rather say that hypercasual is defined by three characteristics: (i) the gameplay, (ii) the creation process and (iii) the business model.
Part B - Crowd City as a case study
Let's start with an example and a game called CrowdCity. Voodoo released this game in March 2018 and it has been downloaded 224m times.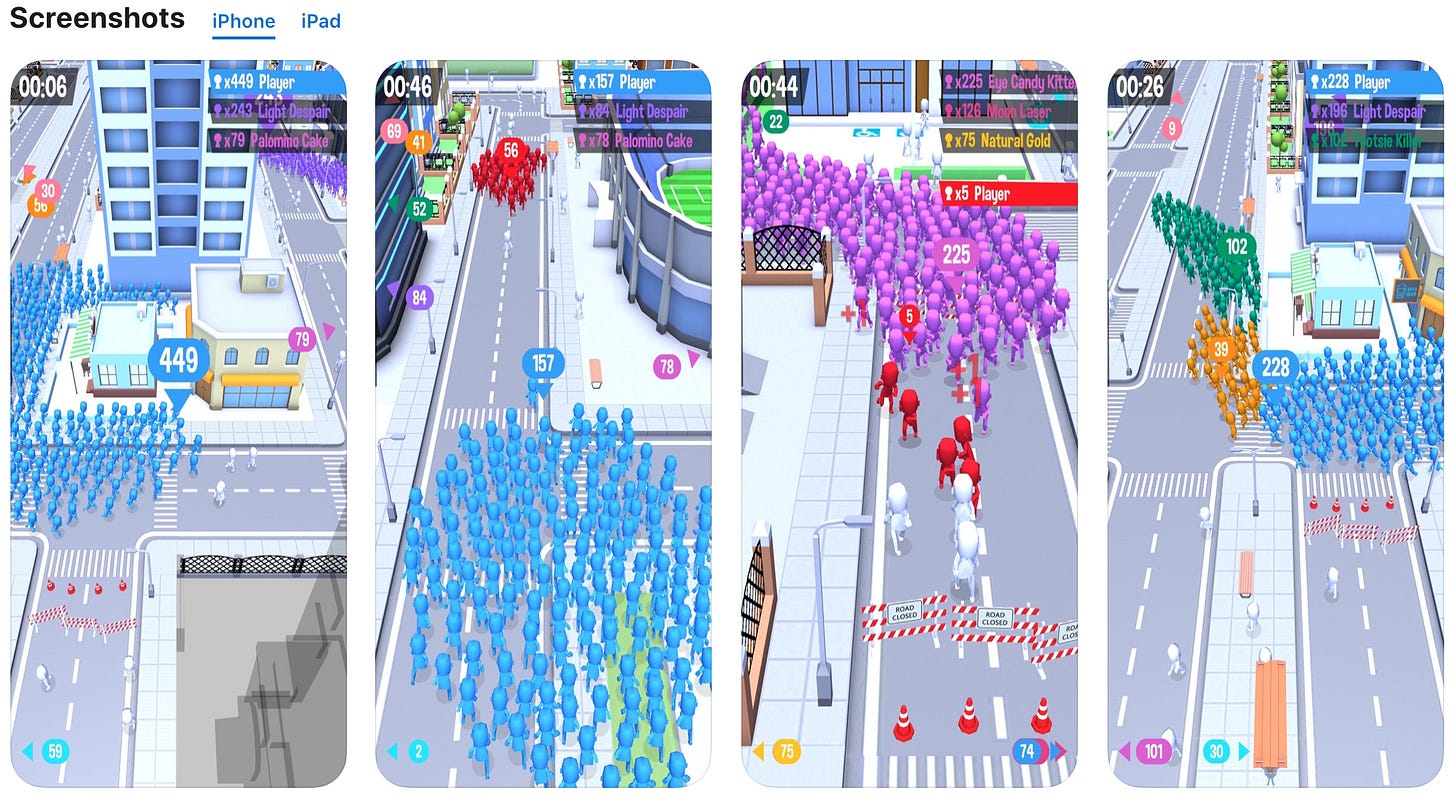 Screenshots to promote the game on the AppStore
The goal is to build the biggest crowd by gathering people in the city and beating other players that have smaller crowds than you. You move your crowd easily with one finger. The game is simple to understand and to play. It's also rewarding because it's easy to win as bots form the competing crowd and they're not really good. The feeling of crushing an enemy crowd is delightful.
Gameplay with a player better than me
A game lasts two minutes. You can play immediately after having downloaded the game. There is no sign up form. You hit play and the game starts. At the end of the game, you earn experience and you level-up to unlock new skins.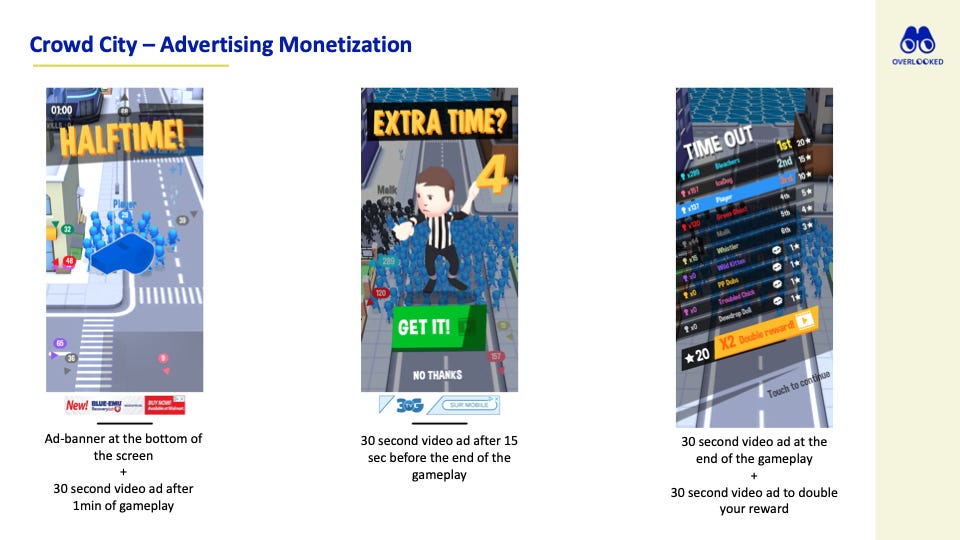 Ad-based monetization strategy
The game is monetized through aggressive advertising. You will always have an ad banner at the bottom of the screen. Three long 30-second advertising breaks are integrated at halftime, to have extra time and to end the game and see how you have leveled up.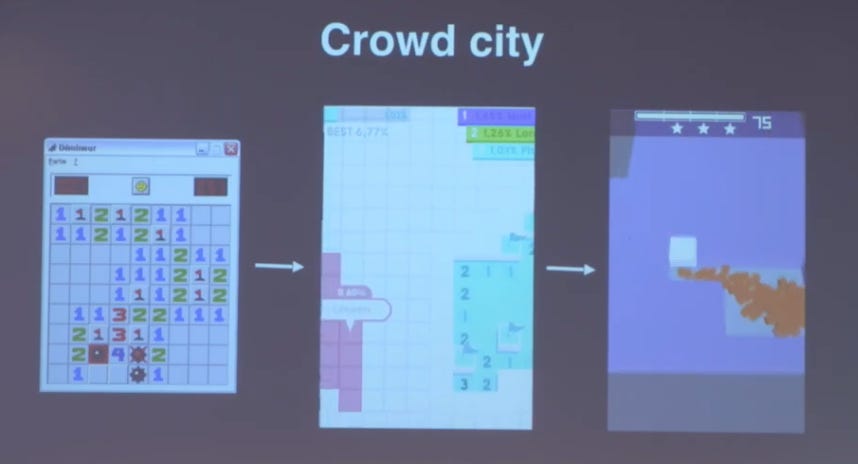 Screenshots on a Voodoo's presentation to developers about the genesis of Crowd City
To build this game, Voodoo built many prototypes around a game mechanic inspired from the infamous Microsoft game Minesweeper. Voodoo explored several iterations around the mechanic of growing in a map while pushing things on the side. The simplistic design was key to be able to transition from one prototype to another until reaching this fun idea of controlling a crowd with people following you. Taking this core sensation to a bigger game was much easier because the artwork was minimal. Following the official release, Voodoo kept iterating on the game by adding a leveling mechanism and by enhancing monetization schemes.
Part C - The gameplay: a core and pure gaming mechanic simple to understand and play
Alexandre Yazdi said on the hypercasual gameplay:
"Hypercasual games are usually focused on the core gameplay. [...] "In casual games, you may have a meta game. With hypercasual, the core game is really intense and interesting. To me, this is the real difference. The hypercasual game is very pure in that there is no monetization mechanic in the way of the pure gameplay. To be honest, at the beginning, we were not aware we were doing hypercasual games. We were just thinking about great content we wanted to do."
An hyper casual game is based on a unique core mechanic (moving a ball though obstacle, jumping obstacles, crushing enemies etc.). This mechanic should be simple to understand and sufficiently rewarding for the player because the game will be only centered around it. There is no more complexity: no "metagame", no multiplayer mode etc.
People play hypercasual games 2.5 min average per day compared with 20 min for other mobile games. Most of the time, you will play a hypercasual game only 2-3 times while commuting or multi-tasking before deleting the application. In a sense, hypercasual games are the gaming version of being distracted in a super short period of time. Instead of scrolling an Instagram feed or swiping TikTok videos, you play an hypercasual game.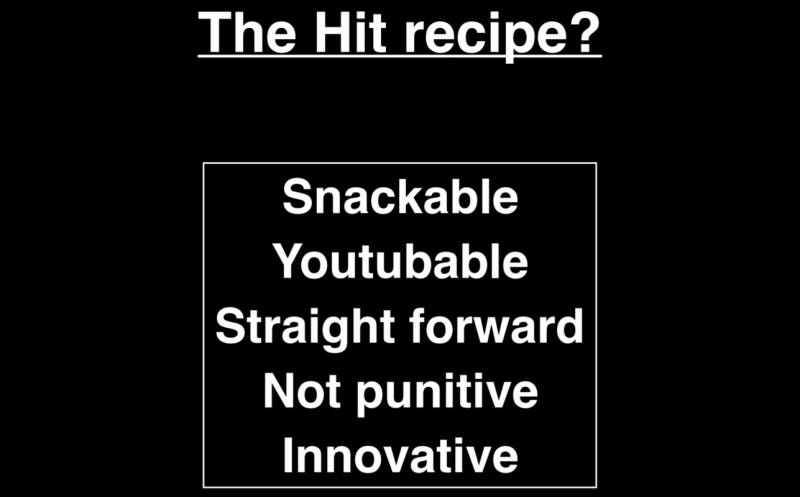 Hit recipe for hypercasual games
This philosophy is reflected in the key game characteristics Voodoo shares with developers to build a successful hyper casual game:
Snackable: your game should be played like if you were eating a snack. A level should last 2 minutes maximum. The game should be playable anytime, anywhere with no effort, has to offer instant reward and push you to consume it more than once.

Youtubable: your mom should understand the gameplay (goals, dangers, scoring system) simply by watching a video. This simplicity is key to have good paying acquisition metrics.

Straightforward: no tutorial is needed. Every action must be rewarded and the player must be guided.

Not punitive: the game has to make the player feels that he's good by building a tolerant and empathic game design. The game should also give the player the sensation of being free and progressing within the game.

Innovative but not that much. Copying is fine as long as you are improving the game design. A key twist is to mix two successful gameplays.
Part D - The creation process: the perfect balance between art and science
As I shared above, Voodoo applied to the gaming industry the lean management methodology. If you have an idea, don't spend months to develop it but build a prototype and test it to the market. If the metrics are poor, switch to the next idea. Otherwise, refine your prototype until you are able to find product market fit.
For each hypercasual hit, you have to build and kill hundreds of prototypes. Game engines like Unity and Unreal Engines has made it easy to create gaming prototypes and iterate from one version to the other. Each prototype will be a new iteration in which it changes slightly the gameplay to enhance usage and retention metrics. Just look at the path crossed between Minesweeper and Crowd City.
The creation process mixes art and science. You start by creative ideas generated by your team based on other games, on the internet culture or any other source. It's key to create the right environment to make these ideas a reality through a prototype that can be tested on the market. Voodoo does this by working with autonomous and responsible teams of 2-3 developers who will be in charge of generating new gaming concepts and transform them into prototypes.
But, humans are extremely bad at predicting what will work. You need to test every idea to be able to overcome this shortcoming. Voodoo experienced it first hand when they released at the same time Numerous Quiz and Fight Light. The team was convinced that the first one was a great game and future blockbuster. Guess what? It's was a miserable failure and the second one that was considered as doomed was a global hit for Voodoo. You can never guess what the consumer will like. You have to test and listen to usage and retention KPIs to understand if you are going in the right direction.
In the end, an hyper casual game hit is based on two key ingredients: (i) a core gaming mechanic driving usage and retention, (ii) a positive economic equation (LTV>CAC).
Those two key ingredients are measured and if a gaming prototype does not pass the cut, it will be abandoned. For instance, Voodoo had three metric thresholds to publish a game: D1 retention > 55%, D7 retention > 22% and CPI below $0.25.
There is no space for improvisation or great game design. Everything is measured. Both game development and marketing promotion are metric driven.
Once a game is published, the creation process does not stop there. You will keep iterating on the game to increase its lifetime value by refining the design and adding depth to the gameplay (leveling, perfect, fever, meta features etc.)
Part E - The business model: ad-based promotion and monetisation
Casual mobile games like Candy Crush were already a revolution in the gaming industry. A small team of developers was able to build a long lasting success story in few months monetizing not through an upfront large payment but through a freemium business model with in app purchases to enhance the gaming experience. Instead of playing several hours, you will play the game 20-40 minutes everyday during your breaks.
With hyper casual, another revolution started. Games could be built in few days with a team of only 2-3 people. Instead of monetizing through in app purchases, these games monetize through intrusive advertising, are played for smaller periods of time (5-10min max) and only twice or three times before being deleted.
Hypercasual games opened a new mobile gaming acquisition/monetisation segment. Before, it was impossible to make a game a commercial success by having a lifetime value below $1. Hypercasual games managed to reduce the CPI at sufficient level to make this possible through automated advertising and a simple gameplay perfect to generate at scale efficient advertising creatives.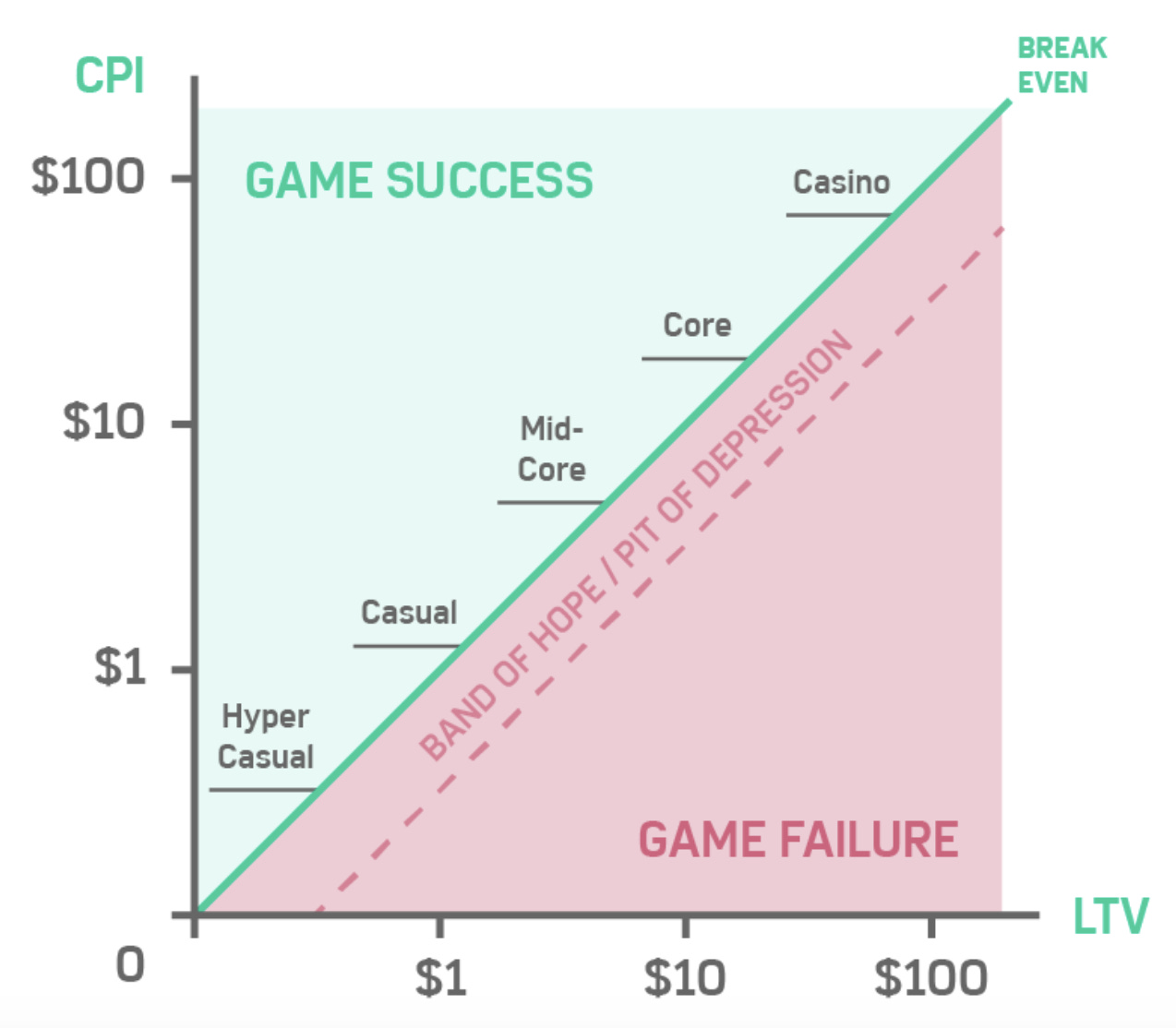 Chapter II - Category Domination
In 2019, Voodoo was the 4th mobile app publisher by number of downloads only behind Facebook (Facebook, Instagram, Whatsapp), Google (Chrome, Gmail, Youtube) and Bytedance (TikTok) with more than 1.0bn downloads.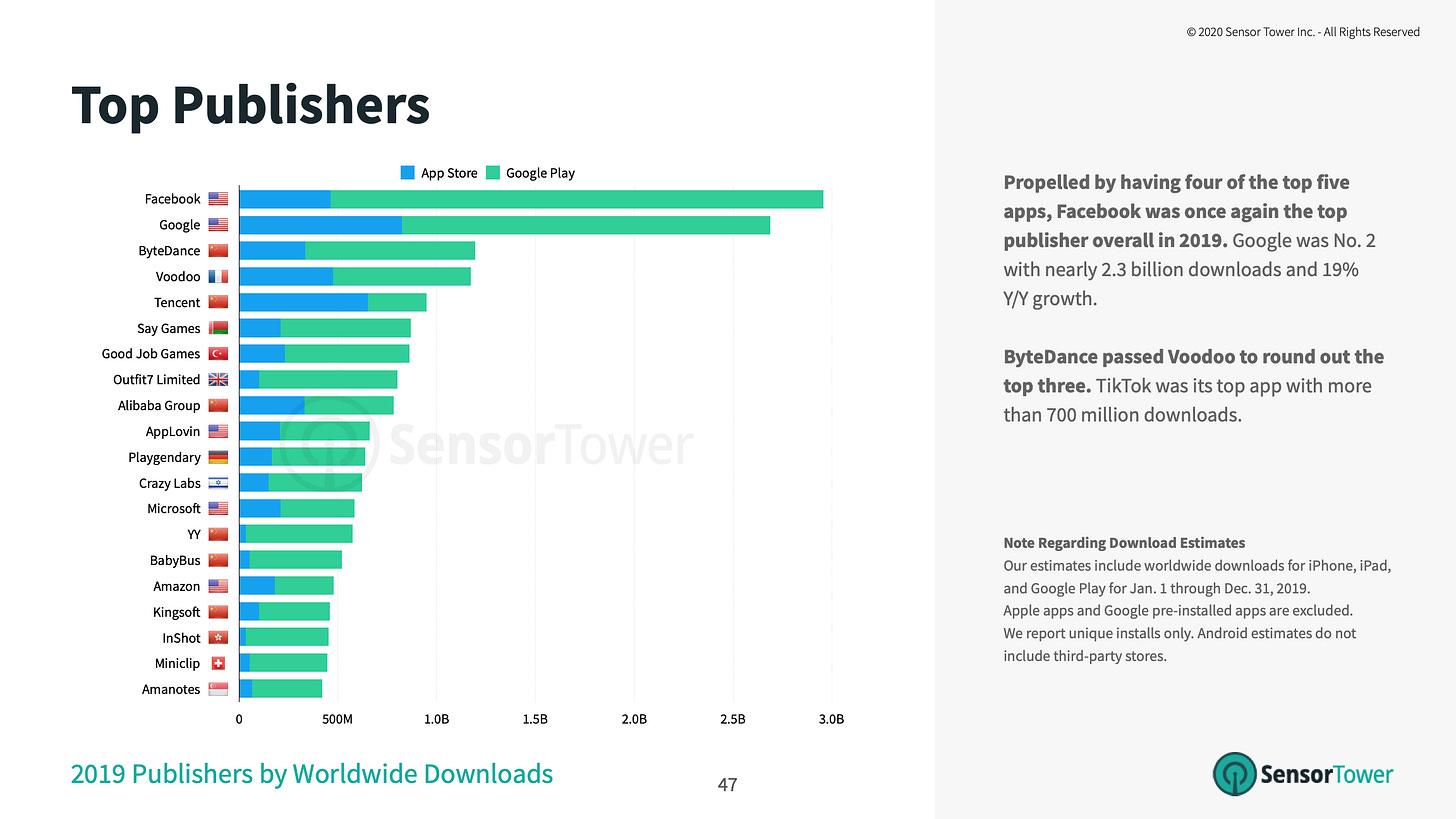 SensorTower 2019 report on Mobile Apps
When you dig into the metrics, it's outstanding:
Grew sales from €1.1m in 2016 to €71m in 2017, €325m in 2018 (358% YoY) and €360m in 2019 (+10.9% YoY)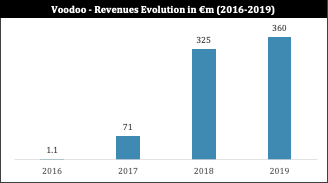 Only 250 employees

Profitable

International (50% of revenues from the US, 25% of downloads from the APAC region)

300m MAUs (more than Linkedin, Snap, Pinterest and Telegram)

100+ games released

3.7bn downloads
Voodoo managed to publish more than 25 games generating 10m+ downloads and its bestseller Helix Jump (developed by H8 Games and published by Voodoo) was downloaded more than 500m times! I'm also impressed by the scale velocity between 2016 and 2018 - going from 1 game published and €1.1m revenues to 48 games published and €375m in sales.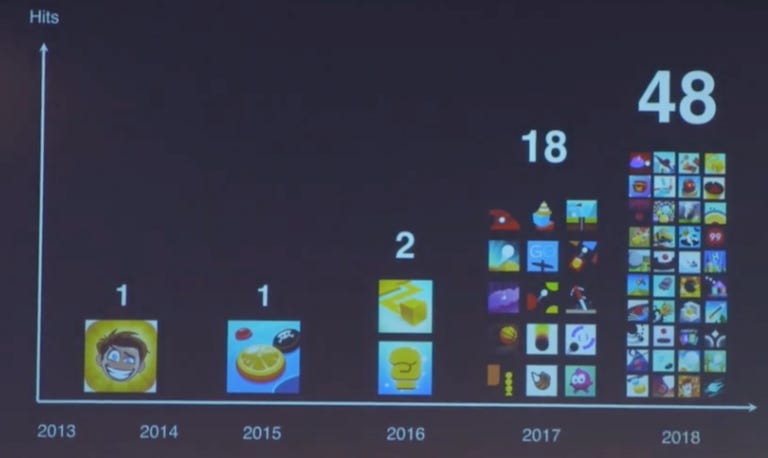 Evolution of the number of games released by Voodoo since inception in 2013
I believe that Voodoo's key strengths are the following:
An advertising expertise to acquire and monetize users,

An ecosystem of developers collaborating with Voodoo able to ship numerous game prototypes to be tested before signing a publishing contract to release games at scale,

A culture of experimentation combining creativity and data to industrialize hit games production,

A library of assets that can be reused from one project to the other to build from scratch a new game or to add depth into an existing game,

The flywheel previously described on the developer side.
This new round led by Tencent valuing the company at $1.4bn seems to be the best proof of this category domination. Voodoo is officially passing the $1bn valuation threshold and joining the small club of French unicorns.
But is it really the case?
Goldman Sachs was rumored in May to be trying to sell its stake in the company at a $1.6bn valuation. The final valuation disclosed was only $1.4bn - despite the covid crisis which was extremely favorable to the mobile gaming industry.
Moreover, making arbitrary assumptions on Goldman Sachs entry and exit conditions, the financial performance of the investment is not that great for a growth fund (a multiple below 2x).
Chapter III - Category Contestation
Introduction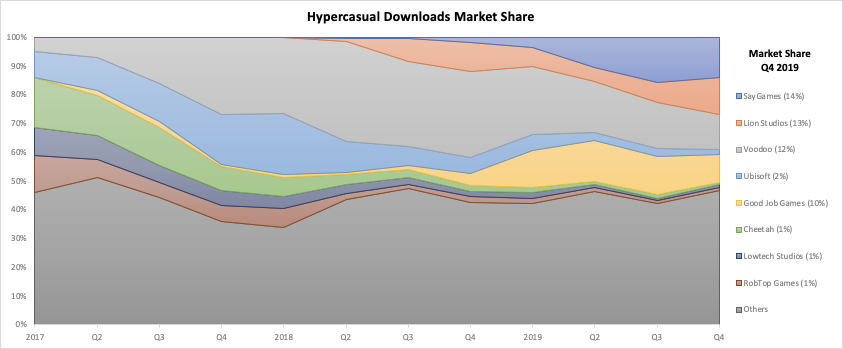 The rough reality is that Voodoo's leadership in the hyper-casual segment has been challenged in the past 18 months by new entrants.
On the one hand, by GoodJob Games and SayGames which are coming from countries with lower developer costs and a strong gaming culture.

On the other hand by Lion Studios which is a subsidiary of a US-based mobile analytics company called AppLovin'. AppLovin' decided to open an hypercasual gaming publishing arm to capitalize on its expertise of user acquisition and revenue optimization.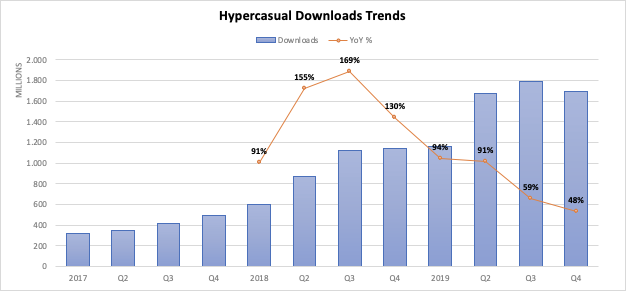 Moreover, the hyper casual segment market growth is slowing down. Voodoo's sales grew only by 10% in 2019 and the quarterly market YoY growth rate are now below 50%.
I believe that there are four main reasons to explain this lower market growth and Voodoo's market leadership contestation.
Part A - Low Barriers to Entry
Almost anyone can develop and publish a successful hypercasual game. Third party tools to create, test and scale a mobile game are available and efficient. Of course, you may not be able to extract as much revenues as Voodoo is able to do - but it will be enough to make you successful.
As a result, an influx of new developers and publishers have entered the hypercasual segment with differentiated hacks to take market shares from leading players. Some players are great at copying ideas from competitors. Others have in-house developing teams based in countries with lower wages.
Part B - Price Pressure to Sign Deals with Developers
As a gaming publisher, you sign deals with third party developers to promote and market their games. You must agree on a revenue share agreement.
If you want to beat an established player in convincing a developer to work with you, you can just lower your price and give him 30% of the game revenues instead of 10 or 20%. You can also have lower metric thresholds to sign deals with developers (on retentions and CPI).
What is hard for Voodoo is to prove to developers that prototyping consulting and publishing are not a commodity. Otherwise, it's a market driven by prices and you will pick the publisher offering you the best revenue sharing agreement - something done by several new entrants on the market.
Part C - Advertising Fatigue and an Advertising Race to the Bottom
Hyper-casual games monetize through intrusive and poorly designed ads. Playing a Voodoo game is like trying to watch a soccer game on illegal streaming websites without Adblock... It's the kind of ads you don't want to click on. These ads are not performing well and most serious advertisers are banning games from hyper-casual gaming studios from their promoting list.
Hyper-casual games also acquire users though paying acquisition with ads mainly broadcasted... in other hyper casual games. We end up in a situation in which you earn revenues from other game studios and you pay these same game studios to acquire users. Over the long run, it's a zero sum game. It works only because all the players are not super efficient in advertising but the situation is not sustainable.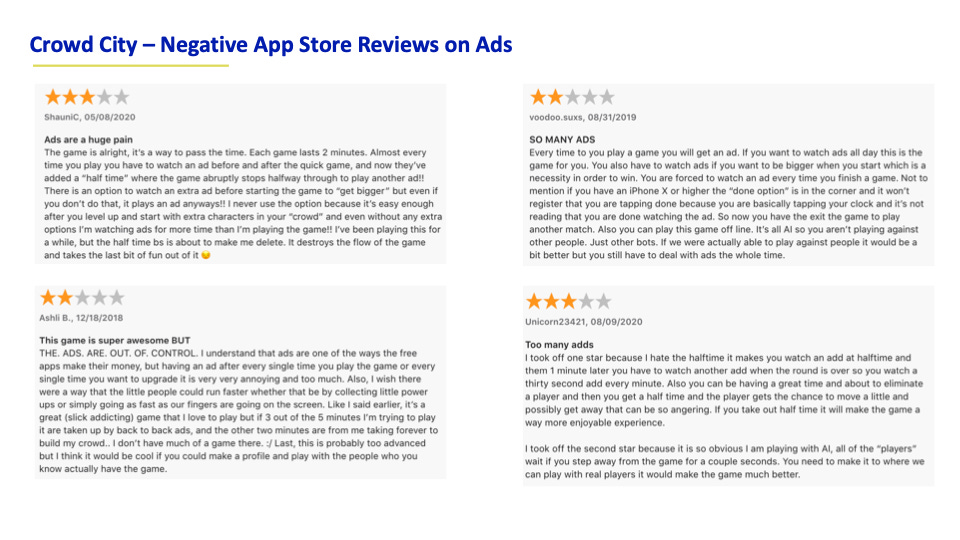 More broadly, I believe that we will increasingly face an advertising-fatigue. Most comments on Voodoo games are criticizing the aggressive advertising used by the publisher. Hard-core hyper-casual players know the trick of activating the airplane mode to avoid advertising. Voodoo will never be recognized as a top quality gameplay and as a strong gaming brand if it does not manage to produce games based on a monetization going beyond advertising.
The gaming market is moving towards subscriptions (with initiatives like Apple Arcade, Google Stadia, the Xbox Pass or Fortnite's battle pass) and in-app-purchases. Advertising and upfront payments will become marginal in the upcoming years.
Moreover, Apple is starting to crack down on mobile advertising and user tracking. With iOS 14 update to be released this fall, users will have the possibility to limit ad-tracking and will be asked each time they download an app with ad-tracking whether they want to share their data. Most users will probably refuse reducing the efficiency and as a consequence the revenues generated by those ads.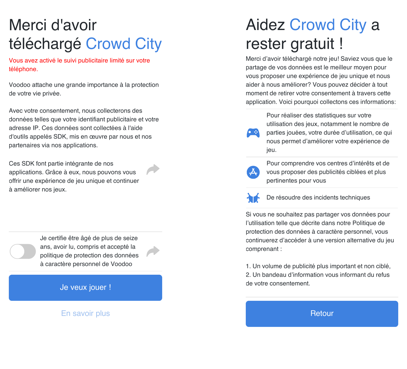 Voodoo's screenshots (in 🇫🇷) to push users to accept ad-tracking explaining that they care about your privacy and they need to collect data to: (i) solve technical issues, (ii) have data on your game usage and (iii) offer you more targeted ads
Part D - No Brand Name Associated with the Hyper-Casual Category
With the hyper casual genre, Voodoo created a new category in the mobile gaming industry. But Voodoo is struggling to collect the fruits from being the category definer. It managed to create a positive feedback loop on the developer side but not on the consumer side.
On the developer side, Voodoo has a good feedback loop. The more hits Voodoo manages to produce for its developer ecosystem, the more developers will apply to have Voodoo as publishers and the more games and data Voodoo will be able to accumulate generating a subsequent new wave of hits etc.
But Voodoo does not have a social network effect on the consumer side - which is a shame for an industry that is offering the most compelling social experiences. Mobile gamers don't know about Voodoo. They know only about Voodoo's games. They will never download a game because it was developed or published by Voodoo. You cannot build on your brand to attract new users for your next game.
Chapter IV - Reinvention?
Introduction
Voodoo is now at a turning point. It must reinvent itself to expand beyond the hyper-casual segment that has become too competitive and doomed in a race to the bottom.
This chapter will dig into the potential futures for Voodoo taking into account the numerous initiatives launched by Voodoo in the last 18m to expand beyond its core segment.
Part A - What Tencent Brings to the Table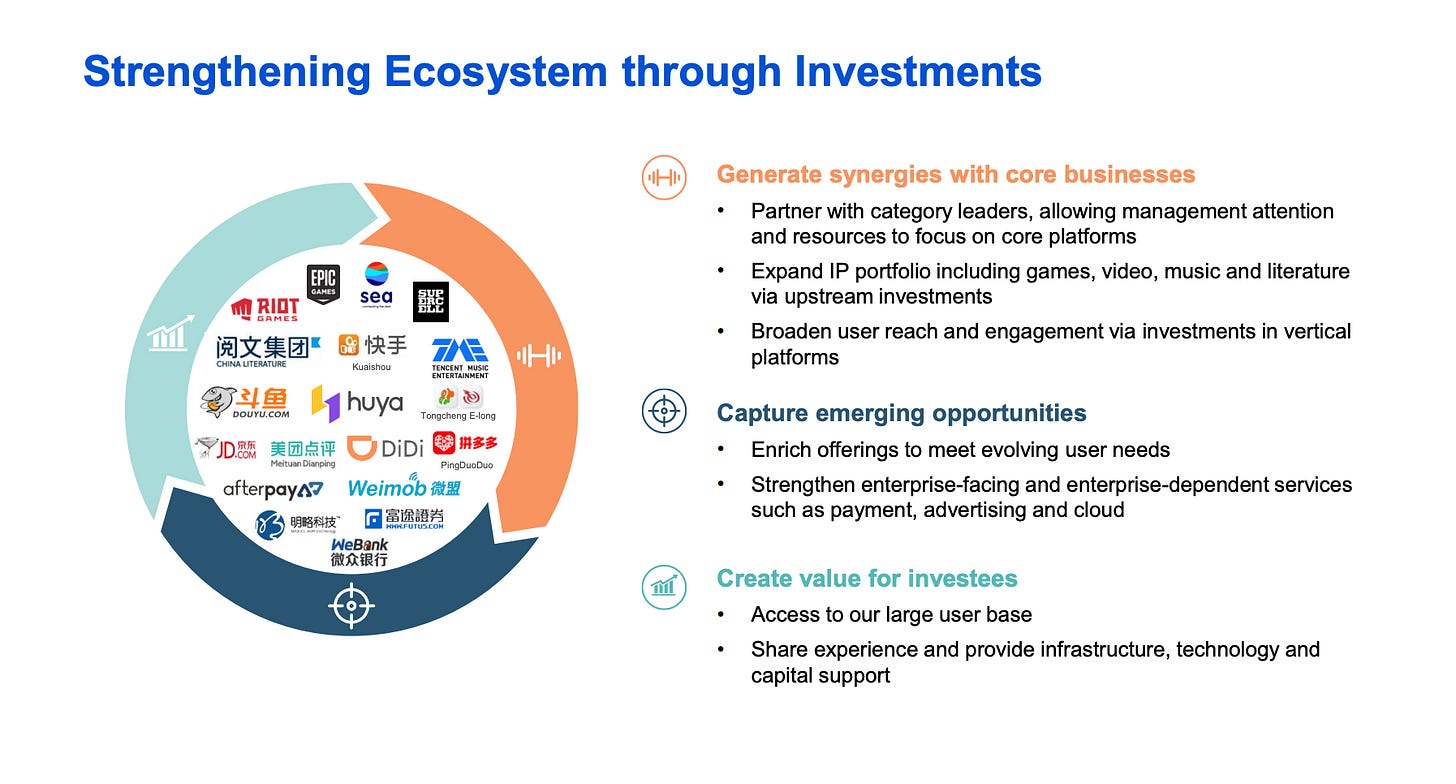 Tencent Investor presentation highlighting their main investments
Tencent is a Chinese-based tech giant and conglomerate founded in 1998 with activities in messaging (WeChat), gaming, streaming, social etc. The company has stake in numerous Western-based gaming companies like Riot (League of Legends), Epic Games (Fortnite), Supercell (Clash of Clans, Brawl Stars) and is probably of the most knowledgable gaming investor.
In Europe, Tencent invests in two main sectors: finance and entertainment. It did 4 investments in France in 2020 (UMG, Lydia, Qonto and Voodoo).
In an Financial Times article, Alexandre Yazdi said on Tencent:
"What we like about Tencent is they have so much experience in more complex games with more depth," said Alexandre Yazdi, Voodoo's chief executive. "We really believe that we can add a fresh wave of new casual products that come from our hyper-casual innovations."

Voodoo's Mr Yazdi said that the company planned to expand further in Asia Pacific, as well as adding multiplayer features to more of its games. "Android [app] stores in [Asia Pacific] are very fragmented, so it's very important to have a strong partner to distribute our games," he said.
The CEO is putting emphasis on three key dimensions: (i) expanding in Asia especially on fragmented Asian Android app stores, (ii) going beyond the hyper-casual segment and (iii) adding a multiplayer layer to its new games.
In my opinion, the biggest opportunity is the integration of Voodoo's hyper casual games into WeChat messenger app. WeChat integrates mini-programs which are "sub-applications" living in the WeChat ecosystem. You have mini-program for e-commerce, finance, transportation, food-delivery but also games. Hyper-casual games are the perfect fit for this platform because the applications are light and easy to consume.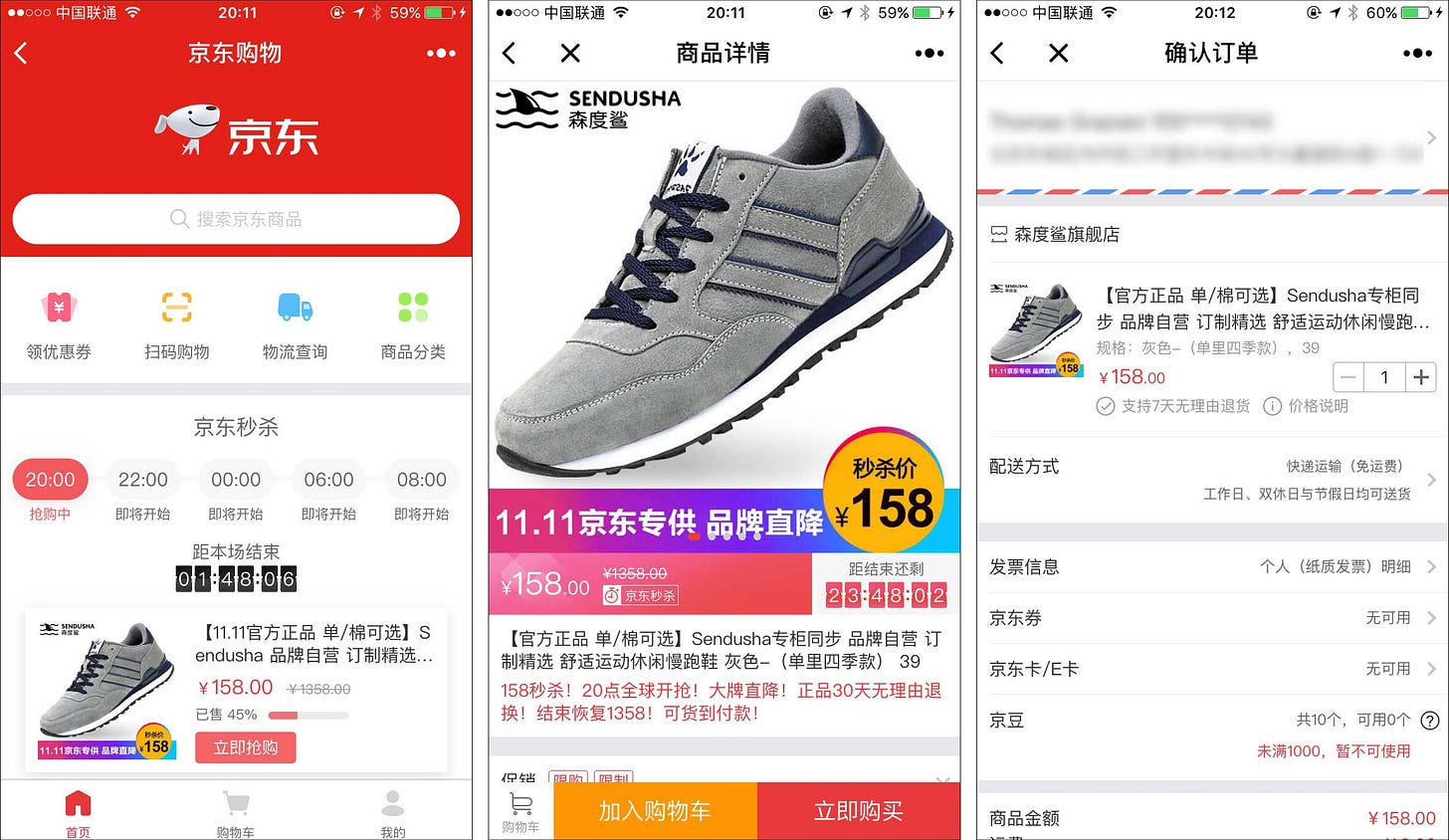 JD.com e-commerce platform mini progam integrated within WeChat
Voodoo is already moving in this direction by partnering with Snap to launch games on the Snap platform. Super-applications are also a great fit for Voodoo because they are natively social. It will be easy to integrate their social layer to Voodoo's games.
Working with Snap and Tencent will solve two key limitations with Voodoo's games: the games will be natively social and instantly playable within the Superapp removing the friction to download and open the app.
Part B - Mobile Gaming Beyond the Hypercasual Market
I'm convinced that the hyper-casual segment brought innovations to the mobile gaming market that can be applied to other segments. Voodoo is the best positioned player to bring them to the broader mobile gaming market.
The hypercasual segment market will plateau in the next 12-24 months but Voodoo remains a key player in this segment. If exploited correctly, it can remain a cash cow during to fund other initiatives. By opening studios in countries with a strong gaming ecosystem but with lower developer wages like Ukraine and Turkey, Voodoo demonstrates that it plans to reduce its development costs to keep competing with new entrants like SayGames and GoodJobGames.
But Voodoo must prepare the future to go beyond the hyper casual segment and build mobile games in other genres. In the past 18 months, Voodoo has started to launch initiatives beyond this segment:
It opened studios in Berlin and Montreal focused on going beyond the hypercasual genre.

It hired experienced people from other studios like Rovio, King and Blizzard.

It acquired Gumbug - a London-based mobile game studio behind Smash Supreme which is a 1 vs. 1 multiplayer fighting game.

It launched several new games to test new genres (idle with Idle Lumberjack 3D, tycoon with Cinema Tycoon), new monetization models (in app purchase with Baseball Boy) etc.
When you look at the broader mobile gaming market, the following ideas seem also worth pursuing:

Archero's number of downloads evolution: a successful move from hypercasual to hybridcasual
Going from hypercasual to hybridcasual by walking in the steps of the successful example of Archero which managed to transform simple hypercasual mechanics into a more complex gameplay. It allows the game to have a better long term retention compared to most hypercasual games that are played only 2-3 times. It was also a way to introduce in-app purchases as a new monetization scheme beyond advertising.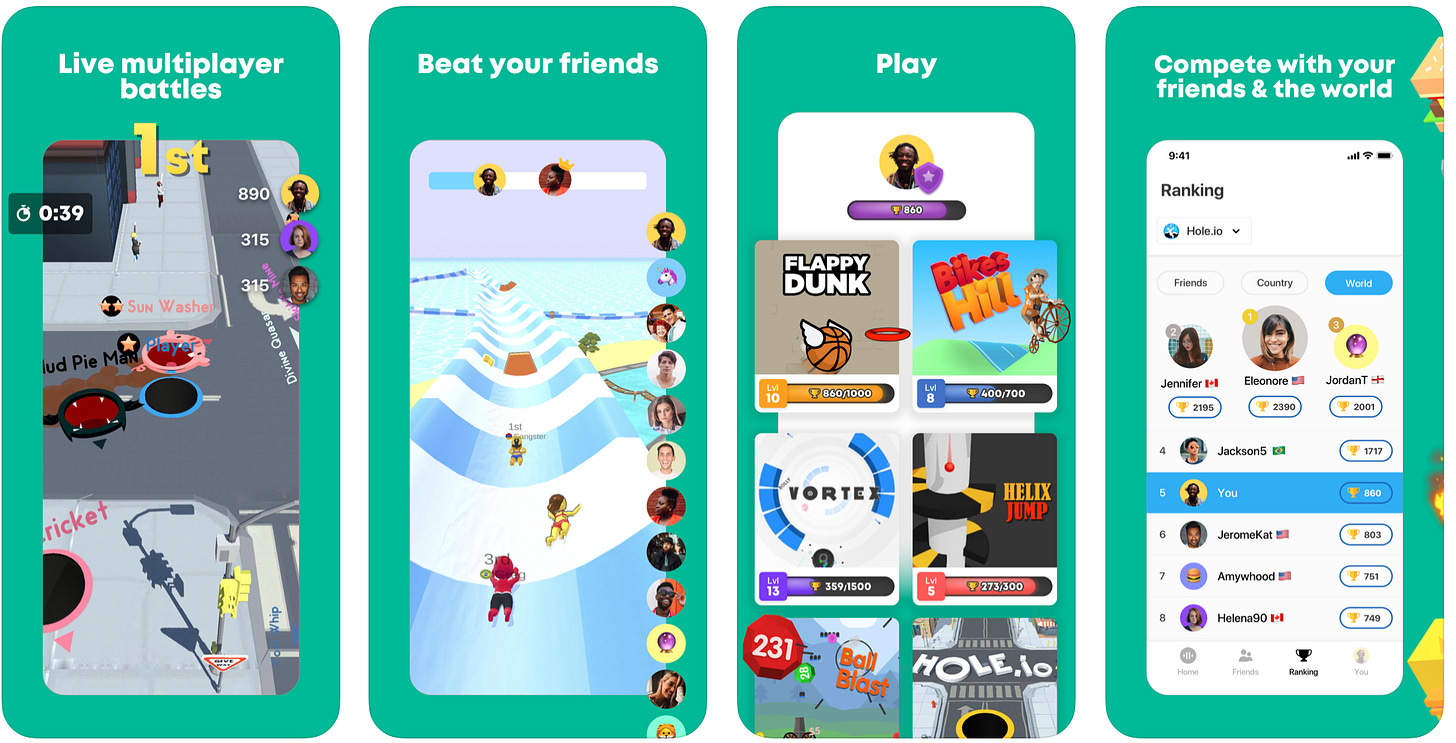 Lobby's app screenshot: a unique multiplayer app to play Voodoo's games against online players and your friends
Adding a social layer on top of Voodoo's hypercasual games to make them multiplayer (and therefore increase retention and virality) and build features to facilitate cross-sell between games in the Voodoo ecosystem (imagine a world in which you will have a Bitmoji-like login experience for all Voodoo games and you will have global leaderboard with your friends). Almost all Voodoo games are not multiplayer. You have the impression to play against real players but the reality is that you are playing against poor AI-bots. Voodoo moved in this direction by launching Lobby which is an app to play Voodoo's hypercasual games with your friends or other online players. You basically aggregate several Voodoo games in a single social and online platform.
Part C - Going Beyond Gaming
On Voodoo's website, there is a page to recruit developers wanting to work on applications beyond gaming on five key areas: video, social, user generated content, news and curation. It's a clear signal that Voodoo is not limiting itself to the gaming sector and can use its knowledge of app building and promotion for any app.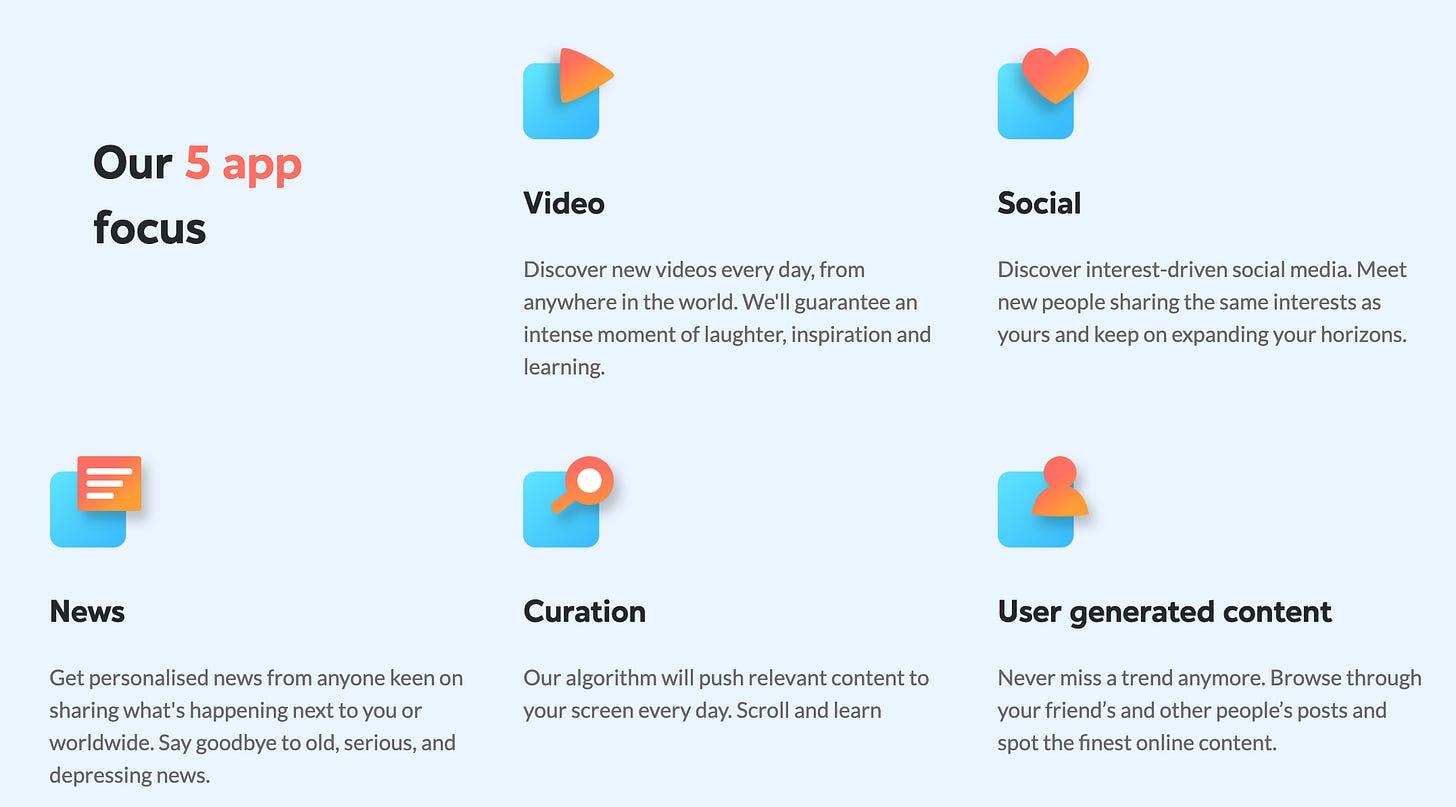 Voodoo's initiatives to go beyond gaming
Last year at Vivatech, Alexandre Yazdi discussed about two of these strategies. On content curation, he explained that content was organized on the web thanks to Google search algorithm but that it was not the case on mobile yet. On mobile we have a different way to consume content. We are passive and are waiting to have content personalized to our preferences and our behavior. Voodoo is working on prototypes based on machine learning to promote the right content (articles, videos, musics etc.) to its users on a mobile app based on their preferences and their behavior.
On video, Alexandre did a similar parallel. Youtube is the perfect platform to consume video online but only for relatively long formats. There is nothing to consume snackable videos on mobile. When you have 2 minutes to spare, you can play a Voodoo game, you can go on a social network but you will not watch a Youtube video. Voodoo wants to build the video platform that you will watch during this periods.
In my opinion, Tiktok excels at both content curation and offering this short-format video consumption on mobile, but there is still room to innovate.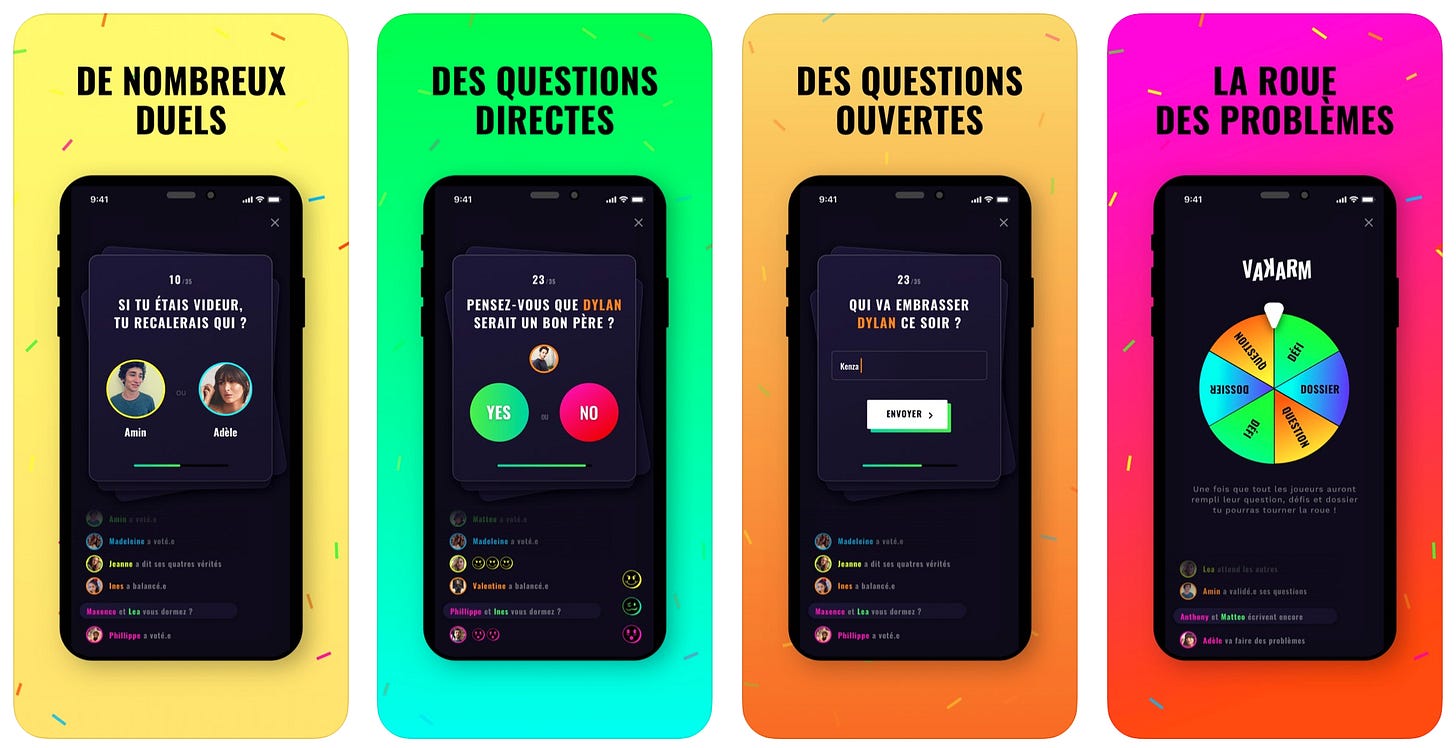 Vakarm Screenshots on the AppStore
For instance, Voodoo is now testing an app called "Vakarm - Clash Generation" which is a social game to generate clashes between friends thanks to spicy questions. The business model is both subscription and ad-based. The social layer unlocks more virality and therefore organic downloads. It's another glimpse of what Voodoo can do beyond gaming.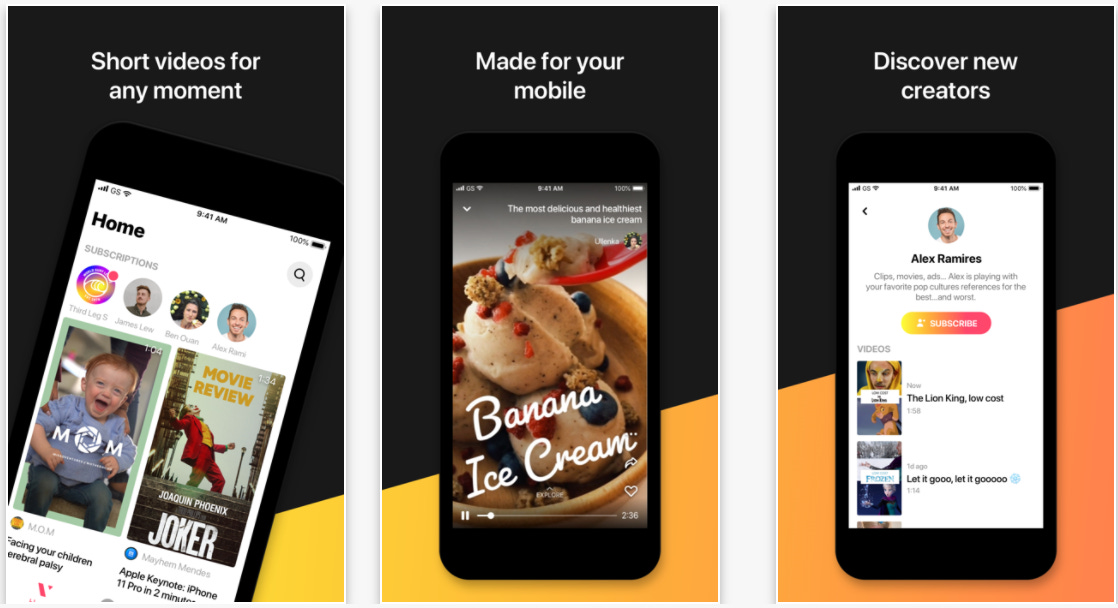 Voodoo Video Screenshots on Android
Voodoo also tested unsuccessfully an app called Voodoo Video. It was the first time that Voodoo put its brand in front of the consumer and it was an app to consume short vertical videos to be entertained.
Conclusion
With the hyper casual segment, Voodoo started to disrupt the low end of the mobile gaming market and brought many innovations to the industry. Now, it should capitalize on them be more than an ephemeral success story.
I'm confident that Voodoo will manage to find other golden gooses but it will take time. Having a long term strategic partner like Tencent and starting from this unique culture of experimentation will be key assets to build another French gaming giant.
Resources
Editing Notes:
01/09/2020: Contrary to what I said in a previous version of this post, Voodoo did not developed Helix Jump in house. The bestseller was developed by a studio based in Ukraine called H8 Games. If you want to know more about this relationship, you can read this article.
---
Thanks to Julia for the feedback! 🦒 Thanks for reading! See you next week for another issue! 👋