Discover more from Overlooked by Alexandre Dewez
Writing about tech trends deserving better coverage
Over 7,000 subscribers
Hi, it's Alexandre from Idinvest. Overlooked is a weekly newsletter about underrated trends in the European tech industry. Today, I'm giving the stage to Thibault to talk about no-code. I have been super lucky to work with him over the past six months at Idinvest. He did a great job at digging into this booming trend and I think his work deserves to be spread to the world.
Introduction
Many of you have probably felt the frustration of being unable to develop something because of a lack of technical background. Luckily no-code has come. It has even become a buzzword (see the chart of monthly tweets below), but I think it is appropriate: the demand has never been so high, the platforms are ready and the underlying trends are robust.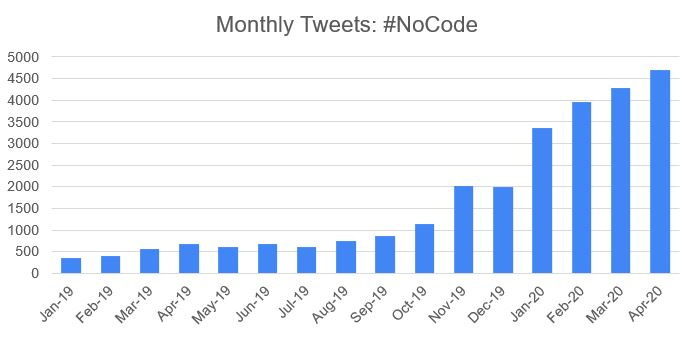 No-code is trendy but it has unclear boundaries: at first sight, any software could be considered as a no-code tool (i.e. using graphical user interfaces) and once a solution has gained mass acceptance, it may no longer be perceived as a no-code product (Excel for example). No-code is therefore not about product characteristics but about pain points solved.
Above all, no-code is about unleashing creativity on the internet: reading and watching on the internet was a first wave of enablement (anyone can learn) and no-code could be the new one, by enabling anyone to build products and find solutions.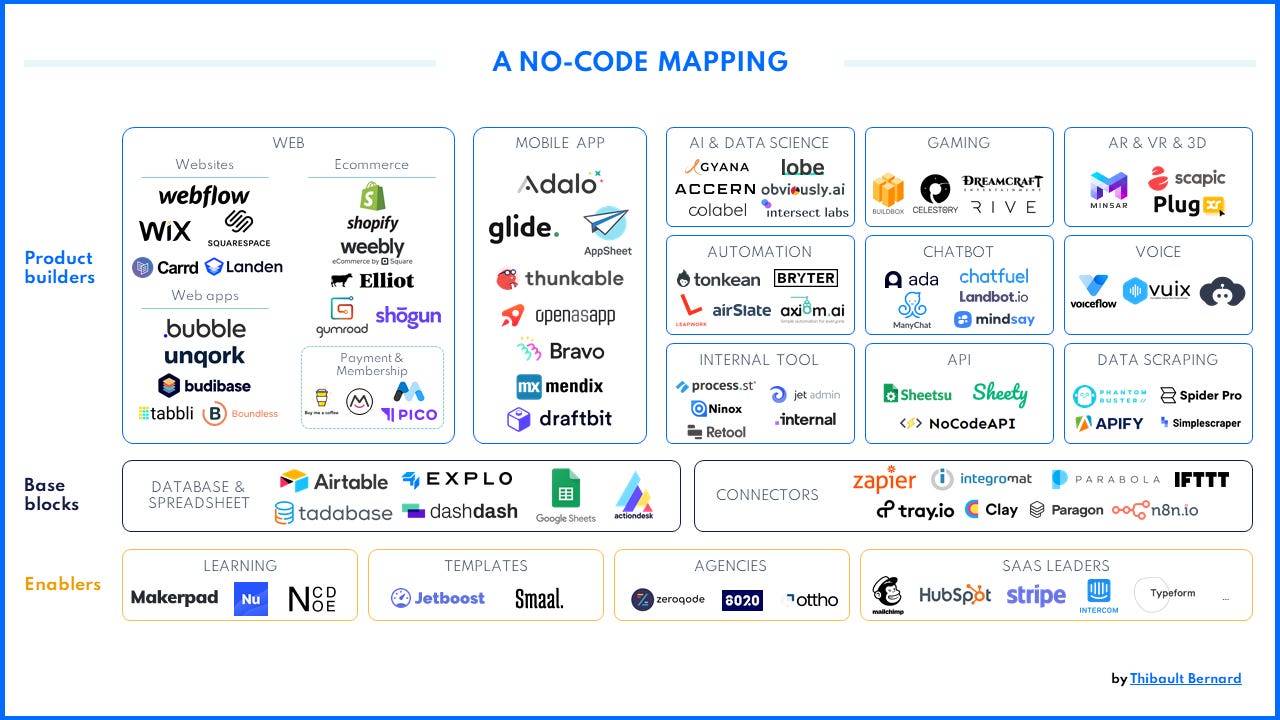 Part I - Definition & History
No-code is a programing method based on graphical user interfaces to build web software instead of writing code. You build a program by moving pieces around on a visual interface.
Webflow introducing its Designer platform to create no-code websites
Almost anyone in the world is consuming internet products but the creation of internet products has been limited for a long time to a restricted subset of the population: the 25m developers worldwide who know how to code represent 0.3% of the population.
Internet is blurring the lines between providers and consumers and no-code will enable any internet product consumer to become an internet product maker. It has already happened with content: anyone can record a song and publish it on Spotify, anyone can write a blogpost and publish it on Substack, anyone can record a video and publish it on TikTok or Youtube. Tomorrow, anyone will be able to build any internet product without being a developer.
No-code is not something new. It has been there since the invention of the internet. Dreamweaver and Microsoft FrontPage (both launched in 1997) were among the first WYSIWYG (what you see is what you get) solutions to create a website. The key difference is that the last generation of no-code tools are much more powerful and interconnected.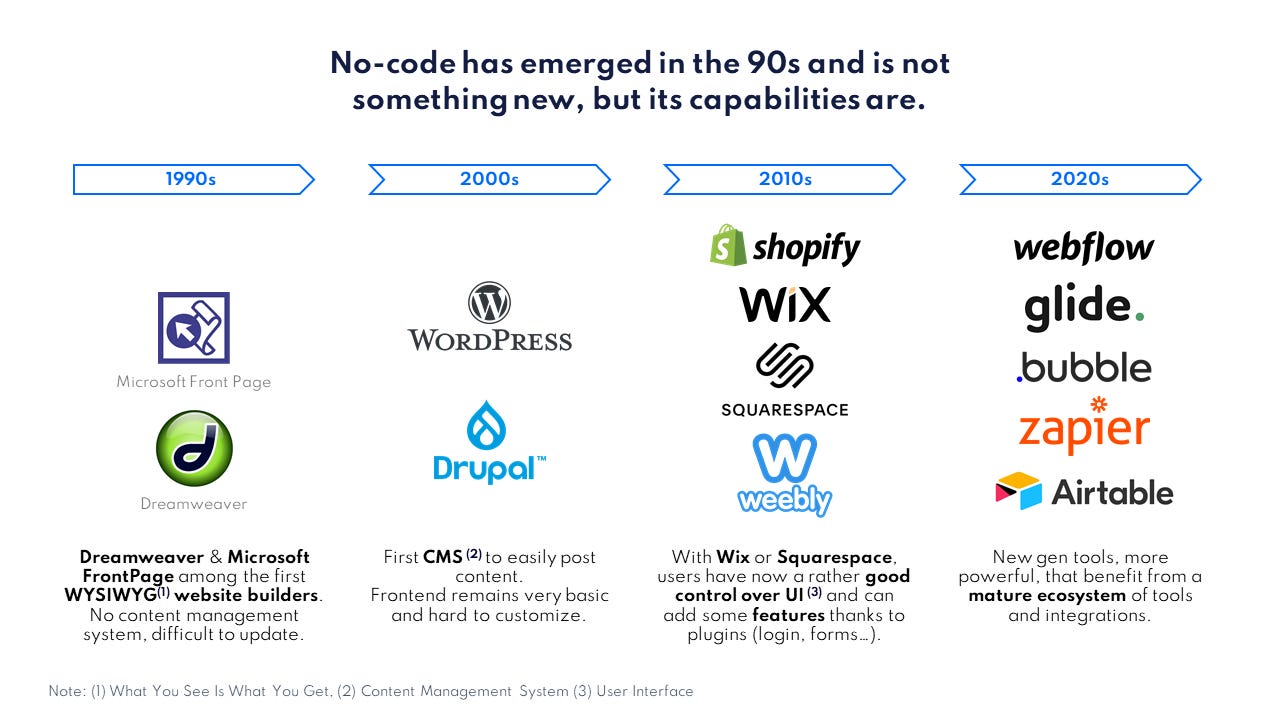 Part II - Why No-Code is Rising?
The "product zeitgeist fit" is here. The internet ecosystem is now sufficiently mature to build no-code products:
Developers have poured decades of efforts into reducing their development time,

Cloud providers have reduced the frictions to ship a project in production (this also applies to code but no-code needed this level of simplicity),
No-code is a good contender to solve the worldwide developer shortage. 500k-1m additional developers are needed in Europe. Companies are struggling to staff their development teams because the competition for developer talent is fierce and salaries are increasing rapidly. Numerous education programs are rising around the world to fill this developer shortage (Openclassrooms, 42, Le Wagon, Lambda School, Holberton School) but it will not be sufficient. In addition, tech trends are moving faster than education and skills. There is now a huge demand for computer scientists skilled in mobile app development, game development, data science, machine learning… The ambition of no-code is to fill the gap.
There is a change of spirit in terms of development: (i) the agile development method has become something mainstream and (ii) shorter time-to-market is required to collect market feedbacks and fasten iteration cycles.
Every employee is becoming a citizen developer (expression introduced by research firm Gartner). In corporations, employees are empowered by no-code tools to build autonomously the products they need internally and externally without having to rely on third parties (designers, developers, etc.).
The barriers to entry to create a new business have never been as low as they are today. It has never been so easy to launch a business (mentality, education, financial support, etc.). No-code is breaking down the last barrier which was the development technical expertise.
Part III - Who is Using No-Code and For What?
Category 1 - Individuals
Projects are more important than a resume. Anyone could have a presence on the internet to showcase its specific skills and no-code tools are removing the technical barrier to do so.

Side projects. A growing number of people are working on side projects during their free time to develop new skills, to start developing their next startup ideas, to spend time on more meaningful topics than their usual work routine. No-code is a perfect side project enabler. The French no-code-focused learning program Contournement even launched a course dedicated to side projects.

Personal websites. It is becoming cool again to own something on the web, as some people are turning their backs on social media. Having a personal website offers more independence and control than social media or blogging platforms like Medium.
Category 2 - Freelancers
Expand their capabilities beyond their core expertise. For instance, with a no-code tool, a designer could potentially build a website on his own for a client without needing to onboard a developer.

Reduce the time needed to deliver a project. For example, a coder could use no-code platforms to build websites quicker than what they would have done without those platforms. It's also a way for them to focus on more value-added tasks.
Category 3 - Entrepreneurs & Startups
Reducing your time-to-market has become a key factor of success to iterate faster on a product and to ship faster than competitors.

The sooner – the better: startups are looking for traction and product-market-fit, they do not want to spend hundreds thousands of euros in product development. 42% of startups fail because of no market need (according to CB Insights).

Growth teams are no-code tools power users. Growth teams are independent teams within startups that are supposed to generate growth by trying and iterating on multiple ideas per month. Once an idea is taking off, it is passed to other function teams to perfect them and make them scale. No-code tools are perfect for them to experiment and iterate on ideas rapidly.
Category 4 - Small and Medium Sized Businesses
Tech and talent gap to fill. SMBs are not the top-of-mind user population for no-code tools, but the lack of resources internally could lead them to use no-code to launch an online store or a marketing website. Covid has probably sped up this trend, as small shops had to pivot to online offering to continue connecting with their customers.

Greater independence. Shopify was the first company to offer independence to SMBs by enabling them to create online stores and thus to rely less on offline business. The trend now goes beyond retail: there is a growing number of small businesses that turn their backs on platforms and marketplaces. Restaurants are tired of the high fees of UberEats or Deliveroo (same for hotels with Booking) and they do not see the benefits. They want to build their own websites to become independent. For instance, the French restaurant chain Cojean has recently started using Flipdish (a platform dedicated to restaurant websites for delivery) instead of selling products through delivery platforms.
Category 5 - Enterprises
Unburden the IT teams and give more responsibility to employees. Developers are overwhelmed with new tickets and business teams get frustrated because they have to compete with other departments. This has led Getaround, the US car-sharing marketplace, to migrate its marketing website into Webflow to improve the team agility and stop asking the IT team for each new update. In doing so, companies empower their citizen developers and unleash development power.

Accelerate the digital transformation with limited budgets. The ability to innovate in terms of digital products is necessary to stay in the race. Companies have to cope with limited budgets and consider no-code as a serious option not to compromise innovation.

Gain in agility. One could think that no-code is not suitable for enterprise needs, because a big company has larger requirements for what an initial version of something needs to be. This image of the big, slow-moving company is becoming less and less true, as enterprises are gaining in agility and iterating more. No-code seems to be a perfect solution to let non-tech people build MVPs, internal dashboards, or worfklow automation processes, even in big companies.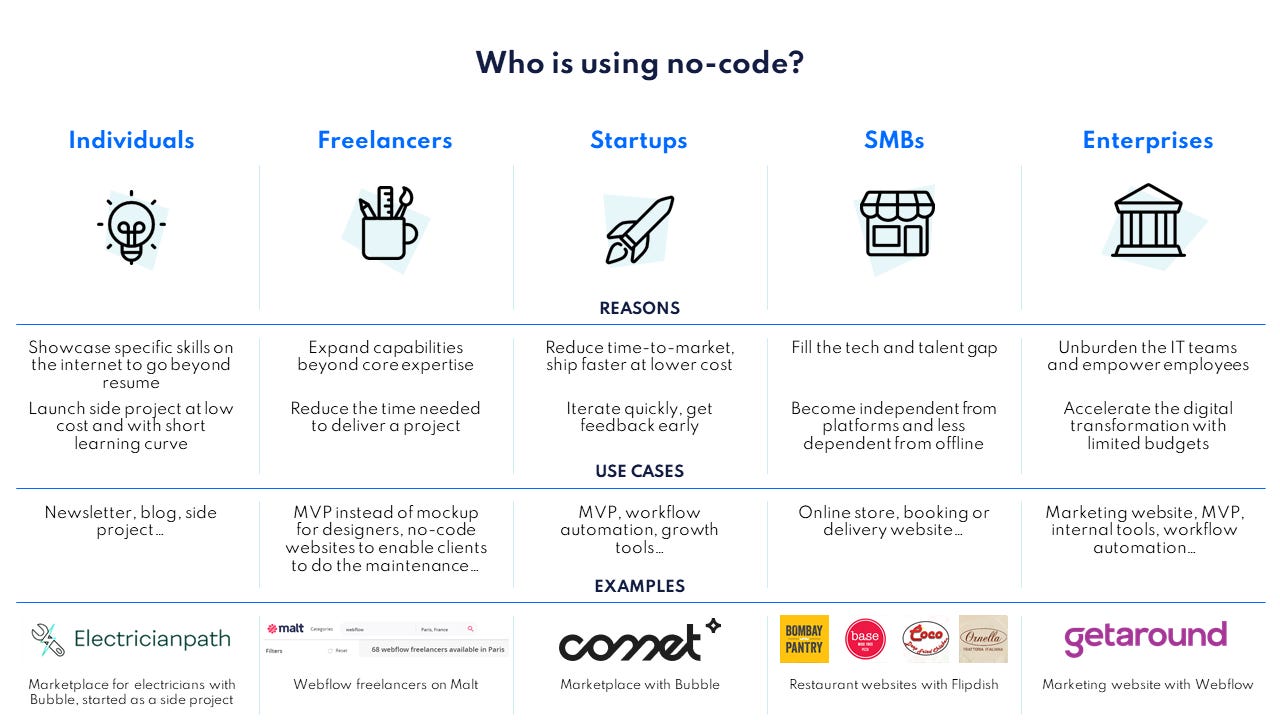 Part IV - How Big is It? How Big can it Become?
We did not find a compelling market study to compute the market size and forecast the market growth in the coming years. Nonetheless, we have collected several data points that make us confident of the scale of the market and on the possibility to build billion dollar no-code-related companies like Zapier and Airtable.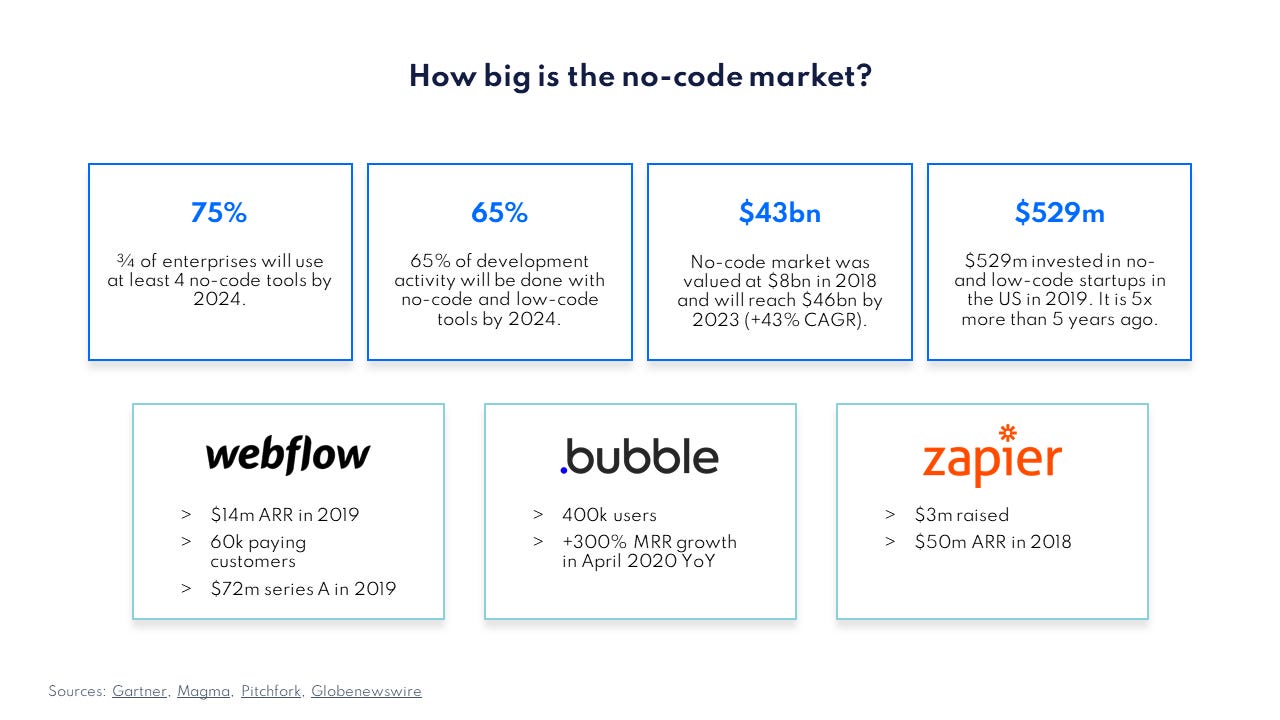 Moreover, GAFAM have already opened their war chest to gobble no-code startups. On the one hand, Google acquired AppSheet in Jan. 2020 - a no-code tool used to create internal mobile apps for corporates. On the other hand, Microsoft acquired Lobe in Sep. 2018. The company was still in beta and was a tool to build, train and ship deep learning models with a simple visual interface. Tech giants also launched products internally, two examples are particularly relevant: Uber who announced a deep learning toolbox called Ludwig in Feb. 2019 and Google who disclosed a prototype of its Game Builder (a platform to create games) in Jun. 2019.
Part V - Interesting Trends to Look at in No-Code
Everyone will become a maker on the internet (creativity is the last human frontier vs. autonomization of the world, rise of the knowledge and sharing economy). The unbalance between consumers and makers on the internet will disappear thanks to no-code (like in music, writing and video).

We are entering into the decade of design at the core of product development. There is a rising demand for design platforms with extended powers, enabling to go beyond mockups. The best tools should allow frictionless collaboration between designers and developers.

No-code does not mean that developers will disappear. Winners will be open-source and developer-community driven companies.

We need more than ever developers to add customization to no-code projects and to make better no-code products.

No-code projects should not be black boxes. Code should be apparent for developers that want to audit or customize a no-code project. Moreover, the handover between no-code platforms and developers should be facilitated.

No-code products are getting specialized on specific verticals. Shopify is obviously the best example being the ultimate no-code product for merchants. Generalist tools like Bubble or Unqork are not suited to the specific needs SMBs can have in their industry. A verticalized no-code tool will be more powerful by integrating all the features needed to thrive in a specific industry. Flipdish is a no-code platform dedicated to restaurant that allows them to have an online presence with a website and a mobile app but also specific features for the industry: an ordering system, a loyalty program, a CRM etc. It's a good way for restaurants to avoid the harsh competition and the middleman commission of food delivery marketplaces like UberEats and Deliveroo.

You have a certain learning curve to master a no-code tool which is lower than learning a programming language but is still existing. This is a barrier to adoption that is lowered by a new generation of no-code tools reducing the friction to create an application from your existing tool-stack. For instance, Open As App will generate a mobile application directly from an excel sheet without the need to spend hours setting up the app.
Part VI - No-Code Startups Mapping
We designed a non-exhaustive mapping of no-code players to show the diversity of tools and the maturity of this ecosystem.
No-code obviously started with web development. Individuals and companies now have a wide range of platforms to create their website. The emerging dominant no-code stack is composed of Webflow for the front, Zapier for the automation, Airtable for the database (+Memberstack to manage membership and payment if needed). We like this approach because it is similar to the code-based web development, with several tools/languages involved.
If you are afraid of the complexity of multi-tools approach, all-in-one platforms like Bubble or Unqork got you covered. The learning curve is steeper but the possibilities are almost limitless. Third, you can opt for a specialist: a platform dedicated to an industry or a type of website. These specialists have specific features and make the creation even faster, because the platform is supposed to be tailored to your needs.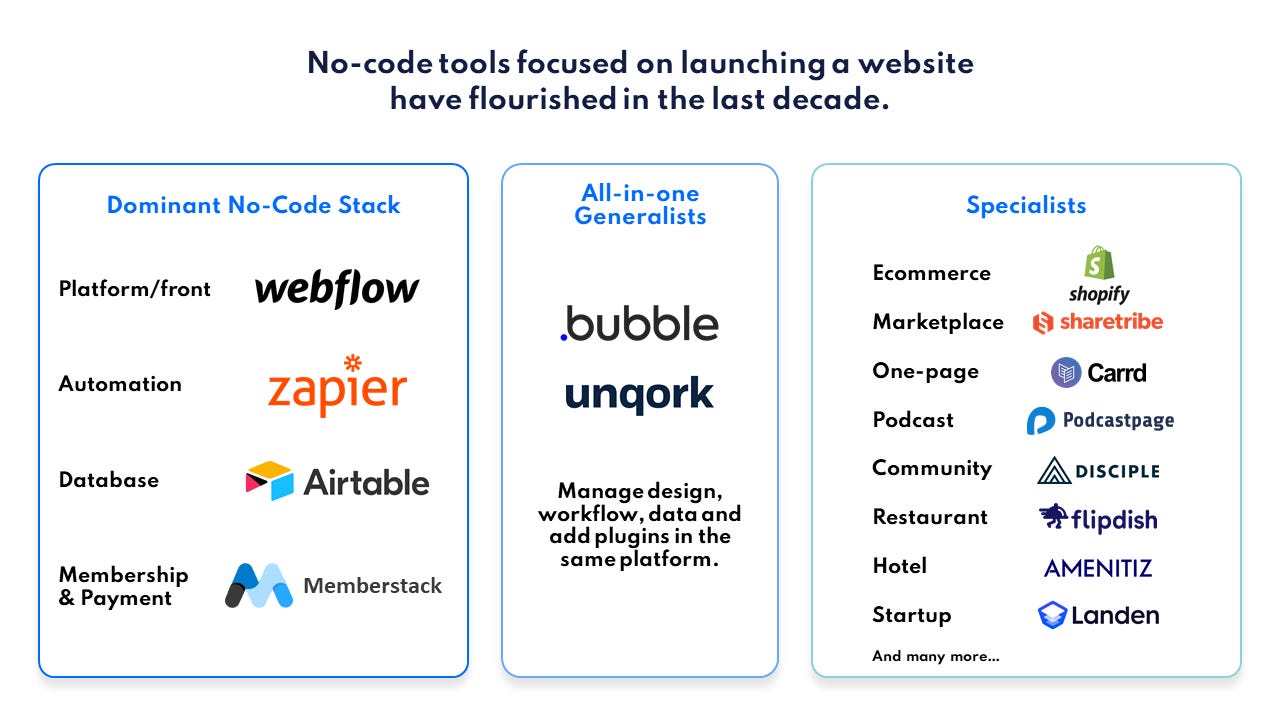 The work of developers has expanded to other areas than websites, so does no-code. Platforms to create mobile apps have flourished in the last years, ridding on the wave of mobile. This segment is becoming crowded, with well-established players like Adalo, Glide, and Google-owned AppSheet. It's interesting to notice that these platforms have launched quite recently (2018 for Adalo and Glide) and have already a good product and public awareness. It was a longer path for website builders Webflow and Bubble (both founded in 2012 but took off quite recently), encouraging the idea that no-code is on the rise. Other players differentiate themselves with a specific approach: Bravo is targeting designers, Open As App is focusing on business teams in large companies, Mendix is mostly dedicated to the industrial sector…
No-code is following other tech trends and goes beyond web and app development:
AI and data science. They are a top priority for many companies, but they have to cope with a lack of resources. In this area, we have on the one hand startups focused on specific use cases, with powerful engines, like Accern which empowers banking or insurance institutions with a platform to build AI processes around credit risk or fraud detection. On the other hand, startups like Obviously.ai meet the growing demand for simple, industry-agnostic tools for data prediction. These tools are suitable for citizen developers who want to benefit from the capabilities of AI without dealing with the complexity.

Gaming. The gaming-related no-code platforms are still at an early stage. The development process involves so many fields (3D design, narrative, gesture, logic…) compared with website development that we will probably need more time to see well-established companies. Google has made an outstanding move with the announcement of its Game Builder, not available yet.

Voice. The rise of home assistants has encouraged the development of no-code platforms to create voice skills, like Voiceflow. This is a very telling example of the no-code movement: each segment which is getting mainstream and where the demand is increasing will experience the rise of no-code tools to help anyone create applications in this space.
No-code products can be considered as included in an ecosystem that has two other important layers:
The base blocks: Databases and connectors are unifying the ecosystem because they are essential when it comes to build complex products. For instance, automatically updating the supply on your marketplace would not be possible without Airtable to store the data and Zapier to connect the data with your front website.

The enablers: They are not no-code tools but are actively involved in the rise of no-code. Learning platform Makerpad is becoming the go-to resource to discover new products, watch tutorials, get inspired by projects, chat with community members... They recently hit $50k monthly revenues and show that there is room for businesses helping people make their first steps in no-code.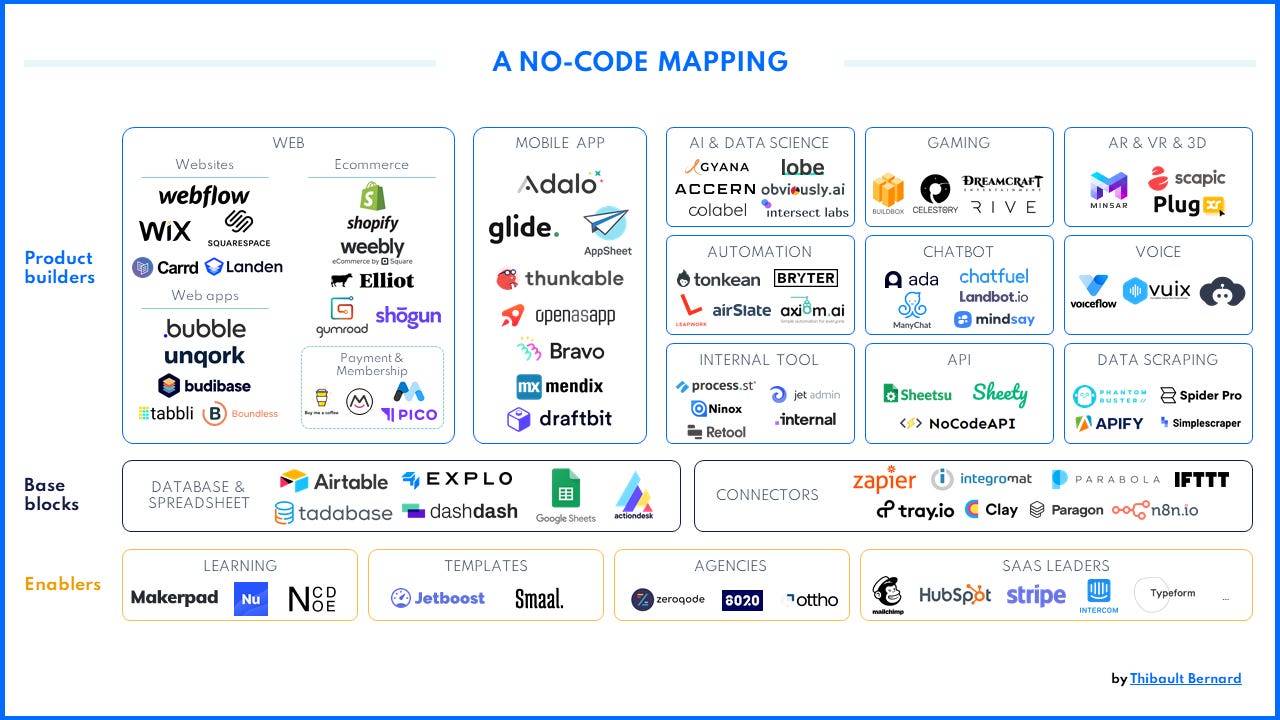 Ressources
That's it for today! If you want to discuss no-code with Thibault, feel free to drop him an email at thibault.bernard1@essec.edu. Thanks to Julia for the feedback!
---
Thanks for reading! See you next week for another issue! 👋