🗺 Introducing Idinvest European Startups Consumer Map
Overlooked #23
Hi, it's Alexandre from Idinvest. Overlooked is a weekly newsletter about underrated trends in the European tech industry. Today, I'm excited to share with you Idinvest's European Consumer Map.
This is not your usual Overlooked's issue. I want to introduce you to a project I have been working on intensively in the past few weeks at Idinvest. It's a mapping with the most promising European consumer startups. I don't want to overwhelm you with Idinvest branded content but I believe that this mapping is worth a look.
We have divided consumer spendings into 11 different categories (finance, mobility, healthcare, food, travel, retail, housing, gaming, entertainment, education and wellness). For each category, we have highlighted the European champions (startups which have raised more than €100m or which have exited) as well as the European rising stars (startups that have the potential to be valued more than €1bn in the next 5 years). Everyone in the team also wrote about trends in the categories he is the most familiar with. I will let you guess the categories I worked on. You can find the post on the mapping detailing all the trends here and below I'm sharing additional comments.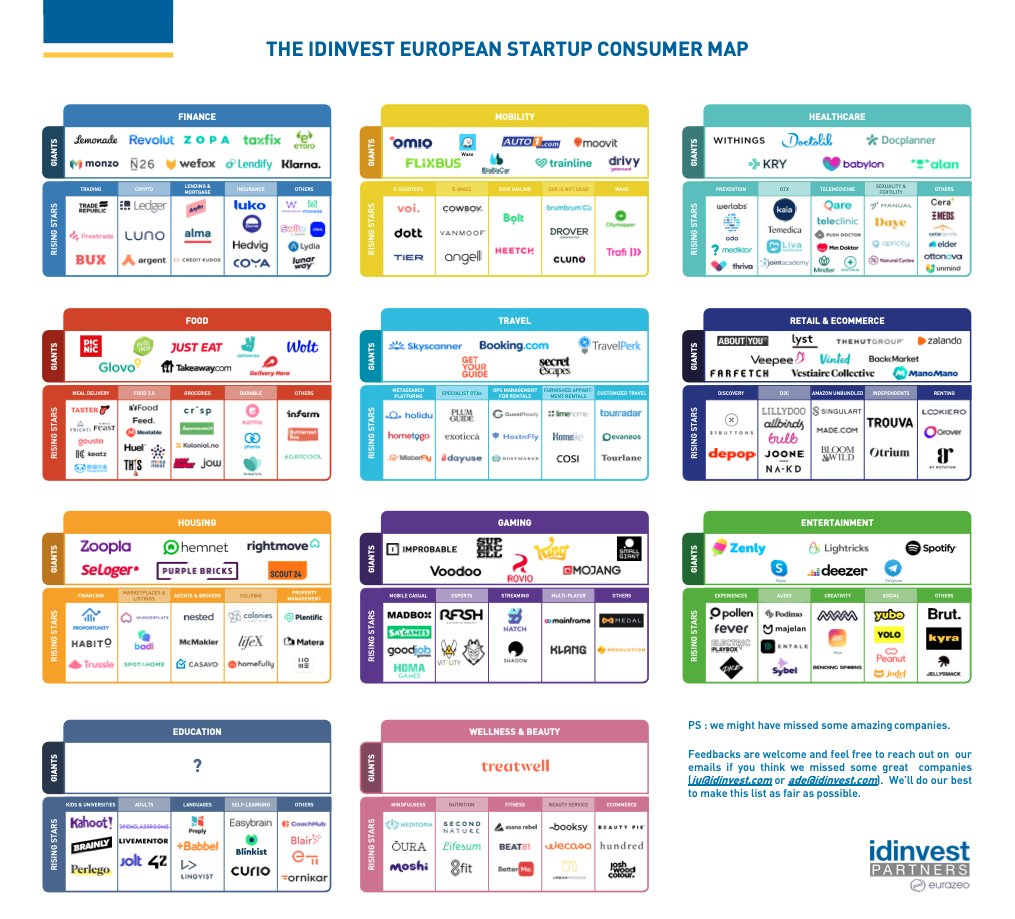 #1 - A quick disclaimer
Idinvest-Eurazeo's portfolio companies are over-represented in the mapping. It's part of the game with projects like this one. We designed the mapping to add them on top of our initial list of rising stars instead of putting them at the expense of other companies. We also included all our consumer companies without trying to discriminate them.
#2 - Why are we doing this?
The first reason is to support our portfolio companies in their journey. Then, we want to build a standard to map European startups and trends in consumer. Obviously, we are inspired by existing projects like Accel Euroscape, Bessemer State of Cloud, or a16z Marketplace 100. We believe that Europe consumer tech deserve a better international coverage and we want to do our part. We are also super humble. This is the first iteration of a project that we want to continue over the next few years. We are open to feedbacks and we will do our best to improve the mapping. I already have numerous ideas to enhance the mapping for the next few years (less French companies, adding a seed stage category, collaborate with other funds, comparing Europe to the US and China, etc.) but I would also love to have your opinion on the project.
#3 - Europe is moving extremely fast
We finished the mapping last week. Since then, several key events related to the companies mentioned in the mapping have occurred:
Bolt raised €100m from Naya Capital at a €1.7bn valuation

Grover raised $26m in a round led by Silver Lake

Freetrade raised £7m on Crowdcube from 8.5k individual investors

Zynga has acquired Peak for $1.8bn

etc.
In three months, the mapping will be outdated - which is great!
#4 - Europe is unique and we must build on our strengths
I don't believe in this idea that Europe should build the European GAFAM or BATW equivalents. We are different. We should build on our differences to make worldwide giants in the trends we have an edge into. VCs love to say that they are looking for founders that have an edge on the market because they have found a key insight on this market from their past experience.
I believe that Europeans also have an edge like this in certain horizontal (sustainability, privacy, reducing inequalities) and vertical (gaming, finance, travel, food, healthcare) trends. European entrepreneurs should look for these unique edges and bring them to the world.
#5 - Small is also beautiful
As an early stage investor, it was hard to avoid mentioning in the mapping all the super exciting companies that only are in their seed stage. Next year, I will try to add another section just for them because these companies are the ones building tomorrow's consumer trends and they also need coverage to raise funds.
Thanks to Julia for the feedback! Thanks to the readers who gave me precious feedbacks to build the mapping (Ariel, Dominik, Hadrien, Maxime, Thibault, Ulysse, Sylvain, Yassin)!
---
See you next week for another issue! 👋