🇫🇷 2019 French Funding Rounds
Overlooked #28
Hi, it's Alexandre from Idinvest. Overlooked is a weekly newsletter about underrated trends in the European tech industry. Today, I'm looking at the 2019 French funding rounds. I'm late to the party but I believe that (i) we have differentiated insights to share and (ii) we are giving access to all the funding rounds data.
In the next two weeks, together with Thibault, we will make a recap on the evolution of the French ecosystem by looking more closely at 1/ 2019 funding rounds (an exercise that we should have done earlier this year) and then next week at 2/ H1-2020 funding rounds to measure the covid impact on fundraising. I'm also giving access to an Airtable with the data on all French funding rounds that have happened since 2017.
In this paper, we will cover the following topics:
General metrics: top 15 funding rounds in 2019, 2017-2019 evolution, industry breakdown and evolution, business model breakdown and evolution, B2B vs. B2C

Identifying the key ingredients growing the virtuous circle of the French ecosystem: repeat entrepreneurs, foreign investors, education, etc.

Hot topics: insurance, cybersecurity, CFO tools, telemedicine, sustainability, teens, etc.

The usual path to raise successive funding rounds based on a sample of top French startups (Swile, Doctolib, Backmarket, Blablacar, Vestiaire Collective, Dataiku, Algolia, Payfit, Qonto, Alan)

BAs: top BAs, investing in France vs. investing abroad, financial performance, bringing time, money and network to the ecosystem,

French VC funds: BPI everywhere, most active funds, dynamics of main funds,

Foreign VC funds: the usual suspects, the new joiners, US funds.
🚨 Data Accuracy Warning 🚨
It's impossible to have a 100% coverage of the funding rounds announced publicly. I did my best to build this database over the past four years. I'm conscious that certain funding rounds will be missing and that other will contain wrong or incorrect information.
Having said this,
1/ I still believe that this exercise of interpreting the funding round data is useful to have an overview of our ecosystem and to detect the trends discussed in this paper,

2/ the database is open to anyone and if you want to correct / add a funding round, drop me an email (ade@idinvest.com) and I will modify the base. Most of the charts in this paper will be automatically updated in the Block section of Airtable.
General Metrics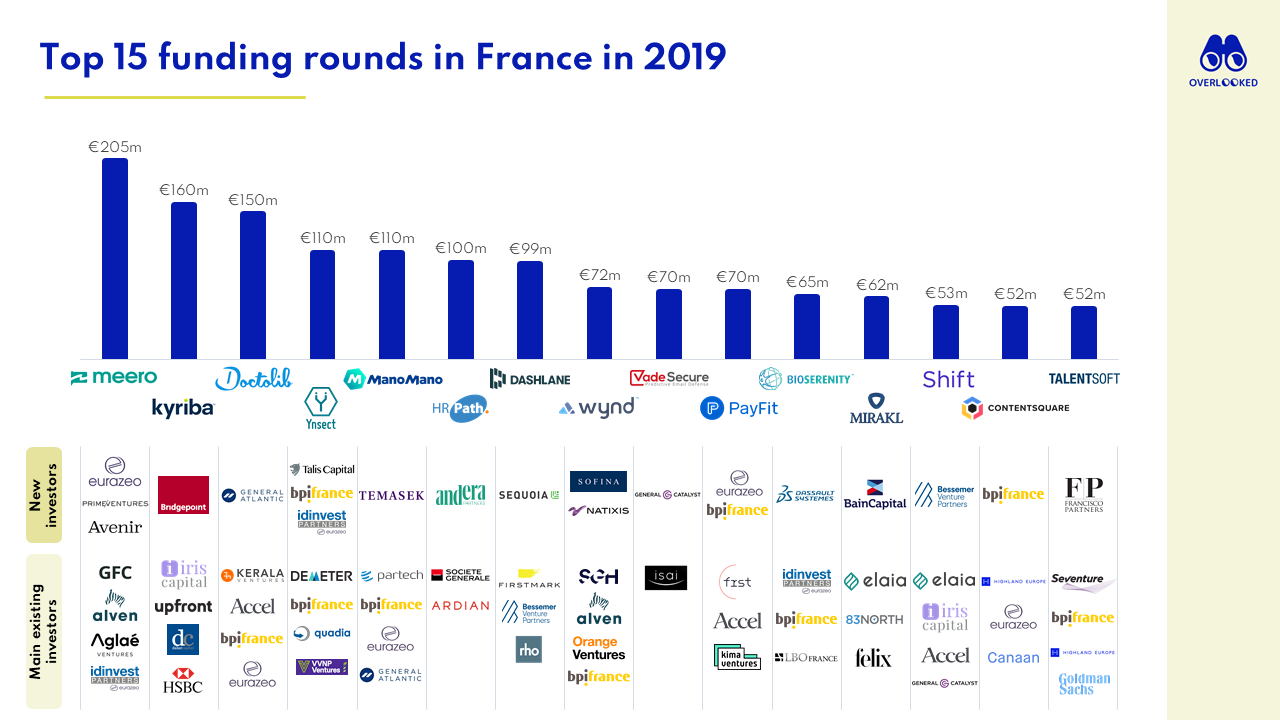 France has a growing startup ecosystem both in terms of number of deals and amount raised which increased between 2017 and 2019. In 2019, French startups raised €3.6bn (+32% YoY) through 415 deals (+8% YoY). The growth in amount raised is growing faster than the growth in number of deals (€8.8m average deal size in 2019 vs. €5.9m in 2017) meaning that (i) companies are raising more funds at the same stage of their life and (ii) the ecosystem is maturing with numerous companies able to raise growth rounds.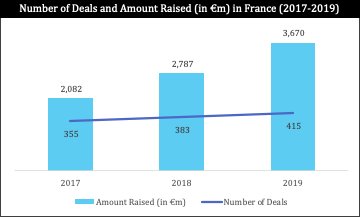 SaaS and marketplaces are obviously the two dominant business models. 80% of funding raised in 2019 was either invested into a SaaS (57%) or into a marketplace (23%). Investments in hardware startups decreased sharply between 2017 and 2019 (from 18% to 3% of the amount raised).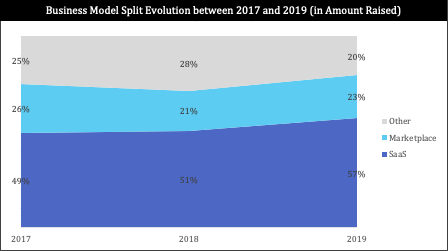 Marketing, healthcare and finance were the dominant industries between 2017 and 2019. Certain industries like security, HR and food have grown during the past three years. Other industries declined in the same period like cloud, gaming and entertainment.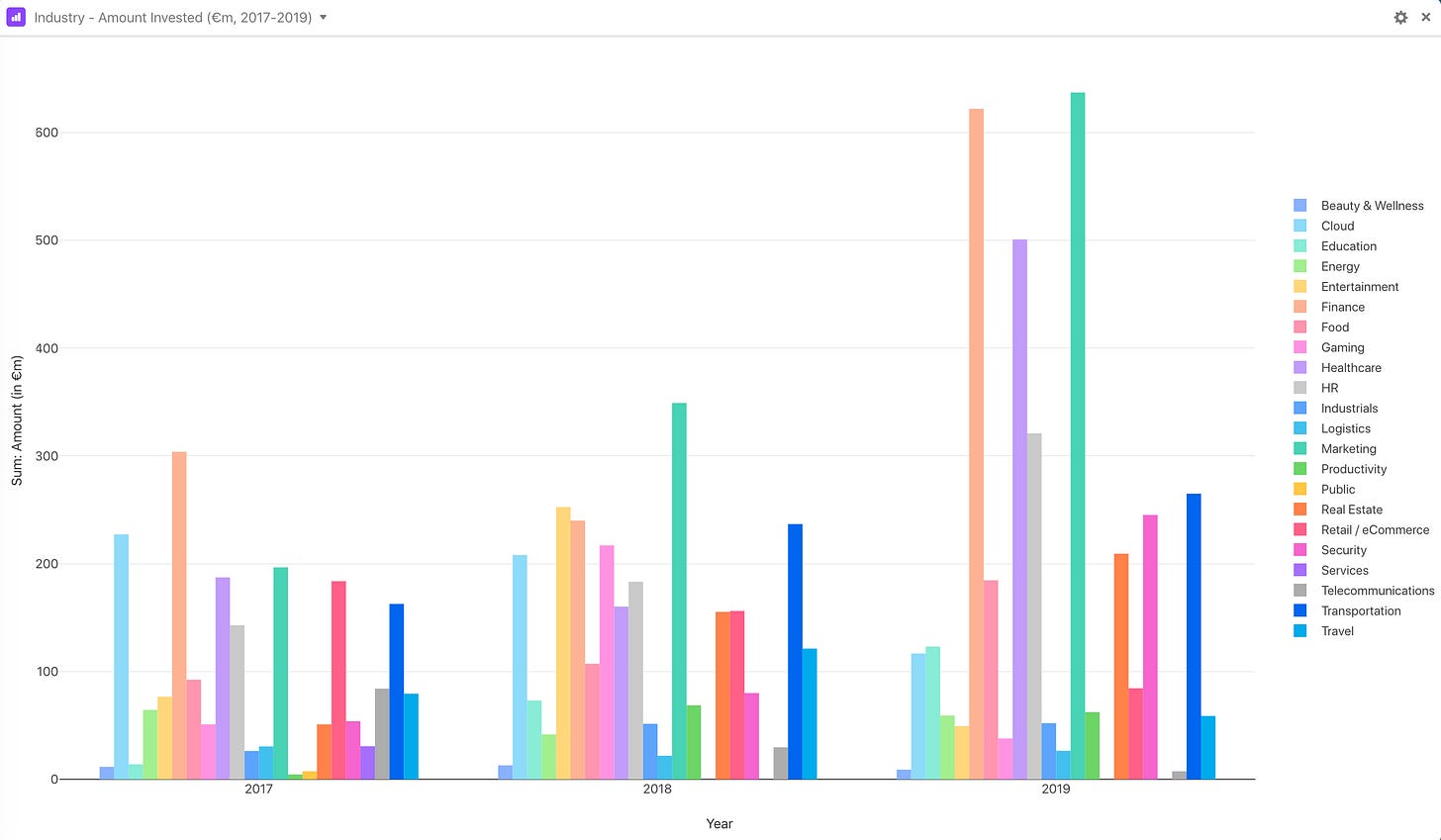 Industry Breakdown - Amount Invested (in €m, 2017-2019)
The Virtuous Circle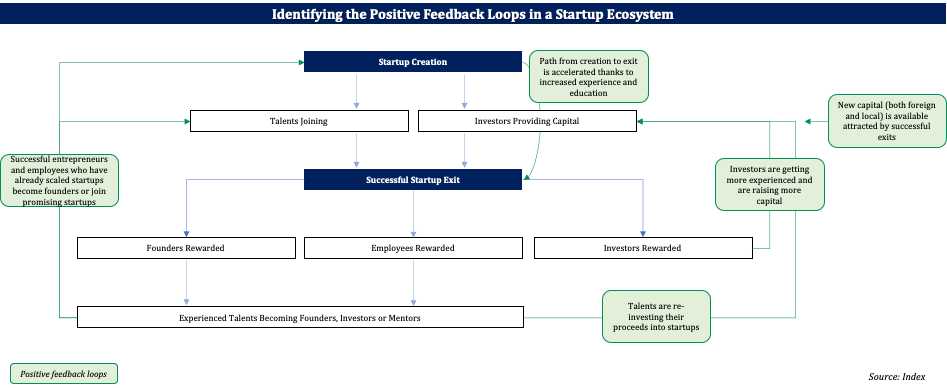 It's hard to find a unique metric to prove the growing maturity of the French ecosystem but here is a list of indices that are going into this direction:
There are now numerous second-time entrepreneurs (e.g. Swile, Bellman, Jumbo, Nabla, Alan, MemoBank) and entrepreneurs who were employees in tech companies that have experienced the scaling phase (e.g. Doctolib and ManoMano built by ex-La Fourchette). Those entrepreneurs are building companies using the successful playbooks and avoiding the mistakes from their past experiences.

Families are even emerging from successful exits with talent and capital reinvested within the ecosystem. For instance, Stupeflix was building a video editing mobile app called Replay that was acquired by Gopro in 2016. Several founders/employees are now building new projects (Mojo, Symphonia, Spot, Photoroom, SnackThis).

Investors are becoming more professional setting up platforms to bring support to portfolio companies (e.g. Xange or Partech), specializing into a certain vertical (e.g Axeleo in B2B, Blackfin in finance, Educapital and Brighteye in education) or becoming more international.

Foreign and top tier investors are coming to scout and invest into French companies (cf. section dedicated to foreign VCs).

An outstanding network of business angels who have dedicated a huge portion of their life to fund entrepreneurs or have set up a specific structure to fund at scale seed companies. They are the first ladder to finance French startups. Most of them are successful entrepreneurs (e.g. Pierre Edouard Stérin with Smartbox, Thibaud Elziere with Fotolia, Michael Benabou with Vente Privée) and are able to bring a strong expertise in the early days. Most of them are also well connected to French and foreign VC funds to help their portfolio companies raise upcoming rounds. Every year, new successful entrepreneurs are appearing on cap tables and strengthening the angel funding stage (e.g. Antoine Martin, Alexis Bonillo following Zenly's exit to Snap).

Structures kickstarting companies like The Family, eFounders or Entrepreneur First that have emerged to support new entrepreneurs with education and capital in the early days.
Hot Topics
We subjectively picked a few topics that we consider as the most hot areas considering the fundraising rounds in France last year.
The Usual Path to Raise Successive Funding Rounds
One could ask if there is a mainstream way to raise successive funding rounds, and if it has changed over time, from the Blablacar or Algolia generations to the latest series C raised by French startups like Swile, Qonto or Alan. We selected 10 of the most iconic French equity stories and here are my main conclusions:
A first clear and expected observation: it takes now less time to reach the series C. It took 110 months for Blablacar to reach this milestone, around 80 months for Algolia and Dataiku whereas Alan, Qonto, Payfit, or Swile raised their series C less than 50 months after inception.

The 18-month cycles seem to be the standard. In this sample, the average time is 18.2 months between seed and series A, 16.9 months between series A and B, 18.8 months between series B and C.

Things start speeding up after the series A. See how many companies raised a series B one year or less after the previous fundraising: Dataiku, Doctolib, Backmarket, Alan, Qonto, Swile…

Having said that, exceptions show that each fundraising and each path towards Series C is unique. Alan raised an unusual €11.5m seed, Vestiaire or Doctolib closed rather small series B (less than €20m) but launched successive fundraising rounds afterwards, Algolia took more time between the different rounds (almost 30 months after series A or B) than Dataiku for instance (c. 12m after series A or B).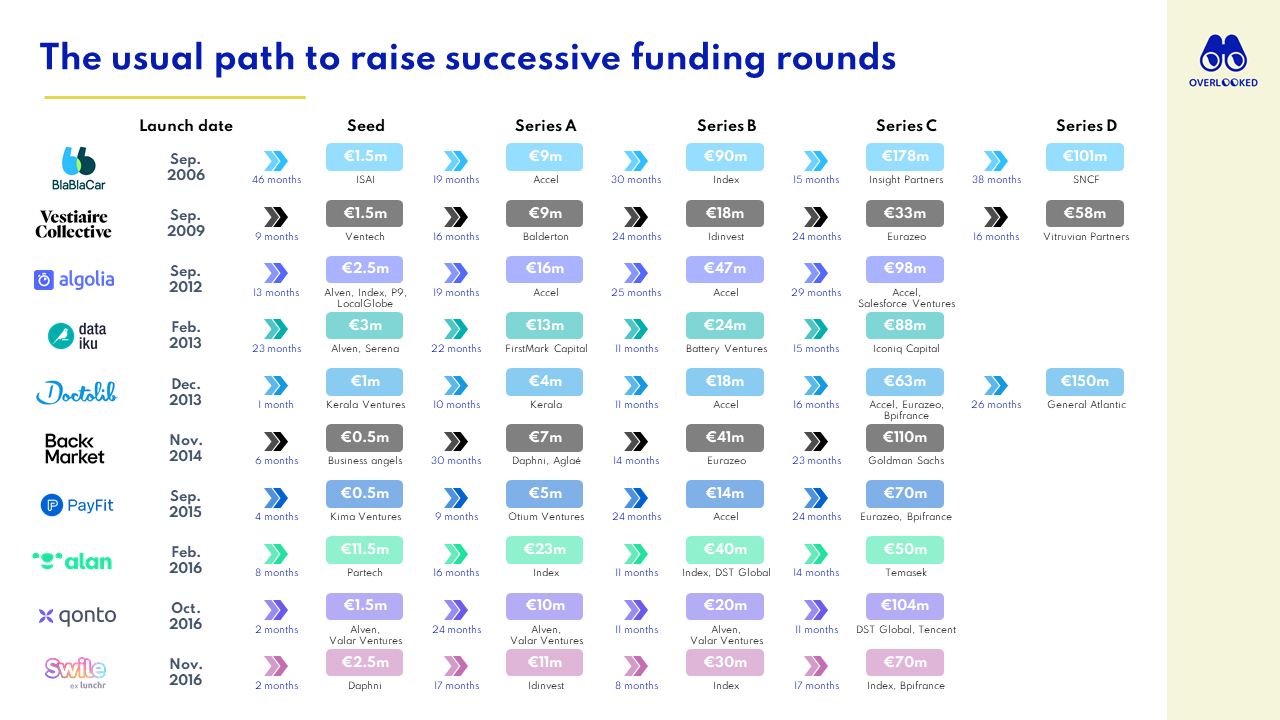 Business Angels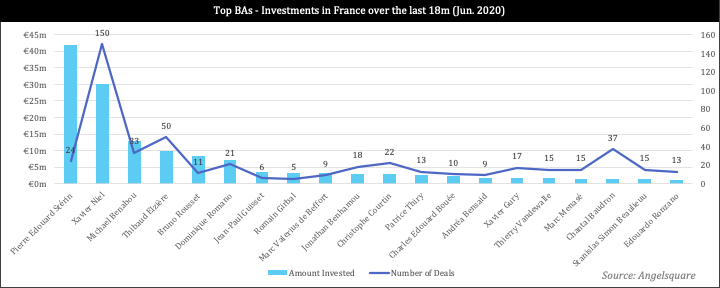 In June, Angelsquare released a list of 30 business angels who are supposed to have been the most active in the past 18 months. I'm not sure that all prominent French business angels participated in this survey - investors like Fabrice Grinda, Marc Simoncini, Antoine Martin are missing for instance. But it gives a good snapshot of the business angel landscape in France.

Most business angels are former entrepreneurs that are investing back their time, knowledge and capital into the ecosystem.

Business angels who are deploying large amount of capital per year have either set up a dedicated investment structure with other people helping them to pick investments (e.g. Niel with Kima, Benabou with Financière de Saint James) or are working in syndicate group of business angels.

Most of our business angels are focused exclusively on France. Thibaud Elziere and Fabrice Grinda are probably the best exceptions investing all over the world - because they invest predominantly in a certain category (SaaS for Thibaud, marketplaces for Fabrice).

You can have great financial performances while being a business angel. Kima (Xavier Niel) and FJ Labs (Fabrice Grinda) disclose their returns and there are impressive - especially when you compare them with the low VC returns in France.

Fabrice Grinda on FJLabs: "As of April 30th, 2020, we invested $284 million, of which $114 million was provided by Jose and I, in 571 startups. We had 193 exits with a 62% realized IRR."

Jean de la Rochebrochard on Kima: "From mid 2015 onwards, our IRR on realised investments is 59.4%, and 29.2% on unrealised investments."

France Invest on all French venture funds: a 3.1% IRR and a 1.21x multiple (all time and all the performances are not realized because it includes participations that are not exited). Some French funds have also reported their performances if you are interested: ISAI, Elaia.
French VC Funds
In 2019, BPI invested into 54 companies (13% of all funding rounds). BPI is the French public arm dedicated to investing into strategical sectors for the country. Innovation is one of them and the State has given large resources to BPI to have an impact on French startups. BPI is funding French startups both directly (through debt and equity) and indirectly (BPI is an anchor investor in most - if not all - French VC funds). But BPI has also done a great job filling the weaknesses of the ecosystem. 1/ It has invested indirectly as a LP into foreign VC funds to push them to invest in France. 2/ BPI has set up dedicated funding strategies to finance companies either in the early days with F3A or at later stage when capital is drying up with BPI Large Ventures.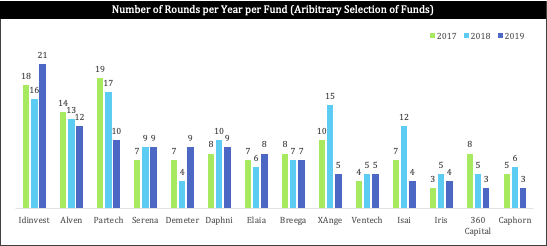 When you take a step back looking at funding rounds between 2017 and 2019, you see that Idinvest, Partech and Alven have been the most active venture funds in France. Partech has participated into a smaller number of transactions in France compared to 2017 and 2018 but they have been super active outside the country investing in 30+ foreign companies.

French VC funds are increasingly trying to position themselves as international with different strategies: coverage in a limited number of European countries (360 Capital in Spain and Italy, Ventech in Germany and in the Nordics, Xange in Germany), bridge between France and the US (Isai), bridge between Europe and the US (Partech), pan-European positioning (Idinvest). It's super hard to have a coverage in another country which is as good as what you are able to achieve in your home country. But I'm convinced that it's crucial if we want to build a more unified tech ecosystem in Europe.
Foreign VC Funds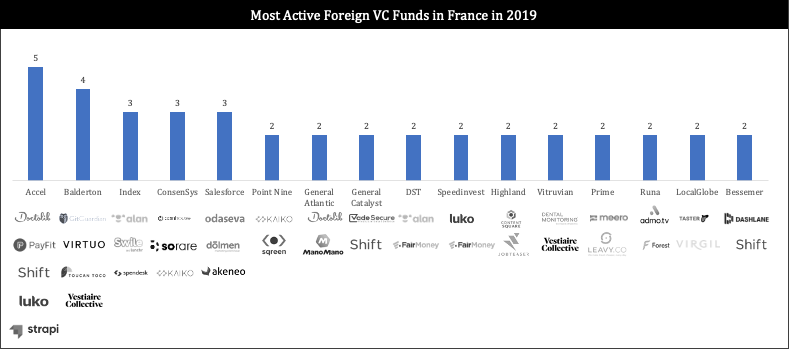 Before 2019, UK-based VC funds Accel (Doctolib, Shift, Luko, Payfit, Algolia), Index (Alan, Lunchr, Blablacar, Spendesk, Matera) and Balderton (Aircall, Vestiraire Collective, PlayPlay, Toucan Toco) as well as Germany-based P9 (Algolia, PlayPlay, Sqreen, CallDesk, Kaiko) were the only foreign investors investing consistently in France with 1-3 new deals every year. Those three funds have French partners and juniors covering the market and making deals.

In the past 18 months, the market has become much more competitive with several foreign investors which also seem to start covering and investing consistently in France at serval investment stages:

Early stage: Speedinvest (Luko, Leeze), Stride (Jow, Strapi), Localglobe (Taster, Libeo), Connect (Bellman, Forest), Samaipata (Totem, Matera), Blossom (Api.video),

Growth stage: General Atlantic (OpenClassrooms, ManoMano), Goldman Sachs (Voodoo, Backmarket), Temasek (ManoMano, Alan), Tencent (Qonto, Lydia).

Moreover, US venture funds are increasing their presence in Europe by opening an office in London and/or having an extensive dealflow coverage of the region. Tier-one investment funds like USV, Sequoia, Bessemer, Benchmark, Coatue, a16z, Lightspeed etc. have invested in Europe in the past few months. These funds are looking actively at the French market and it's just a question of time and opportunity before having them involved at early stages in a French startup. The fact that several French entrepreneurs (Dashlane, Front, Datadog, Dataiku, Algolia) are having a huge success in the US is pushing US investors to look more closely at our local market.

So far, what has been more surprising is the relative absence of the Nordic (EQT, Creandum, Northzone, Atomico) and the German venture funds in France. This is also something that could change in the coming months. For instance, EQT has opened an office in Paris and recruited a partner to cover the French market.

Foreign investments in French startups is also rising thanks to two key intermediaries: 1/ structures helping to build startups (The Family, eFounders) and 2/ business angels that are extremely well connected with foreign funds.
---
Thanks to Julia for the feedback! 🦒 Thanks for reading! See you next week for another issue! 👋